This is a very simple recipe for almond basil pesto. I choose to make my basil pesto with almonds instead of pine nuts because I'd like to save some money. I personally don't feel the difference! It is a delicious pesto recipe that I make a whole lot of every year. I keep my jars in the freezer and we can enjoy pesto from my garden basil year-round. Let me show you how I make this perfect almond basil pesto. I have the handy printable for you at the end of the post.
---
I grow a ton of basil every year. I love this plant so much! It has the best smell ever, every time someone brushes against it in the garden the whole place is filled with the delicious smell.
Bugs don't like basil which is such an amazing break here in the humid South. It's so very refreshing to not need to battle the bugs over one crop in the garden.
For me, basil is a staple in the summer garden just as tomatoes and cucumbers and beans are.
A few years ago I planted 128 basil plants at the farm. I told myself that surely I'll be able to easily sell this amazing herb at the farmer's market. I did sell a lot of it but not nearly enough, 128 basil plants produce a whole lot of basil.
I could not bear the thought of just letting it all go so I came up with the idea of trying to sell pesto instead of just bunches of basil. But I could not afford to buy enough pine nuts for all those jars of pesto so instead, I tried it with almonds which are about 1/3 of the price of pine nuts. And this is how my almond basil pesto was born.
My goodness, it was sooooo good! I became the Pesto Lady at the farmer's market. I baked fresh artisan bread and spread my pesto on top of a small piece and handed it to people to try.
That summer I sold many many jars of fresh pesto. I also decided to start preserving my pesto this way and since then I freeze enough pesto every summer to last us until the next summer.
Almond Basil Pesto Recipe…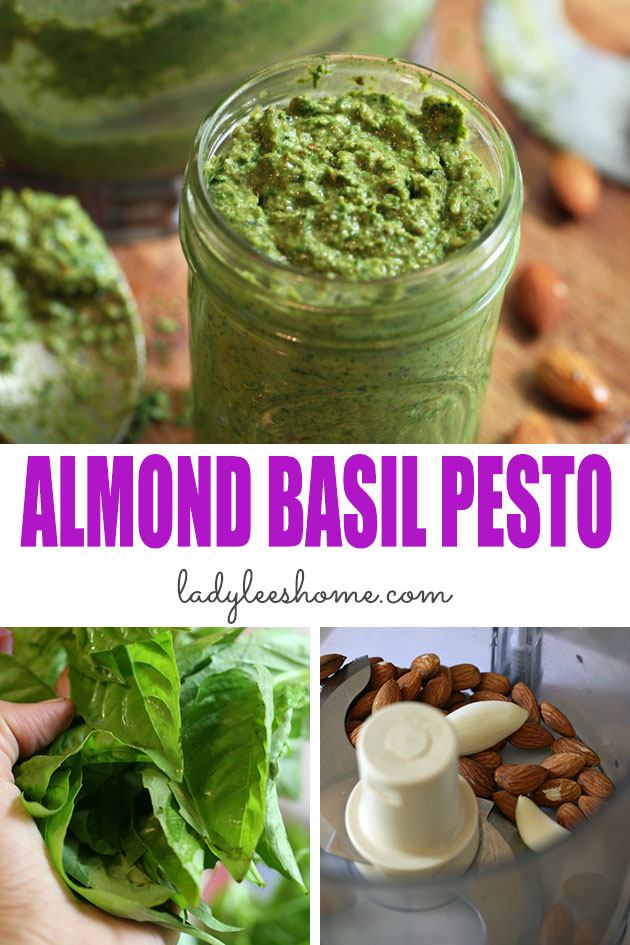 Basil is very easy to grow… I start my seeds indoors under grow lights and after a few weeks transfer the little plants to the garden. Usually, if transplanting is done right, they take off really quickly and within a few short weeks, you have a full-size basil plant.
You'll plant basil right at the same time you transplant your tomatoes; when the soil has warmed and spring gives way to summer. Give it a lot of water and watch it grow, I never had a pest bothering my basil so I could easily keep it organic. If you want your basil to grow a bit longer, make sure to pinch the flowers off when they form.
If you grow basil just for your family you really don't need many plants. This year I only have 9 plants and they are enough for all five of us for fresh eating, freezing almond basil pesto for the whole year, and I even sell a little bit of fresh basil at the market.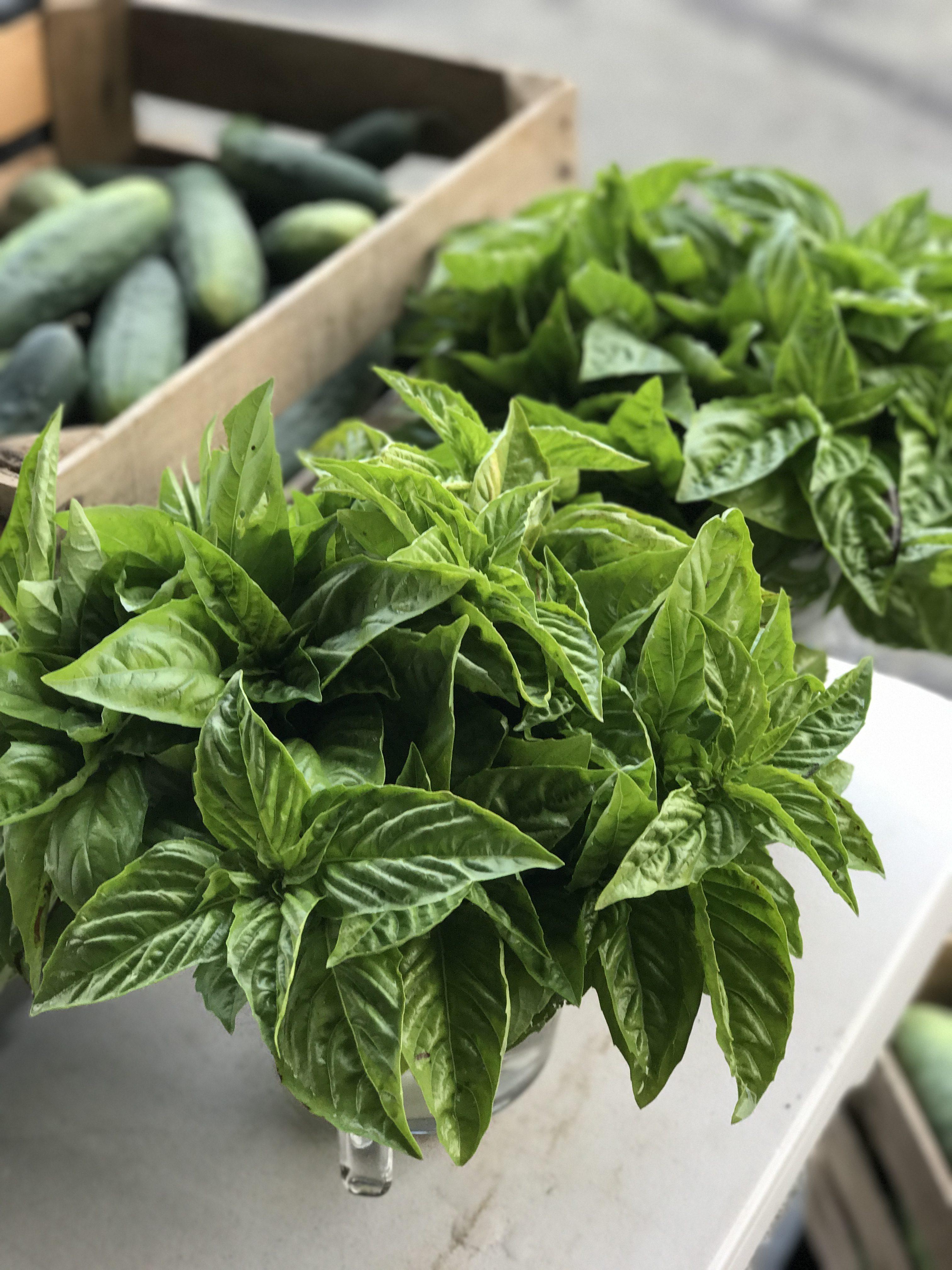 We eat some of the basil fresh in salads, with pasta, or on top of pizza or use it to season dishes. In the past, I've tried drying some basil leaves but I find that they lose most of their taste and I end up not using them much. So now the only way that I preserve basil is as pesto.
Pesto is so healthy for you… All these fresh greens and raw garlic. Parmesan cheese and olive oil and nuts…
Basil is anti-inflammatory and can protect against arthritis. It's anti-bacterial and is rich in antioxidants. It supports healthy metabolism and is very good for your liver.
Basil has a million other health benefits, I won't list all of them here, but what I am trying to say is that it's very healthy, so easy to grow, very easy to preserve, and so very tasty.
So you see, you should grow basil. Even if you don't have a large garden, basil will do great in a pot on the front porch.
Ok, I hope I convinced you, so now, let's make pesto so we can preserve all this goodness…
How to Make Almond Basil Pesto…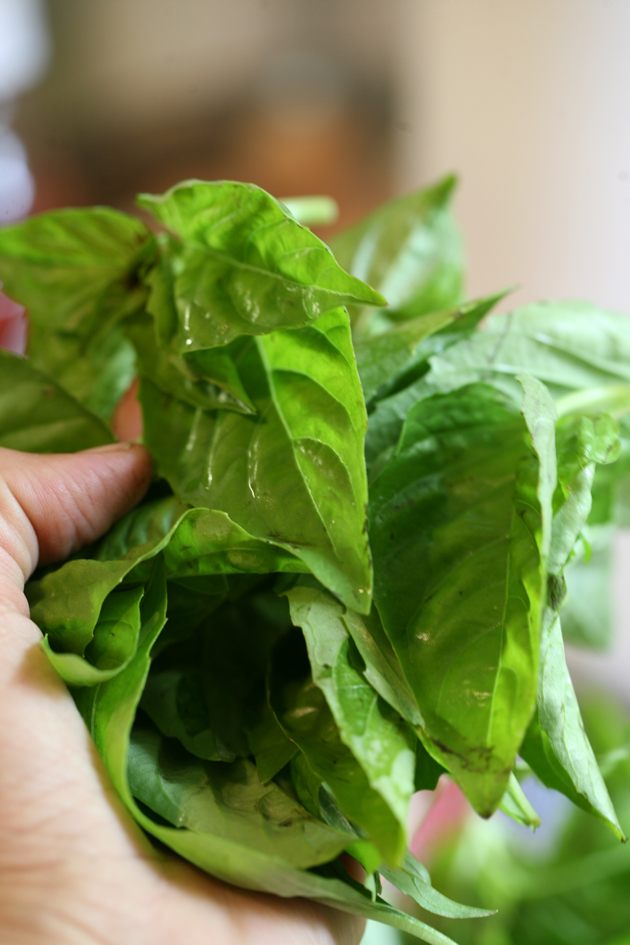 Start by harvesting a big bunch of basil stems.
The way to harvest basil is to cut 2/3 of the stem right above a pair of leaves. So you make sure there is 1/3 of the plant still standing and if you cut right above a pair of leaves, your basil will grow back very quickly.
Take those stems and remove the leaves from them. A few people asked me how much basil to use. It's hard to say exactly. You'll see in a minute that I fill my 14 cup food processor with basil leaves. I'd say a couple of bunches or so…
I just want to note here that if you harvest your basil or if you get basil at the grocery store but you can't make pesto right away, store your basil stems in a vase with water on the counter, just like a bouquet of flowers. Don't put your basil in the fridge; it doesn't like the cold (will turn brown).
But of course, it's best to process your pesto as soon as possible, when it's super fresh.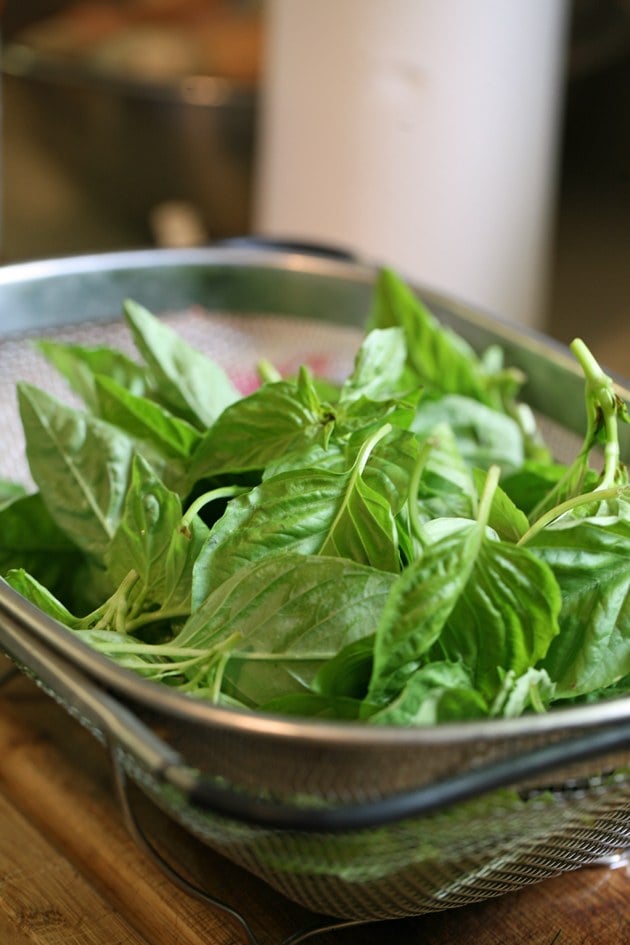 Next, wash your leaves.
The right way to wash any greens from the soil is to fill a large bowl with cold water and let the leaves soak for a few minutes. Move them around a few times and then let them be for a few more minutes, the soil will sink to the bottom of the bowl. Then, transfer them to a colander to dry.
We want the leaves to be rather dry when we use them to make pesto so you can either leave them on a towel on the counter to dry for a while, or you can use a salad spinner to dry them, or you can put them in a towel and go outside and spin the towel fast in the air.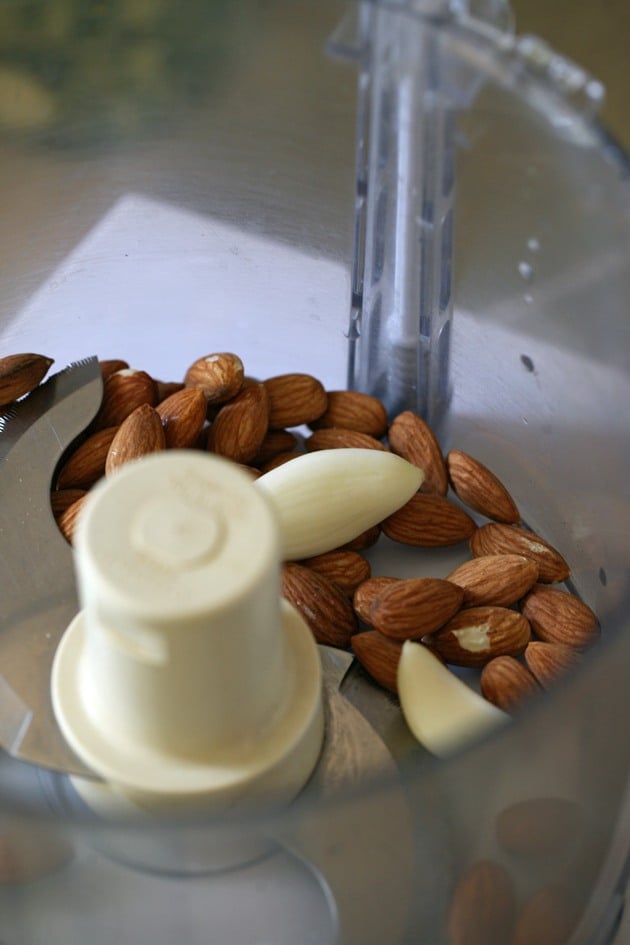 Once your leaves are clean and dry it's time to place everything in the food processor.
We start by adding a couple of cloves of garlic and 1/2 cup of almonds to the food processor. You can use roasted almonds or raw almonds, with or without the peel, it's really a matter of personal preference.
And I'll also note that sometimes I use almond flour instead of whole almonds. If I do, I still add 1/2 cup.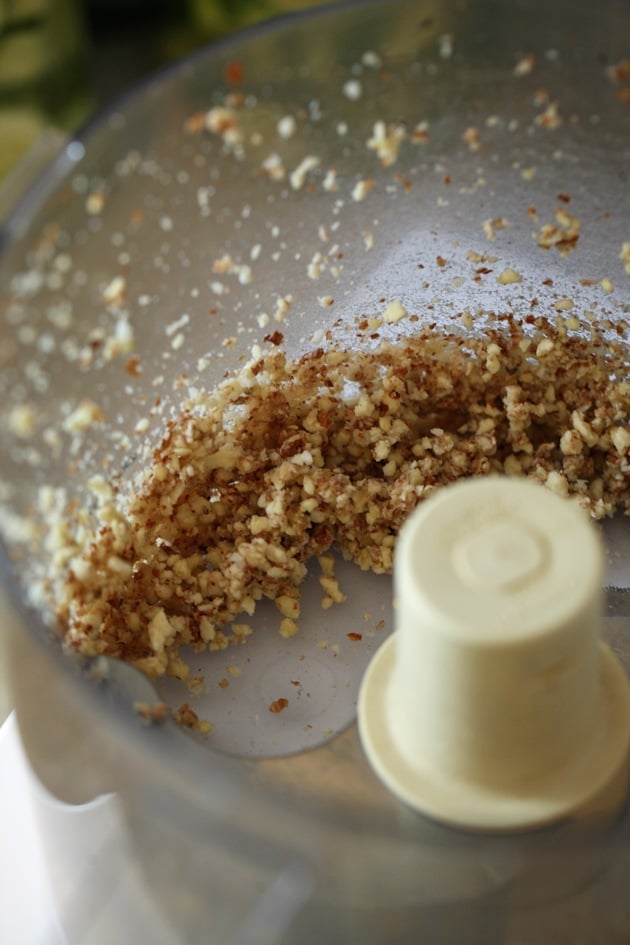 Process the almonds and garlic for a minute…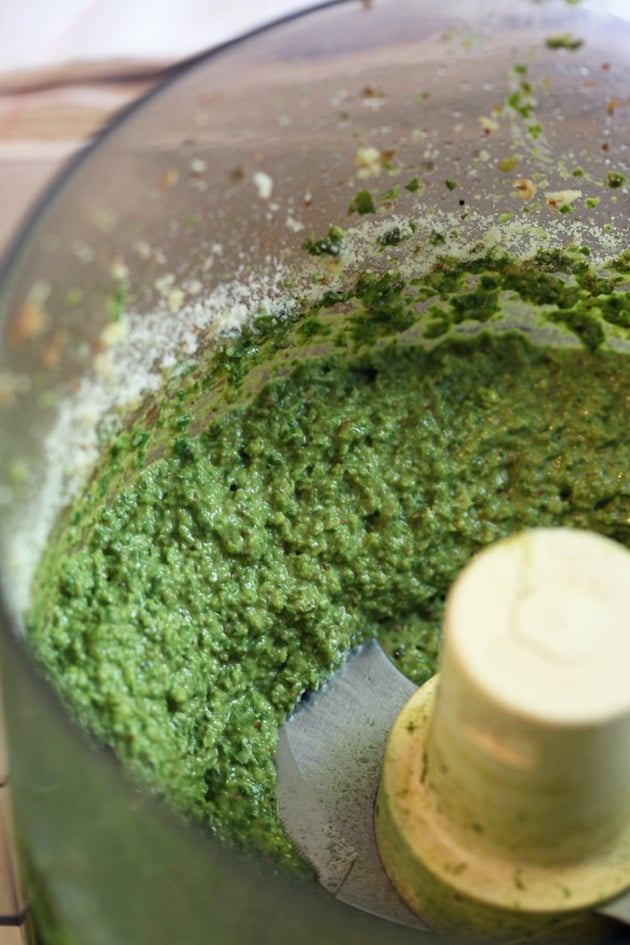 Then, add your dry basil leaves. Again, I fill the processor to the top with basil leaves but I don't pack it too much.
Turn the food processor on and while it's working add olive oil until you get a paste that has the consistency you like. I like my pesto thick, some people like it runnier, it's up to you.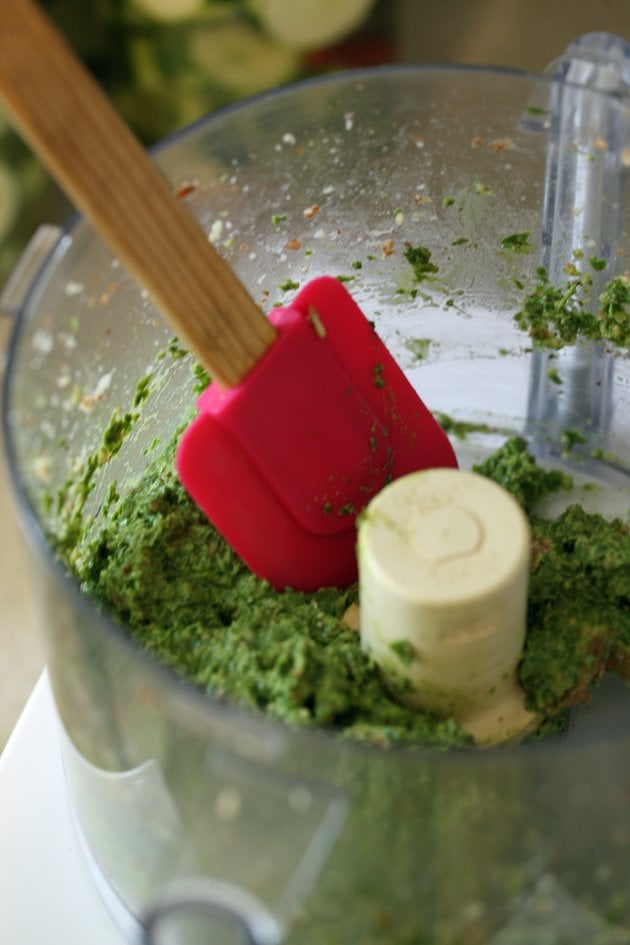 Make sure to stop the processor and scrape the sides, sometimes the nuts get stuck on the sides or on the bottom…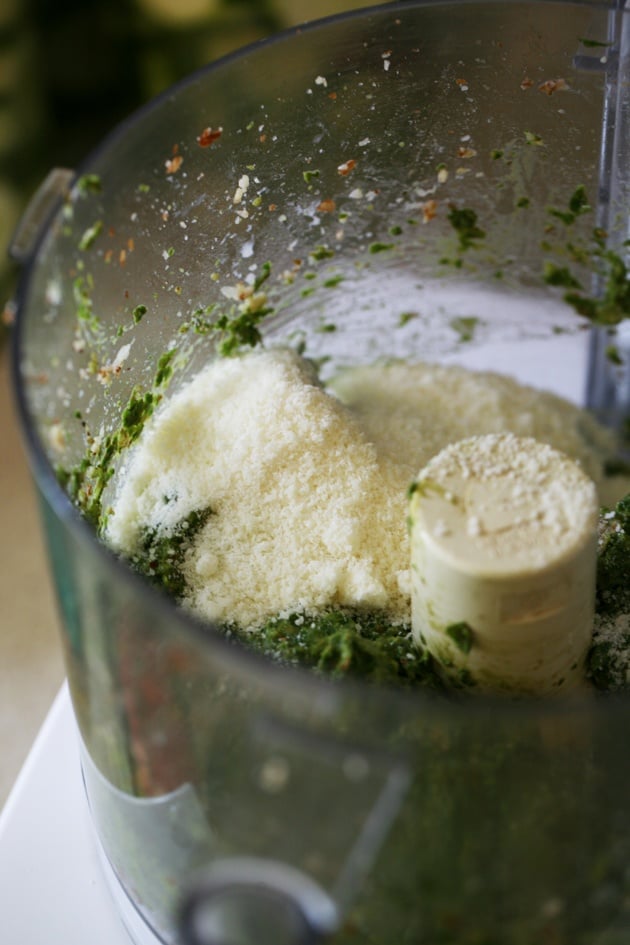 Then, add 1/2 cup of parmesan cheese, salt, and pepper…
Turn your processor on one last time and while it's working add some more olive oil if you want to bring it to the right consistency.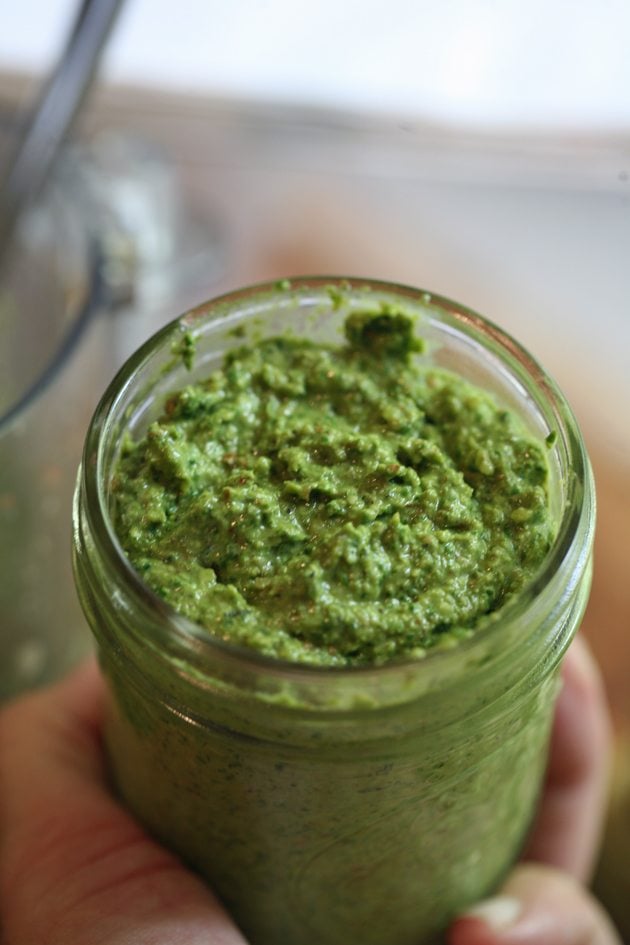 Spoon the glorious paste into a jar (I use half a pint)…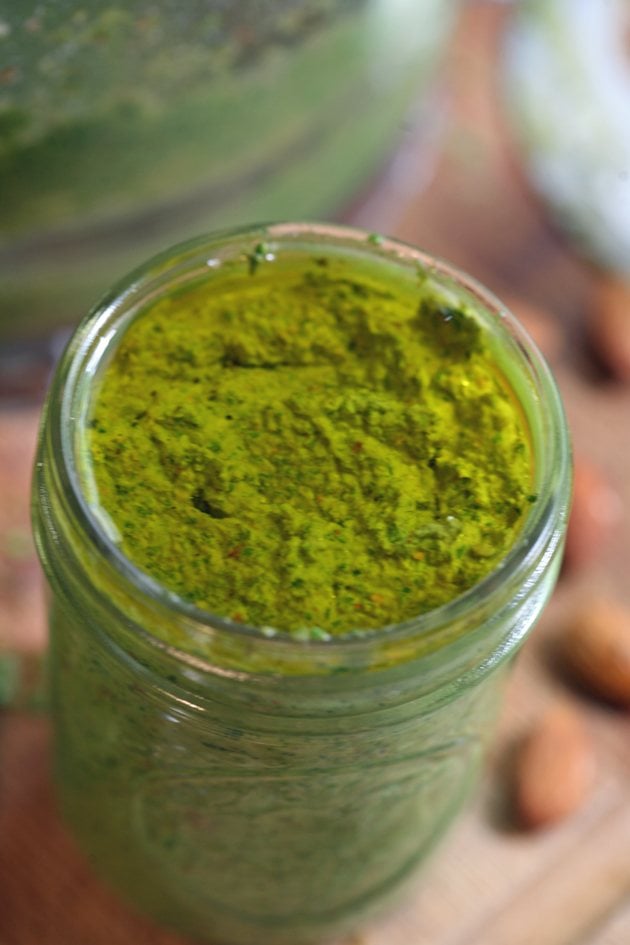 And I usually top it with a bit of olive oil, this helps a bit with oxidation.
Another word about oxidation… The reason pesto turns brown is a chemical reaction of the cut basil with the air; it's called oxidation (same thing that happens with guacamole) and if you want to prevent it you can blanch your basil leaves before starting to make the pesto (you can learn more about the blanching process in this post).
Personally, it doesn't bother me so I usually skip this step.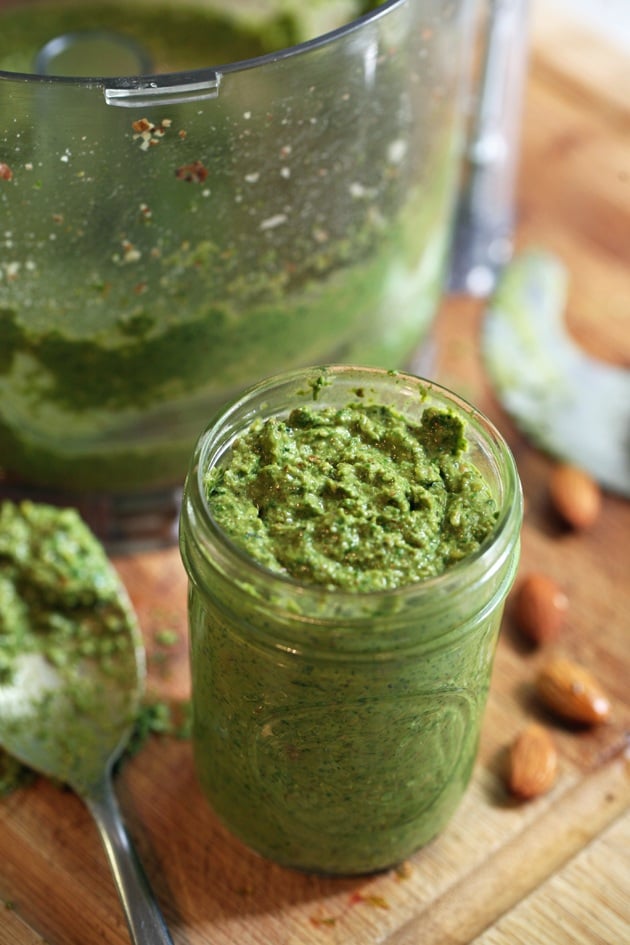 From here, you can either freeze the jar or store it in the fridge and use it right away.
You can use this process to make all kinds of pastes. If you have a lot of parsley in your garden, make parsley pesto. If you have a lot of cilantro in your garden, make cilantro pesto. It will be interesting to try chard or kale… I even made pesto with carrot tops and garlic scapes!
We use basil pesto for anything Italian. I might add it to a white pasta sauce, or I'll make pesto pizza. You spread pesto on a pizza dough instead of tomato sauce and add some goat cheese or feta cheese on top. Bake it and when it comes out of the oven add fresh or dry tomatoes. It's so good!
Of course, you can simply spread it on bread (preferably homemade!), add a tomato and you have an awesome, healthy breakfast.
I am getting hungry now…
Here is the handy recipe card…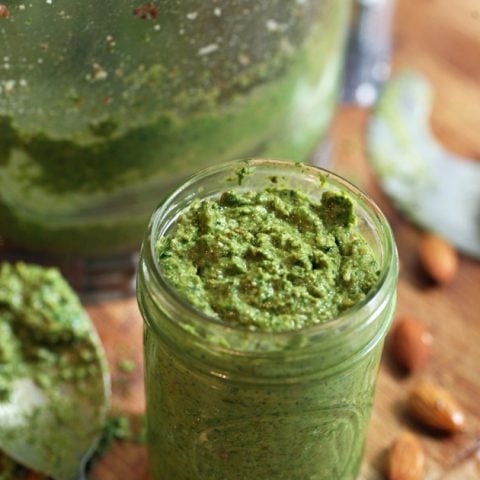 Almond Basil Pesto
Additional Time:
5 minutes
Very easy, quick, and healthy almond basil pesto.
Ingredients
1/2 cup raw almonds
2 garlic cloves, peeled
6 cups fresh basil leaves (about 2 bunches)
1/2 cup grated parmesan cheese
Salt and black pepper to taste
3/4 cup olive oil - or as much as you need to reach your desired consistency.
Instructions
1. Add almonds and garlic to a food processor and process for a minute.
2. Wash and dry your basil leaves. Add them to the processor and turn it on...
3. While the processor is working, add olive oil until the paste reaches your desired consistency.
4. Stop the food processor and add the cheese, salt, and pepper.
5. Turn the food processor on again and add some more olive oil if you like.
6. Taste and correct salt and pepper if needed. Spoon into 2 half-pint jars and freeze or store in the fridge and eat fresh.
Notes
1. Feel free to use roasted almonds if you'd like.
2. I fill my food processor with basil leaves but don't pack them too much.
3. It's always a good idea to drizzle some olive oil on top of your pesto before you close the jar.
Nutrition Information:
Yield:

2
Serving Size:

1
Amount Per Serving:
Calories:

1001
Total Fat:

102g
Saturated Fat:

16g
Trans Fat:

0g
Unsaturated Fat:

82g
Cholesterol:

22mg
Sodium:

747mg
Carbohydrates:

13g
Fiber:

5g
Sugar:

1g
Protein:

15g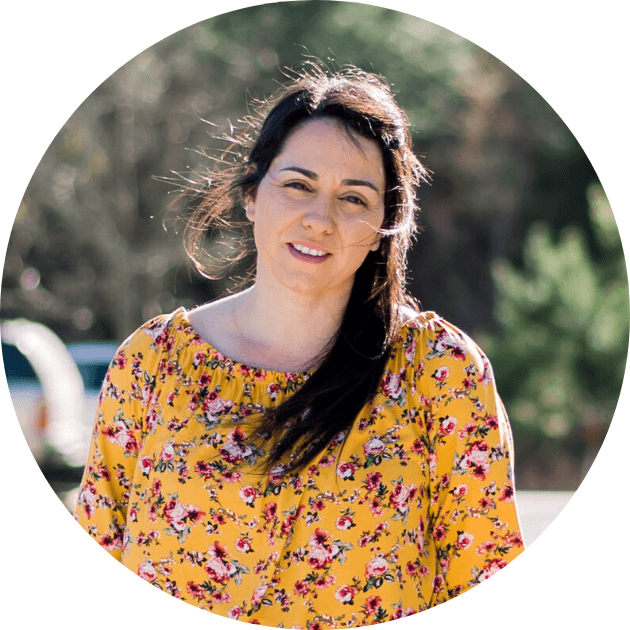 Hi! I'm Lady Lee. I help homesteaders simplify their homesteading journey while still producing a ton of food! I am a single mother of four, I was born in Israel and raised in an agricultural commune called a Kibbutz. Now I homestead in central NC.