Let me show you how easy it is to make roasted purple sweet potatoes! This specialty crop is delicious. Not as sweet as the regular orange sweet potatoes, but if you ask me, just as tasty. This is a simple recipe that takes a few minutes to put together. Roasted purple sweet potatoes can be a great side dish for any meal or can serve as your main dish, it's up to you. The handy printable is at the end of this post.
In my post, Growing Purple Sweet Potatoes, I shared with you my journey of growing this special potato and how I even came across it.
If you found this post because you came across purple sweet potatoes at a market somewhere, couldn't stop yourself from buying them, and now you're asking yourself, "How do I cook these things?", I've got you. You'll see how simple this recipe is.
If you landed here because you saw my roasted purple sweet potatoes on Pinterest or Facebook (please follow me there!) and you don't even have a clue what are purple sweet potatoes… Don't feel bad. I had no clue either just a few short years ago. I knew that there were purple potatoes, but I had no idea that there were purple sweet potatoes.
I wonder what else is hidden in the sweet potato world…
Anyway, you'll learn a lot about what purple sweet potatoes are in my Growing Purple Sweet Potatoes post. Things like where they came from, where to buy purple sweet potatoes, the purple sweet potatoes varieties that are available, purple sweet potato health benefits and so on. In this post, I'll just concentrate on the roasted purple sweet potato recipe.
Roasted Purple Sweet Potatoes…
So don't say I didn't tell you this… I am telling you this… Are you listening? Good.
Purple sweet potatoes are not as sweet as orange sweet potatoes. Some might say that they are not sweet at all, but let's not argue on that since I am pretty sure our taste buds are quite different and I consider myself a productive person and arguing about how sweet purple sweet potatoes are or even writing one more word about this is a waste of time and since I thrive to be a productive person I am going to stop now.
How was that for a run-on sentence, huh? Take a breath and let's move on.
So just take into consideration that they are not as sweet, ok? ok.
Now, that's not to say that they are not tasty, yes? I mean, a tomato is not sweet and it's so tasty, yes? Yes.
Or maybe some would say that a tomato is sweet…? Oh, well…
They are creamy, and a tiny bit dry (which we will correct with garlic sauce because what can EVER not taste good dipped in garlic sauce I ask you…), and they are beautifully purple and so very healthy for us.
They are full of vitamins, contain no fat what so ever, low on carbohydrates, and full of antioxidants.
So let's roast them, shall we?
We shall!
Roasted Purple Sweet Potato Recipe…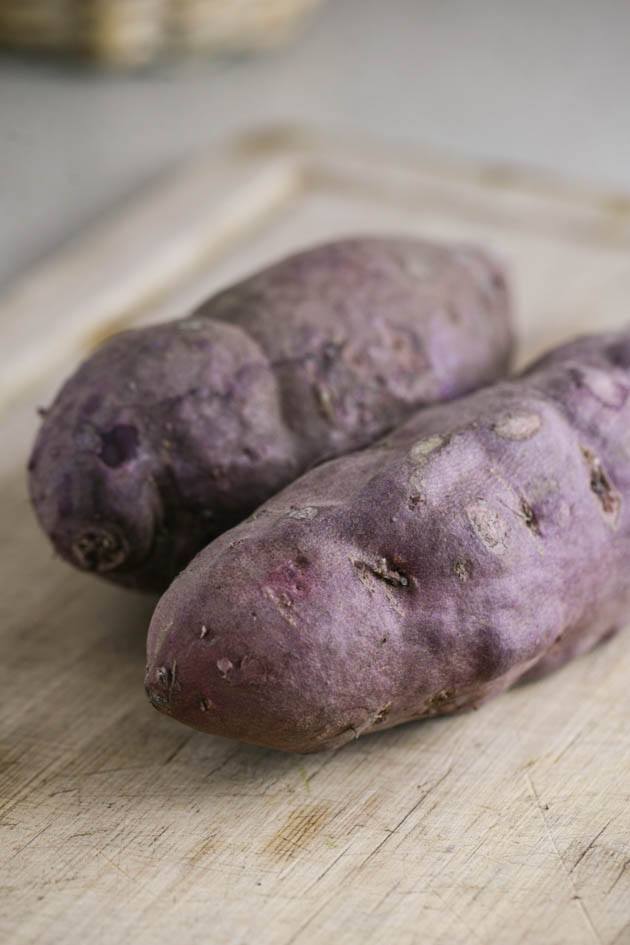 You start with a couple of purple sweet potatoes. I bought these from a company called Frieda's. I bought the 15 LB organic purple sweet potato box because I wanted to sprout them and plant the slips and grow my own potatoes.
I received beautiful potatoes, as you can see, and the service was fast. The fact that the FedEx guy delivered them to the abandoned house on the other side of the woods, past the pond, and pretty much across the county line is not Frieda's fault!
It took some good old fashion hunting but after a couple of weeks I located my precious potatoes and they were still good.
So I recommend Frieda's but not so much FedEx.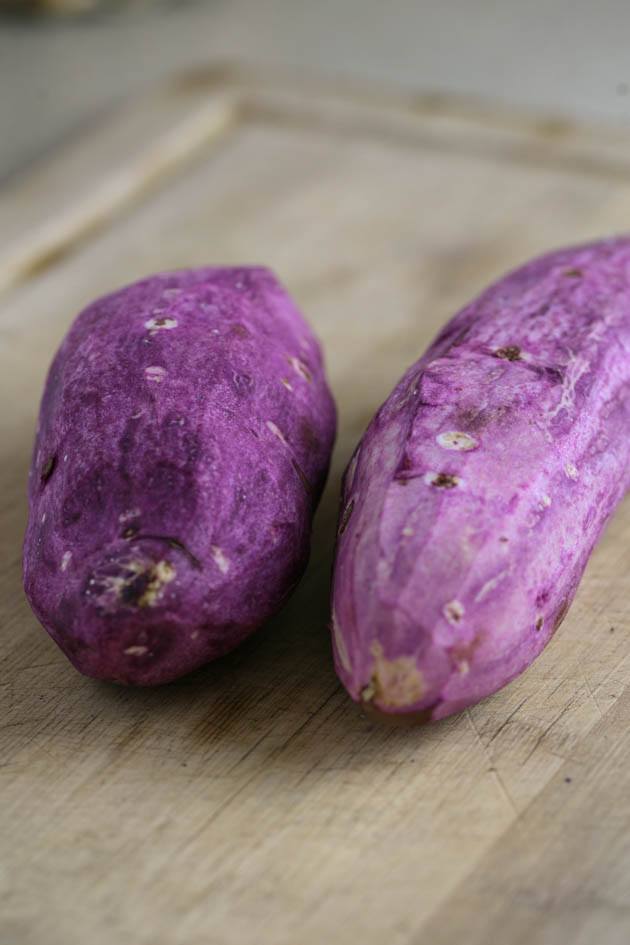 Anyway, peel your potatoes to reveal their glorious purpleness! I mean, look at this…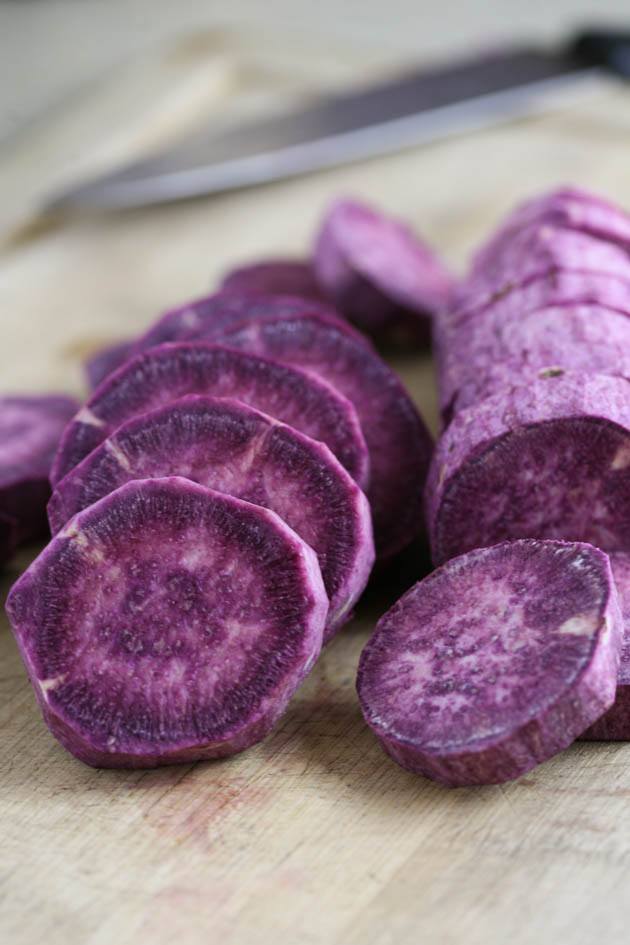 But then, look at this! Slice your potatoes into circles half an inch thick and discover the psychedelic, mesmerizing pattern inside. Beautiful, huh?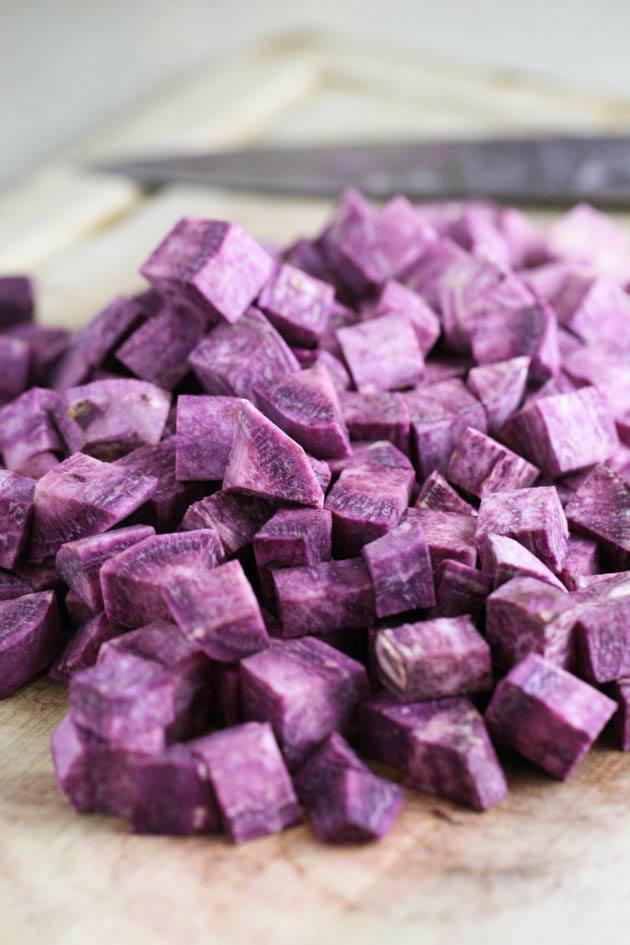 Ok, move on to cut the slices into little cubes, kinda like home fries.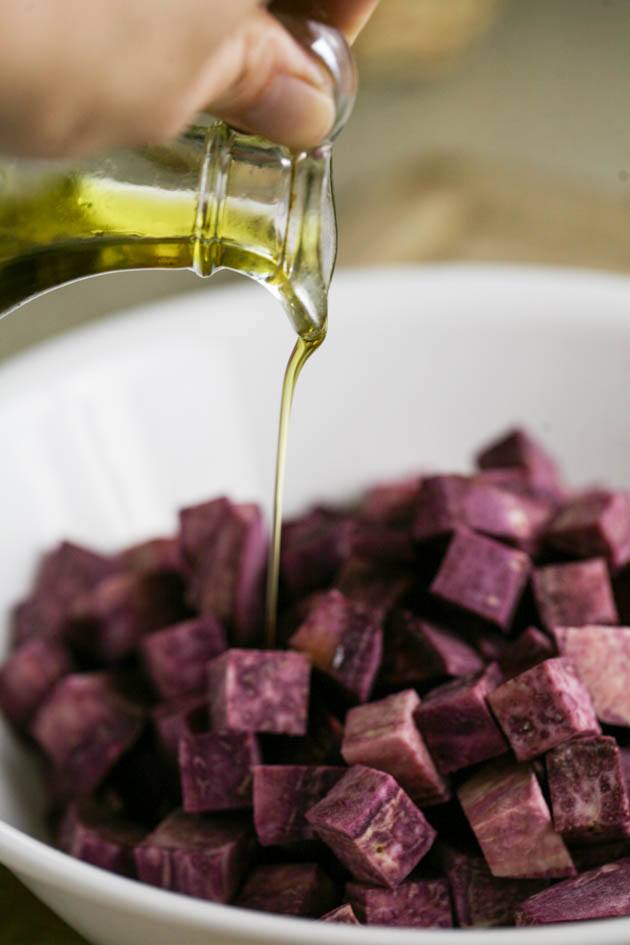 Add them to a mixing bowl and add five or so tablespoons of olive oil.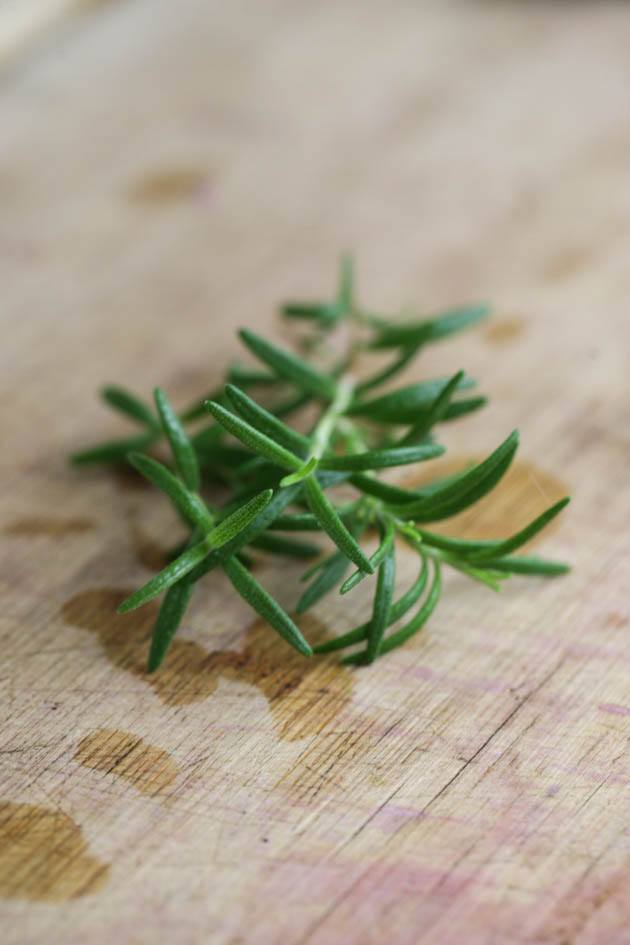 Grab a few stems of rosemary (I used four)…
I used fresh rosemary from my rosemary plant but you can also use dry rosemary as well.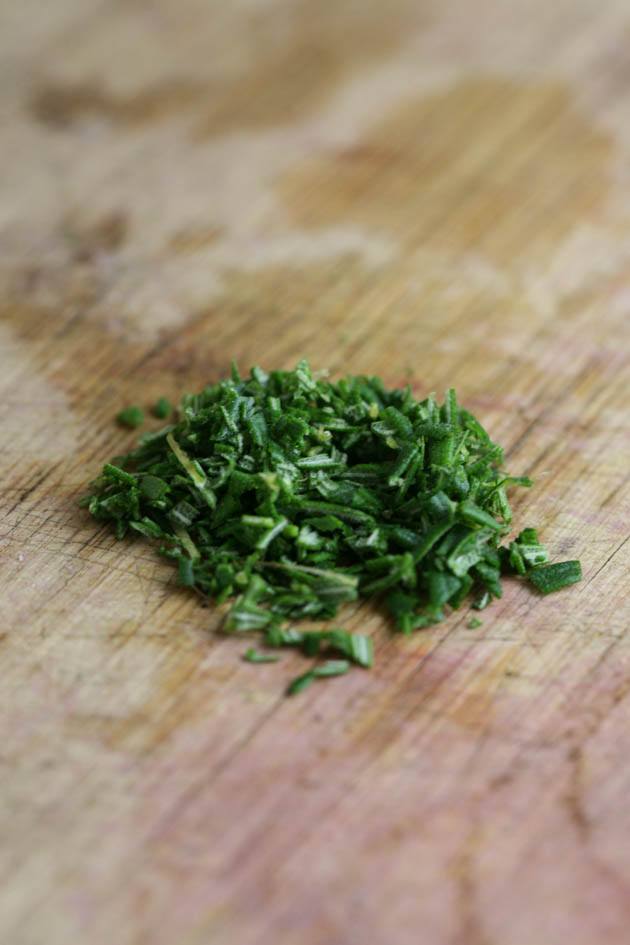 Remove the leaves from the stem and chop the rosemary really small…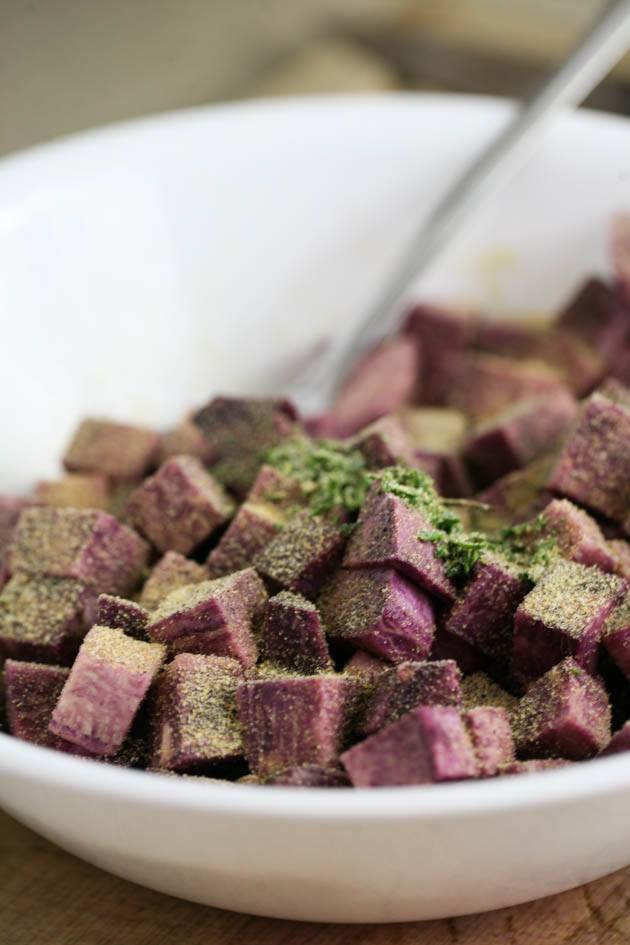 Add the rosemary to the mixing bowl and then add salt and pepper to taste and about a tablespoon of garlic powder.
Go wild here and be creative. This is how I like seasoning my potatoes but you can add anything you want. If you like some heat add ground chili or cayenne pepper. You can add paprika or cumin if you like the taste… Anything goes, really.
Give the potatoes a good mix and make sure they are coated with the olive oil and the seasonings (you can add a couple more tablespoons of olive oil if you feel that it's needed).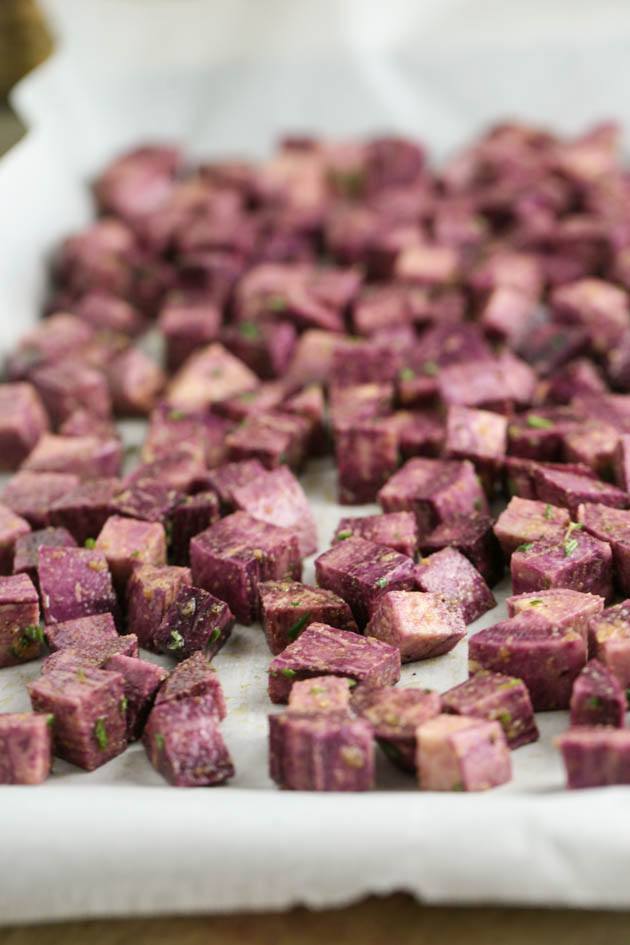 Line a baking sheet with parchment paper and set your potatoes in one layer on the baking sheet.
Roast for 30 minutes in a preheated 400 F oven.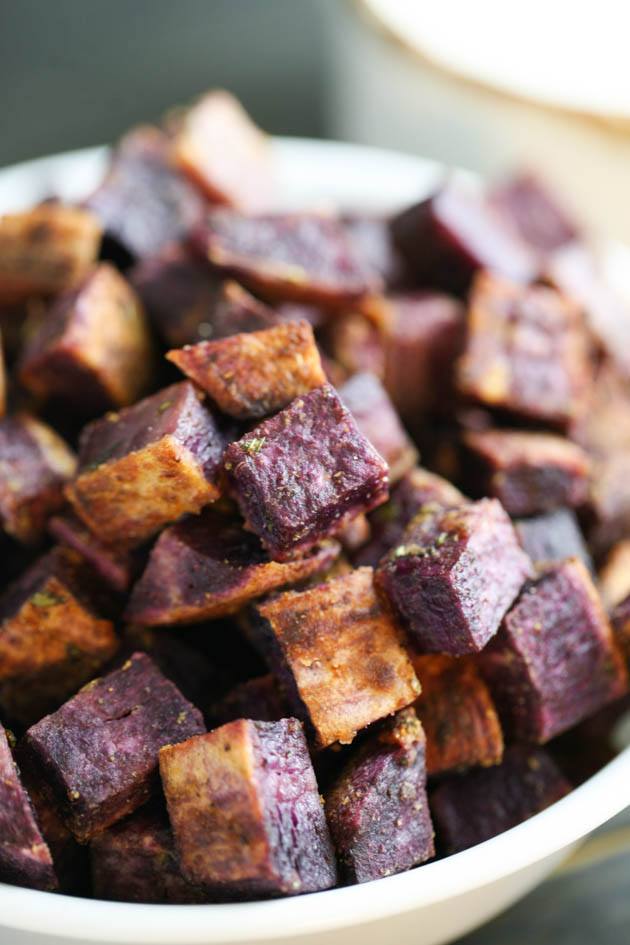 Of course, you can play with the time a little bit. When the potatoes are done to your liking, take the baking sheet out of the oven and let the potatoes cool for just a couple of minutes. Then they are ready to serve!
But, in my opinion, Since purple sweet potatoes are a little dense and dry, they go very well with some kind of sauce/dressing. I think that a thousand island dressing or a ranch dressing will be delicious here but I like to make my own garlic sauce…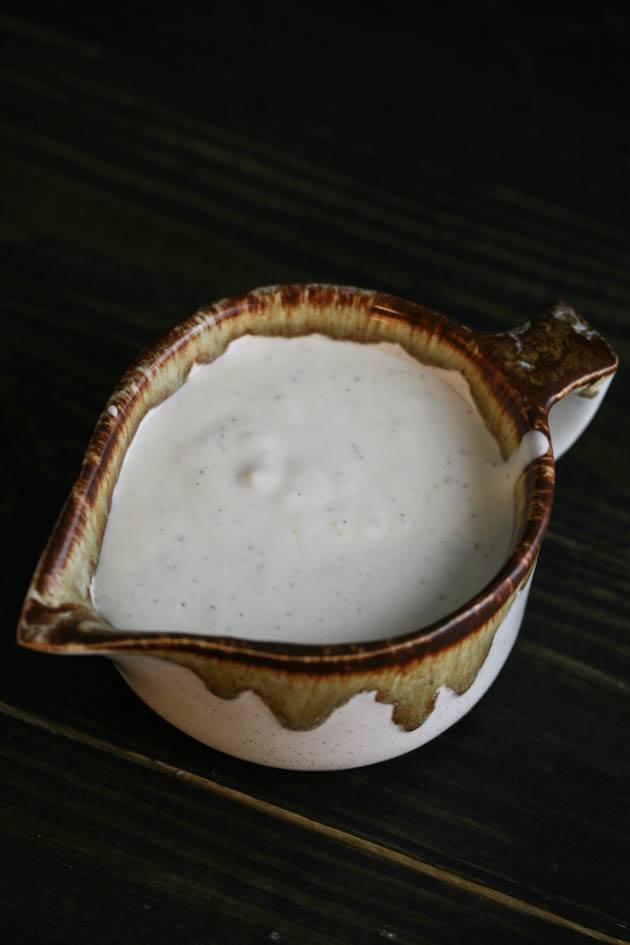 I mix one tablespoon of mayo, 1/4 cup of sour cream, 1/4 cup of plain yogurt (here is how to make your own yogurt from store-bought milk in the crock-pot), 2 or 3 minced garlic cloves, the juice from half a lemon, and salt and black pepper to taste (if you have dill or chives add those too!).
Mix everything together and you have a healthy and super tasty garlic sauce!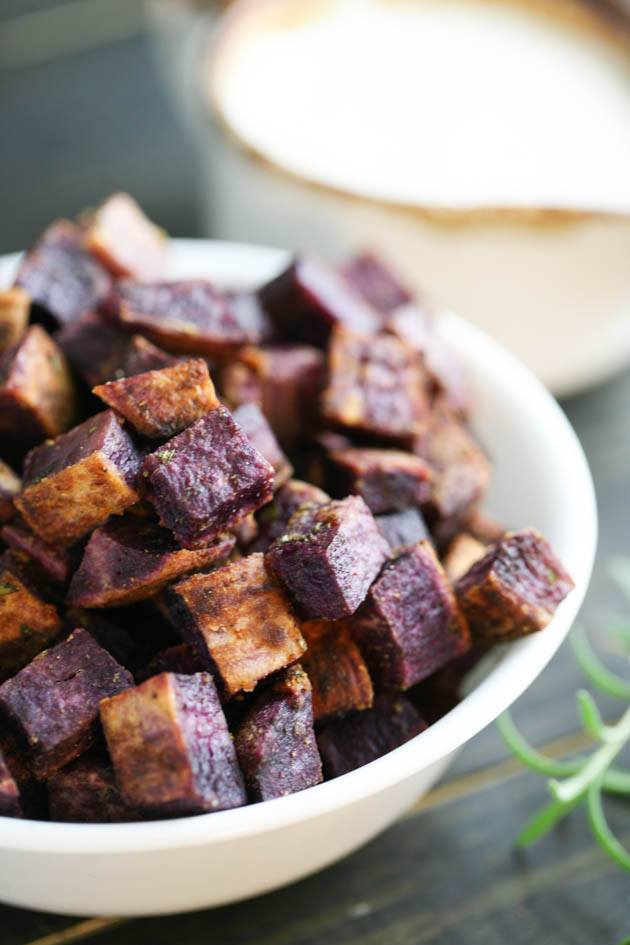 Your delicious roasted purple sweet potatoes and your garlic sauce are ready to serve…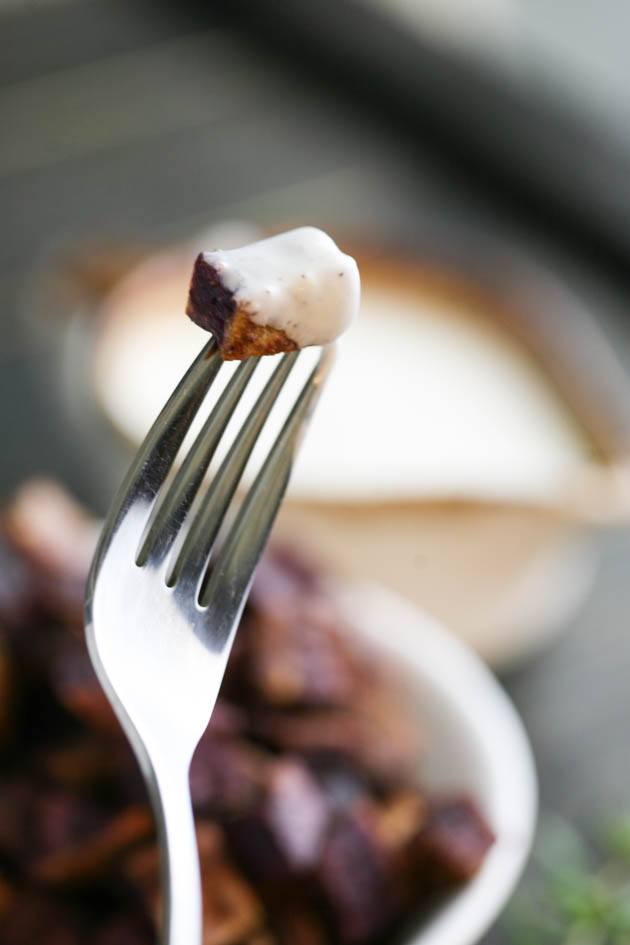 Grab one, dip it in the sauce and enjoy!
This can be a side dish like any other potato dish but you can also make it your main dish since it's so filling (especially if you are a vegan or a vegetarian… This is right up your ally!).
The other day I ate this for dinner with some fresh, sweet lunch peppers and sweet sugar snap peas. It was delicious and I didn't feel the need for breakfast the next day, my tummy was still full! Actually, that might have been because I ate almost two potatoes all by myself but let's ignore this fact, please. Thank you very much.
So, if you were wondering how to cook purple sweet potatoes, I hope you'll like this recipe. Also, make sure to check out my baked purple sweet potato recipe, mashed purple sweet potatoes and my purple sweet potato chips which are all amazing!
And don't stop there! You won't believe the dessert recipes you can make with this potato and there are many more savory recipes to try. I compiled 42 different recipes with purple sweet potatoes to try. 21 savory and 21 sweet. Check them out in my Purple Sweet Potato Recipe Roundup!
Here is the handy printable…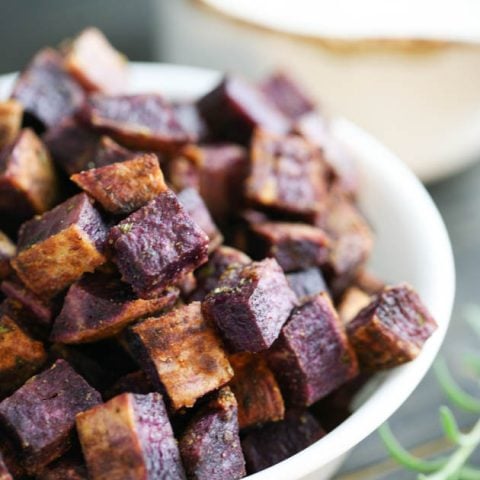 Roasted Purple Sweet Potatoes
Delicious roasted purple sweet potatoes with homemade garlic sauce.
Ingredients
2 purple sweet potatoes
5 tablespoons of olive oil
1 tablespoon of finely chopped rosemary
1 tablespoon of garlic powder
Salt and black pepper to taste
For the Garlic Sauce
1 tablespoon of mayo
1/4 cup of sour cream
1/4 cup of plain yogurt
The juice of half a lemon
2 or 3 minced garlic cloves
Salt and black pepper to taste
A teaspoon of dill is optional
Instructions
Preheat your oven to 400 F.
Peel and cut your potatoes into 1/2 inch cubes.
Add the potatoes to a mixing bowl and add the olive oil, rosemary, garlic powder, salt and black pepper.
Mix the potatoes to coat them with the seasonings and the olive oil.
Line a baking sheet with parchment paper and set your potatoes in one layer on the baking sheet.
Roast for about 30 minutes. When done, take out of the oven and let the potatoes rest for a couple of minutes.
Mix all the ingredients of the garlic sauce together in a jar or a bowl.
Serve the potatoes with the garlic sauce on the side.
Nutrition Information:
Yield:

4
Serving Size:

1
Amount Per Serving:
Calories:

319
Total Fat:

23g
Saturated Fat:

4g
Trans Fat:

0g
Unsaturated Fat:

17g
Cholesterol:

11mg
Sodium:

387mg
Carbohydrates:

28g
Fiber:

3g
Sugar:

13g
Protein:

3g