There is always granola in the fridge at my house especially during the growing season when we spend most of our time in the garden and there is no time to cook anything. This healthy granola recipe is not too sweet (you can always add honey later if you like) and it's full of healthy nuts and seeds like flax seed and hemp hearts. It's delicious and very filling.
---
My kids' poop was neon green. No joke.
I had a hard few months. We were moving to a new house, I was 8 months pregnant, the new house did not have AC in it and it was June in the South. (Read: How We Bought a $34,000 House in The Country)
I was short, I was miserable, I was hot, I was tired, I was in pain.
So I gave up and bought my kids Lucky Charms for breakfast. The next day, their poop was neon green and I almost had a heart attack in the bathroom.
You don't want an eight months pregnant mother to have a heart attack.
It took me a few minutes to figure out what had happened. Of course in my head, I immediately started going through everything that they ate the day before, and the only thing that was different was the cereal.
Healthy Granola Recipe – With Lots of Nuts and Seeds
Now, don't go thinking we are this super healthy family that never eat anything but organic lettuce.
We are what we are. We harvest organic meat from mother nature, we grow as much food as we can in the garden, and we try to lower sugars in our diet. We make bread and cheese and cook pretty much everything from scratch.
But we are not perfect in any way, shape or form. We can't afford most of the organic vegetables or fruits at the store or the farmer's market, we sometimes buy a frozen something that we can throw in the oven if we know that we have a big project to complete and there won't be any time for cooking, and we love eating out. We don't do it much but we do eat a hamburger here and there.
We usually don't eat cereal because, well, we try not to eat food that comes from a box. They are full of sugar and colors and not the best thing for you (I am sure there are a few that are healthier than others). But as I said, I was barely making it through the day so I let go and told my kids to choose whatever they wanted. Lucky Charmes it was.
And it turned their poop green! This ain't normal my friends.
So anyway, once the move was over and the baby finally decided to show up, 10 days late, let me tell you, and the AC was installed and life got back under control (sort of), I looked for an easy granola recipe to replace the cereal.
I don't know why but it was really hard to find a simple recipe that I can put together in minutes. So I made my own and I want to share it with you so that you don't ever have to deal with neon green poop.
Here we go…
How to Make Granola:
Start with 1/4 cup sesame and 1/4 cup sunflower seeds on a baking sheet.
Place one cup of walnuts, one cup of pecans, and one cup of almonds on your cutting board…
And chop as fine as you like.
Add the chopped nuts to the seeds.
Add 4 cups of rolled oats…
And toss all the goodness together.
In a small pot, place 5 tablespoons of coconut oil and 3 tablespoons honey.
If you don't have coconut oil, you can use butter and if you want it sweeter add a couple more tablespoons of honey. I usually eat my granola with dry fruit that is plenty sweet so I don't make the granola too sweet.
Set the pot on the stovetop on medium-high heat…
And melt the coconut oil. Remove from the heat once it's melted.
Pour the coconut oil and honey over the oats and nuts…
And mix with a turner or a spatula until the oats and nuts are coated with the oil.
Spread the granola in an even layer on the baking sheet and bake at 350 F for ten minutes.
After ten minutes, take the baking sheet out of the oven and mix and turn the granola with a spatula.
Put back in the oven for 5 more minutes…
Take out, mix and turn…
Place back in the oven for another 5 minutes…
Take out, mix and turn…
Place back in the oven for another 5 minutes…
After 25 minutes or so it will be golden and beautiful. If it's not, place in the oven for an additional five minutes.
Once the granola cooled down a little, add 1/4 cup ground flax seed. (Read: What is Flex Seed and How to Use it).
And 1/4 cup hemp hearts. (Read: What is Hemp Seed and How to Use It).
Both hemp and flax seed are very healthy for you but it's better to eat them raw since the heat can destroy their health benefits so we add them at the end.
Mix the flax and hemp in with the granola…
And that's it!
This will make about three-quart jars of granola. I wait for it to completely cool, mixing and turning a bit to speed the process and then transfer it to the jars (using a canning funnel makes the job really easy). I store the granola in the fridge.
We eat it with my homemade crockpot yogurt (read: Homemade Crock Pot Yogurt From Store-Bought Milk) and add different things to it. You can add fresh fruit (berries are great), or dry fruit (cranberries are my favorite), you can add chocolate chips or peanut butter chips or whatever else you can come up with.
One thing I really want to add (before baking) but I just didn't have on hand is unsweetened coconut flakes, I think those will be a great addition. Also, you can use different kinds of seeds and nuts if you wanted. Maybe cashews or pumpkin seeds…
There are so many options that you can make it a little bit different every time.
The only problem I have with this granola is that it doesn't last long in our house. We can eat this stuff morning, lunch and dinner.
By the way, your poop will stay plain old regular brown…
And that's good my friends, very very good!
If you liked this recipe, make sure to check out my AMAZING granola thins! (Read: Granola Thins Recipe).
Healthy Granola Recipe
Yield:
24, 1/2 Cup Servings
A homemade granola recipe full of nuts and seeds. Use this as a base recipe and add to it whatever seeds and nuts you'd like.
Ingredients
1/4 cup sesame seeds
1/4 cup sunflower seeds
1 cup walnuts
1 cup pecans
1 cup almonds
4 cups oats
5 tbs coconut oil or butter
3 tbs honey
1/4 cup ground flax seed
1/4 cup ground hemp seed
Instructions
Heat oven to 350 F.
Place sesame and sunflower seeds on a baking sheet.
Chop walnuts, pecans, and almonds as fine as you like and add to the baking sheet.
Add 4 cups of oats and mix with nuts to combine.
In a pot, melt coconut oil and honey.
Pour oil mixture over oats and nuts and use a spatula to mix until the mixture is coated with the oil and honey.
Bake for 10 minutes.
Take out of the oven, mix and turn...
Place back in the oven for 5 more minutes...
Take out of the oven, mix and turn...
Place back in the oven for 5 more minutes...
Take out of the oven, mix and turn...
Place back in the oven for 5 more minutes...
After 25 minutes of baking the granola should be golden and ready. If you want it a bit darker, place in the oven for 5 more minutes.
Once the granola cooled mix in flax and hemp seeds, transfer to a jar or a container, cover with the lid and store in the fridge.
Serve with yogurt, fresh fruit, chocolate chips, dry fruit, or anything else you feel like adding!
Nutrition Information:
Yield:

24
Serving Size:

1
Amount Per Serving:
Calories:

211
Total Fat:

16g
Saturated Fat:

4g
Trans Fat:

0g
Unsaturated Fat:

11g
Cholesterol:

1mg
Sodium:

114mg
Carbohydrates:

15g
Fiber:

3g
Sugar:

3g
Protein:

5g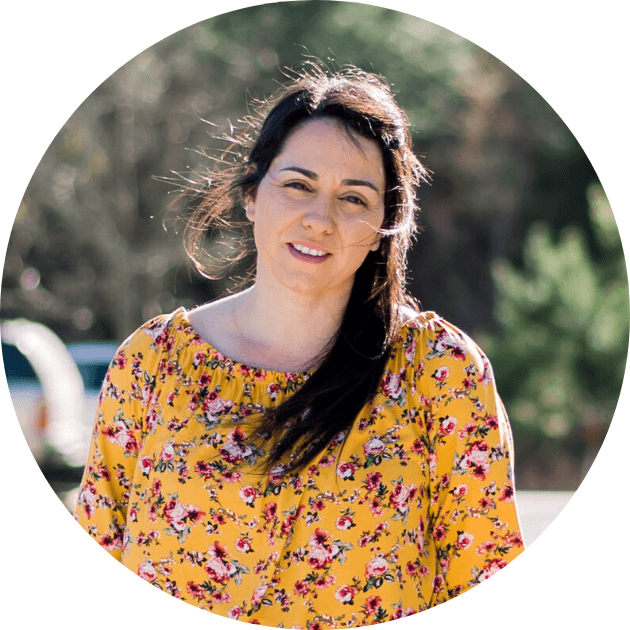 Hi! I'm Lady Lee. I help homesteaders simplify their homesteading journey while still producing a ton of food! I am a single mother of four, I was born in Israel and raised in an agricultural commune called a Kibbutz. Now I homestead in central NC.