My favorite way to use the deer we process in the fall is to make deer jerky in the oven. My kids love it, I love it… It's not really a meal but it's filling just like a meal. I take it out of the oven and it takes no time before it disappears. You can play with the marinade however you want. You can make it spicy or sweet or somewhere in between. It's a really flexible dish.
The freezer is empty. Well, there are a lot of vegetables from the garden there, but no meat. The four deer we processed last fall are in our bellies, the chickens we processed earlier this summer are also in our bellies and I now need to purchase meat from the grocery store.
Unfortunately, we can't afford meat from local farms at the moment and it's a big problem because once your body gets used to eating clean meat there is no way back. Eating meat from the grocery store simply makes you feel bad.
How to Make Deer Jerky in the Oven…
I am not putting anyone down, I am more than thankful that we can go get our meat at the store. But I have to be honest and note that something is not right with it (I know this is no news to you guys but I kind of forgot…). I didn't spend any time researching commercial meat production practices but boy, I can feel the difference in my body.
Fatigue, hormonal change, bloating and other digestive issues… It's all has to do with the food we put in our bodies and it seems like meat has a large role in that, maybe larger than vegetables or so it feels to me…
We ate so much food from the homestead this summer: loads of organic vegetables from the garden, homegrown chicken, and deer we harvested last fall. Even though the work is backbreaking and brutal, simply because there is so much to do all at once (plus taking care of four young kids…), we felt so strong and had plenty of energy. I believe it's directly connected to the food we ate.
Then we finished all the meat just a short couple of weeks ago and the garden is in transition to the fall now so there is not as much there, and in such a short time I feel such a major difference in my body.
Thanks to essential oils, this situation is still manageable, but what a great reminder this as to why I am are doing what I am doing!
Sometimes in the midst of the craziness that is weeds and chicken poop you stop and ask yourself, why am I working so hard, why am I doing all this when I can drive 20 minutes down the country road to town and get a package of nicely wrapped meat ready to be used? I don't need to feed it, I don't need to clean its poop, I don't need to water it, I don't need to butcher it, I don't need to clean the mess… I pay for it and it's conveniently there.
Aside from the fact that I love the feeling of being responsible for myself, learning skills that allow me to not depend on others, feeling the connection to the land and to the food that gives us life, commercial food simply doesn't feel good. Period.
I encourage you to give it a try. Maybe you have a hunter friend or you know a local organic farm, buy meat from them that will last you a month and eat this meat instead of what you usually buy at the grocery store and observe your body.
Fatigue, mostly gone. Digestive issues, gone. Gas, none existent. Hair loss and other symptoms that are a sign of hormonal imbalance, reduced dramatically.
Try it… You'll see.
I am seriously contemplating becoming a vegetarian until we get more meat, but it won't fly around here.
Anyway, you can probably see how eagerly I am waiting for the hunting season to open. Deer meat, harvested right from nature is simply the best thing you can put in your body. It's even better than home-raised meat because in most cases your homegrown animals still eat food from the store.
But hunting, harvesting this deer right from nature… There is nothing like it. It's so pure, so clean, so delicious… I am getting hungry now…
Today I am sharing with you our favorite way of fixing it.
Basically, you can use deer instead of beef. You can make stews with it, fry it, ground it and make meatballs or hamburgers… Anything that you do with beef.
My kids' favorite way of eating it is dry as jerky. They can snack on it the whole day and I don't have to serve anything else besides it.
We made it in the dehydrator a few times and it came out great. You can save it for a long time this way, but it doesn't last long at all around here anyway so I prefer making it in the oven simply because it's faster.
Slicing Deer Meat for Deer Jerky…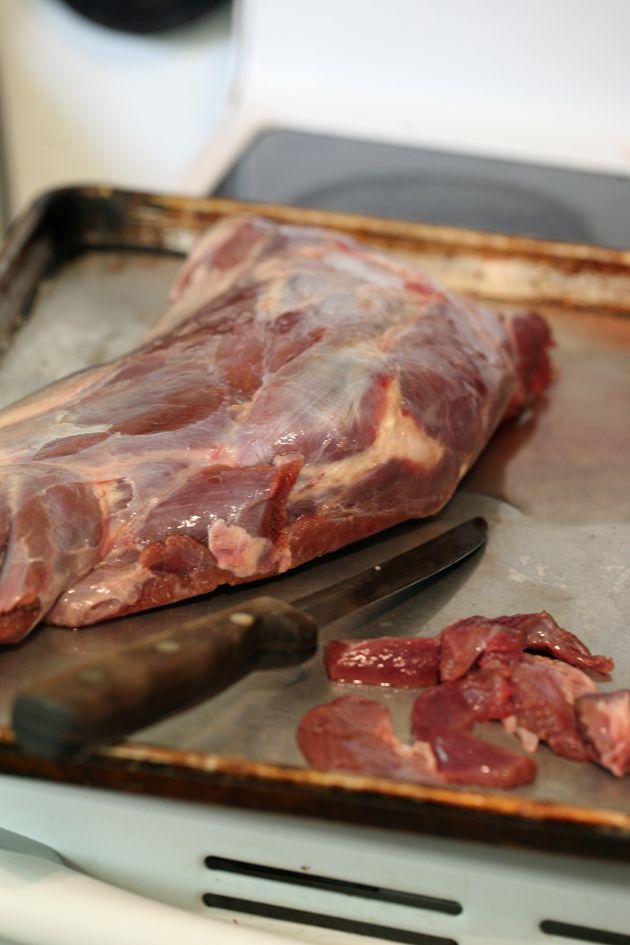 I start with a big piece of venison and a very sharp knife. In this case, it was a front leg but it can be any piece.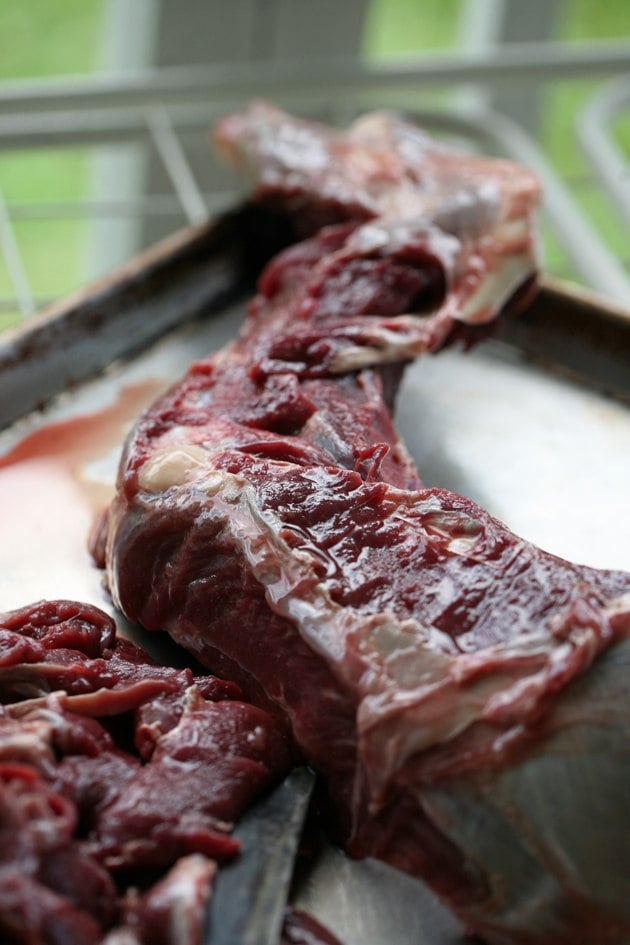 I start by cutting thin strips of meat…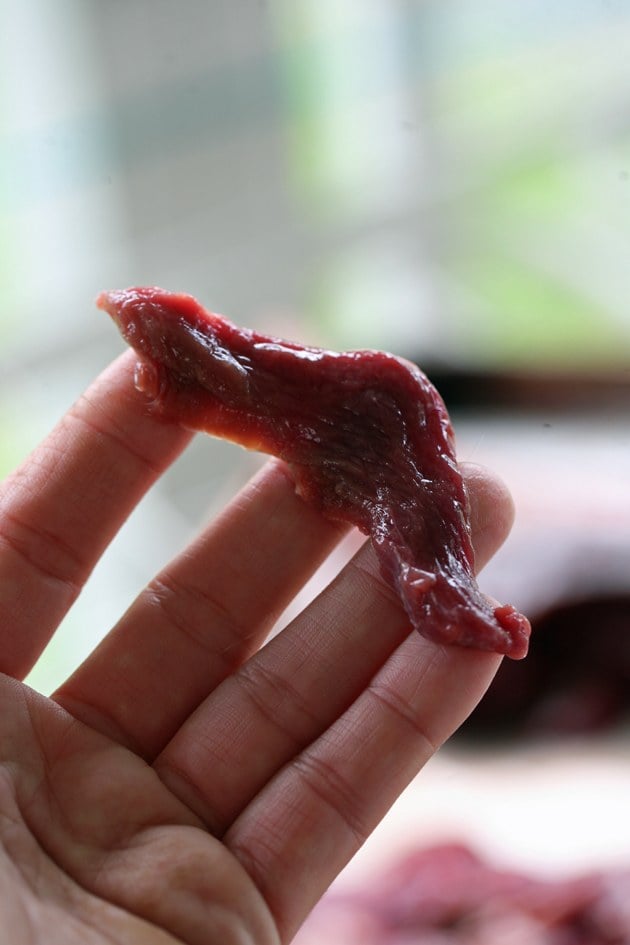 I try to cut all of them the same thickness so they bake evenly.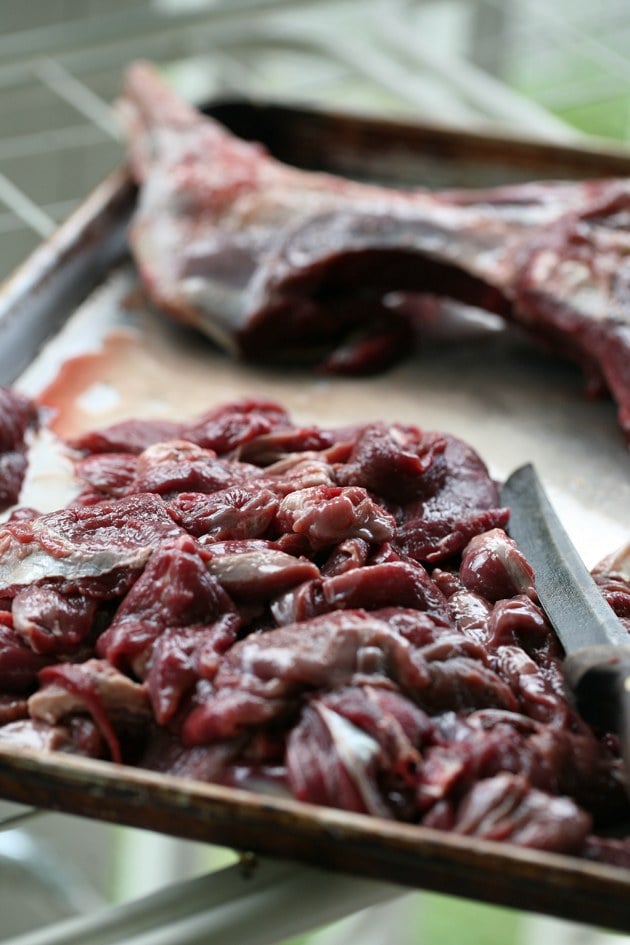 It wasn't easy to get all this meat off the bone. It is much easier if you use a chunk of roast or steak and it's easier to cut when the meat is still a bit frozen.
But it's our favorite way of eating venison and it was our last piece so I made the effort.
Once I had as much meat as I could cut off the bone, I seasoned the bone (olive oil, garlic salt, paprika, and black pepper) and baked it in the oven on 350F for an hour and a half or so. We then eat the meat off of it (there is still so much on there) and gave the bone to the dogs.
Sometimes, instead of baking the bone in the oven I'll make bone broth with it and can it. This is another great (and healthy) way to use it.
Marinating the Deer Meat for Deer Jerky…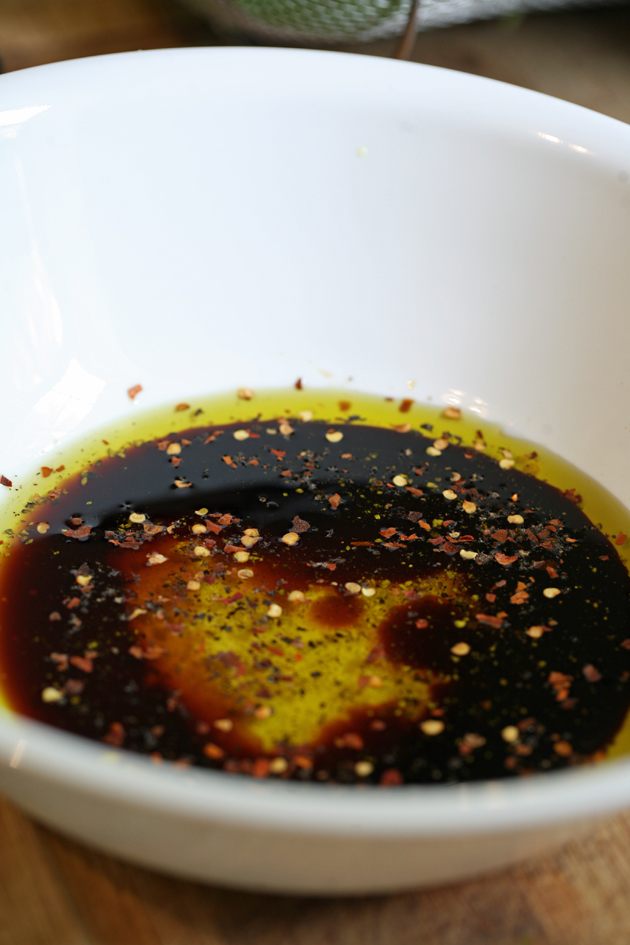 The strips I cut for the jerky need to be marinated.
I mix 4 tablespoons of olive oil, 4 tablespoons of soy sauce, 3 tablespoons of honey, and 1/2 teaspoon of each red chili pepper flakes, garlic powder, and black pepper. You can also add ginger powder if you have it. Salt can be added as well but just take into consideration that soy sauce is pretty salty.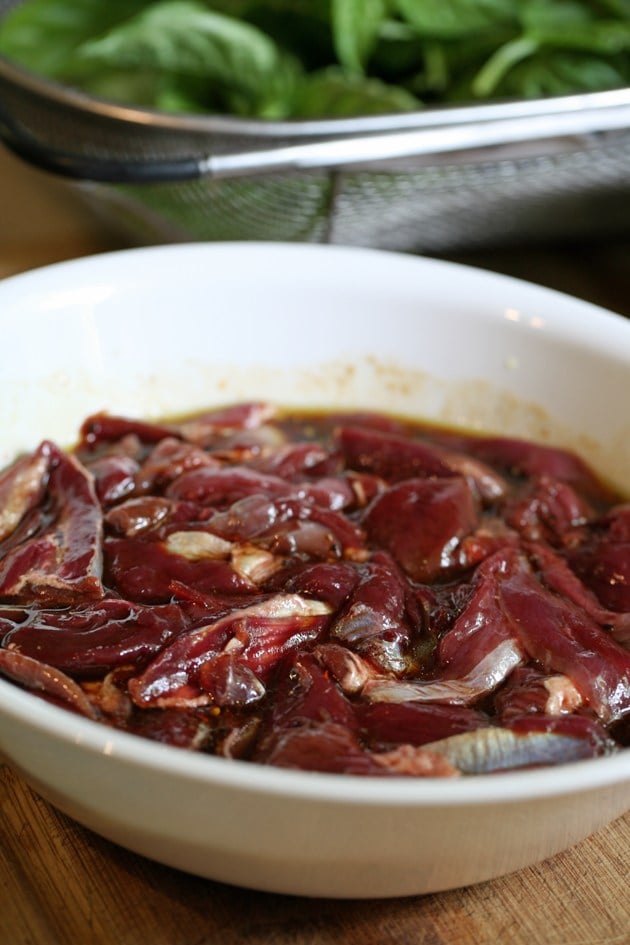 I place the meat in the marinade and mix so it's coated well, then I cover with plastic wrap and let the meat marinate in the fridge for a few hours but preferably overnight.
The measurements for the marinade are just a rough guide for you. I had about 2 lb of meat strips. Change the marinade according to what you like. You can add more honey or use less soy sauce… Make it your own. Of course, it will also change according to how much meat you have.
Making Deer Jerky in the Oven…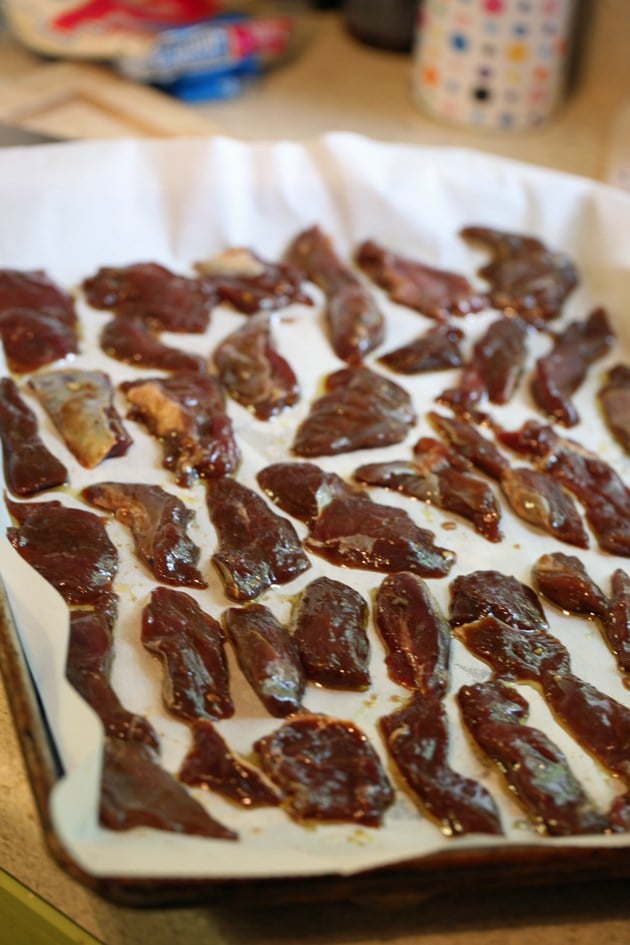 When I am ready to bake this deer jerky in the oven, I lay the pieces of meat in one layer on a baking sheet lined with parchment paper and bake on 300F.
I start with an hour and then from there, I keep baking it more depending on how dry I like it and on the thickness of the strips of deer meat. I usually end up leaving it for an hour and a half or so.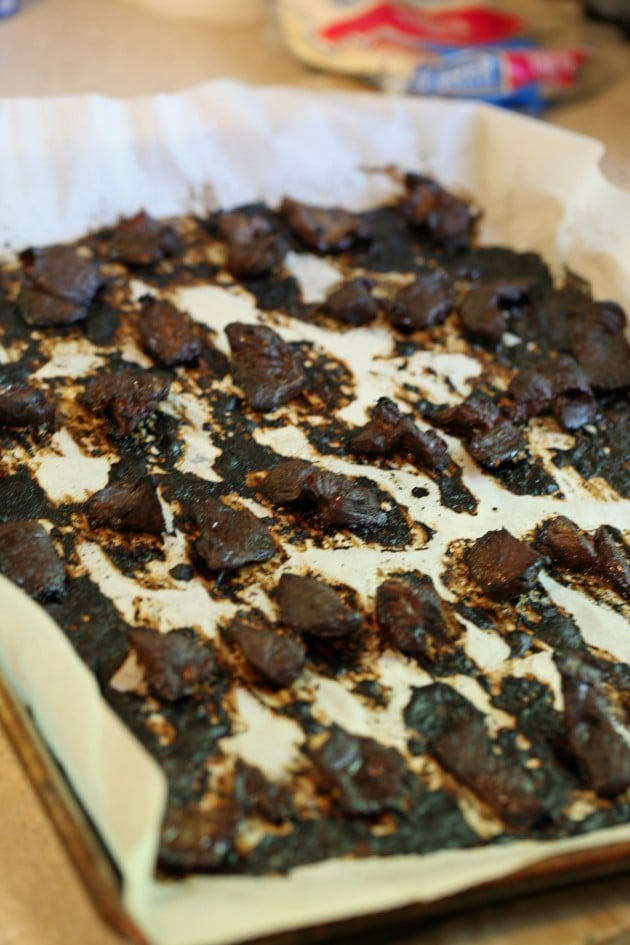 It comes out dry and dark (because of the soy sauce) and delicious!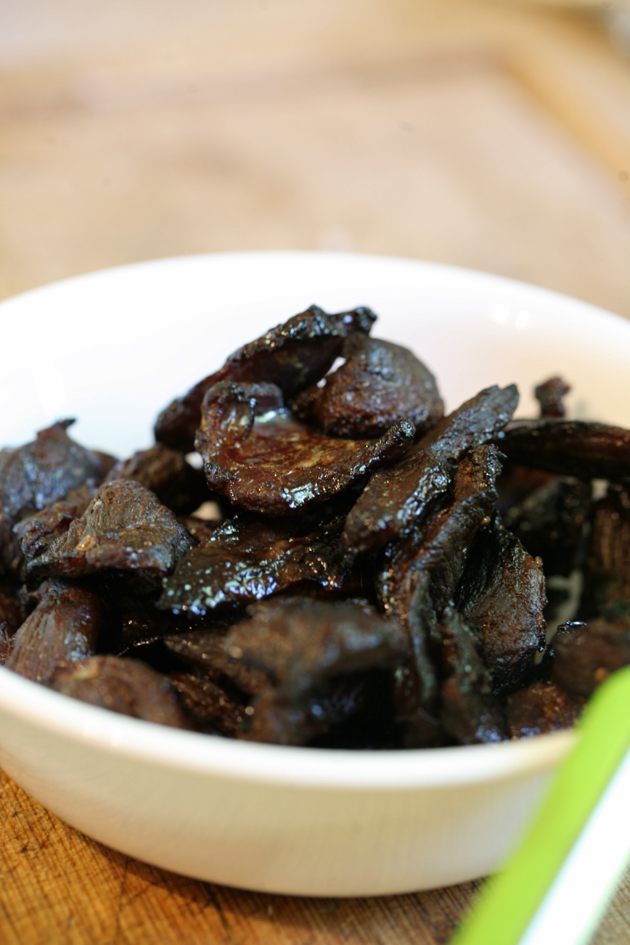 You can't keep those out at room temperature as you do with jerky you made in a dehydrator, they are not quite as dry. But you can certainly store them in the fridge if you want for a few days. In our house, they don't last long enough to make it to the fridge.
It looks like we are going to need more than four deer this year. I hope we get at least that but I'll be happy with any number. If we get more than we need there are many people around here that are in need and appreciate this meat so we will just share with others.
Have you ever tried deer meat? Do you hunt?
If you are looking for more deer meat recipes, try my simple venison burger recipe, my pulled venison wrap, or my BBQ venison neck recipe. And if you are looking for a way to preserve your meat, visit my how to can meat post to learn how you can easily can venison.
Here is the handy deer jerky in the oven recipe card…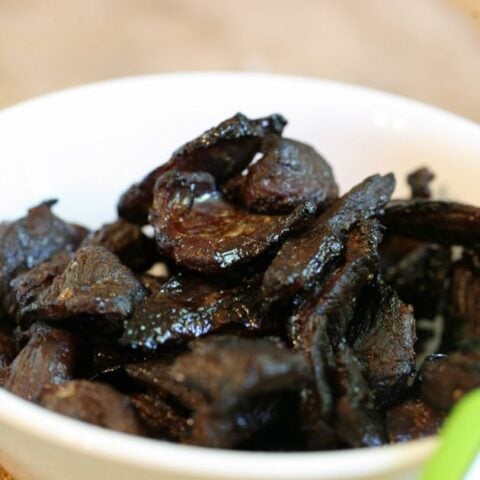 Deer Jerky in the Oven
Total Time:
9 hours
15 minutes
Delicious and healthy deer jerky in the oven recipe.
Ingredients
2 lb deer meat strips, cut thinly
4 tablespoons olive oil
4 tablespoons soy sauce
3 tablespoons honey
1/2 teaspoon red chili flakes
1/2 teaspoon garlic powder
1/2 teaspoon black pepper
Ginger powder and salt are optional
Instructions
Slice your deer meat into thin stripes. This is easiest done when the meat is still a little bit frozen.
To a large bowl, add the olive oil, soy sauce, honey, red chili pepper flakes, garlic powder, and black pepper. Mix well to combine.
Add the meat and mix to coat all the meat in the marinade.
Cover the bowl with a plastic wrap and place in the fridge to marinate overnight or for a few hours.
Pre-heat oven to 300F.
Line a baking sheet with parchment paper. Arrange your meat slices on the baking sheet in one layer.
Bake for one hour to one and a half hours depending on how thick is your meat and how dry you'd like it.
Notes
Try to slice your meat to even pieces so they all bake the same.
The measurements for the marinate are just a rough guideline. Feel free to add some more seasonings, or more honey if you like it sweeter. Make it your own!
Salt is optional. If you choose to add it take into consideration that the soy sauce is pretty salty.
You can not store this jerky the same way that you store store-bought jerky. You can store it in the fridge if there is any leftover.
Nutrition Information:
Yield:

6
Serving Size:

1
Amount Per Serving:
Calories:

346
Total Fat:

13g
Saturated Fat:

3g
Trans Fat:

0g
Unsaturated Fat:

9g
Cholesterol:

119mg
Sodium:

671mg
Carbohydrates:

10g
Fiber:

0g
Sugar:

9g
Protein:

47g