In this post, I'll show you how to preserve lemon peel. There are a few ways to do this, but in this post, we are going to use oil and salt for this preserved lemon rind. It's delicious! I love eating it with any chicken or fish dish or adding it to any sandwich. It lasts forever and is very simple to make.
---
Why the heck would you bother preserving lemon peels? Well, because they are so delicious!
Besides, the chickens won't eat them and they take forever to compost, so in my belly they go.
Preserved lemon peel is a Middle Eastern/Moroccan kinda dish. In Israel, we don't use salad dressing as much as we use it here in the U.S. Most of the time when we make salads we dress them with olive oil, lemon juice, and salt (you can watch me do it in this video).
It's so simple, so tasty, and so much healthier than all those dressings that have a ton of mayo in them.
How to Preserve Lemon Peel…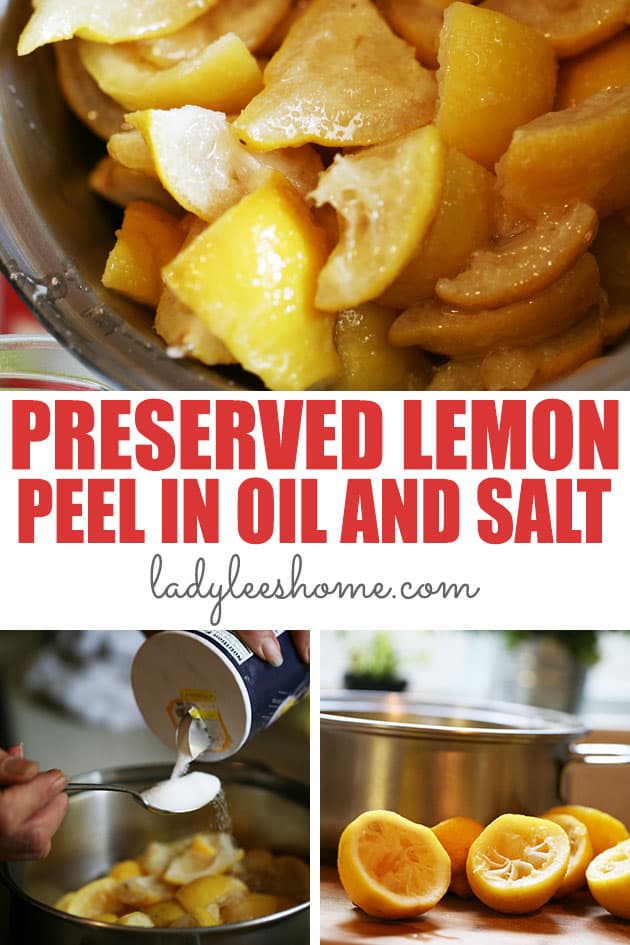 And we eat a salad with almost every meal in Israel! So what is one going to do with so many lemon peels at the end of the week?
Preserve them, of course.
Preserved lemon peel will last pretty much forever and you can use it in many ways which we will talk about later.
Tools That We Are Going to Need…
This simple recipe doesn't require much…
Cutting board – for preparing the lemons.
Knife – to cut the lemon peels.
Pot – we are going to boil the lemon peels so choose a pot large enough.
Measuring spoons – to measure the oil and salt.
A jar – to store the preserves lemon peels in. I used a quart jar for the peels of six lemons.
That's all we need!
Preserved Lemon Peel…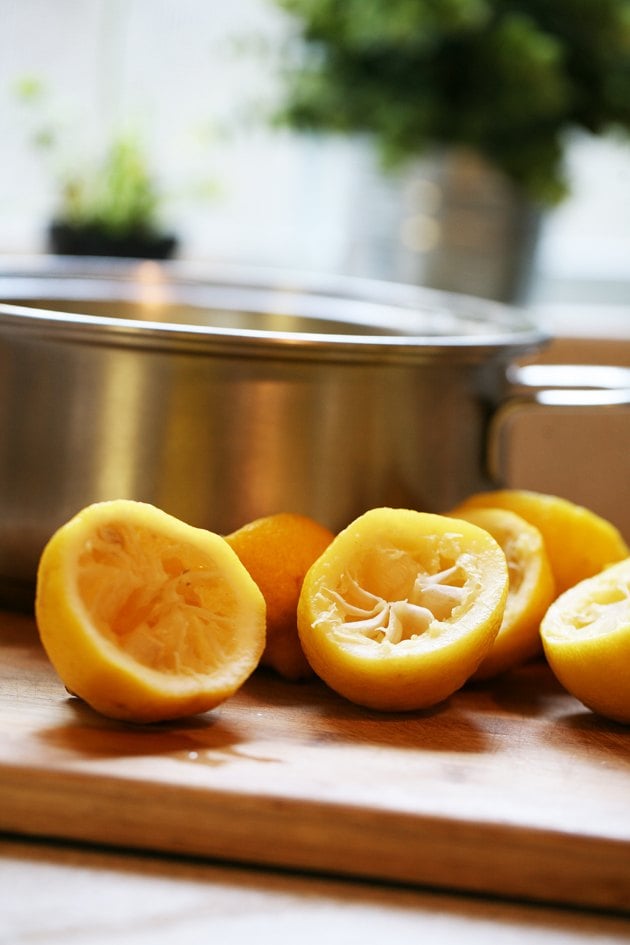 First, acquire a few lemons. Let's say, you used the juice for cooking or salad or whatever, instead of throwing away the peel, place it in a zip-lock bag or a container in the fridge.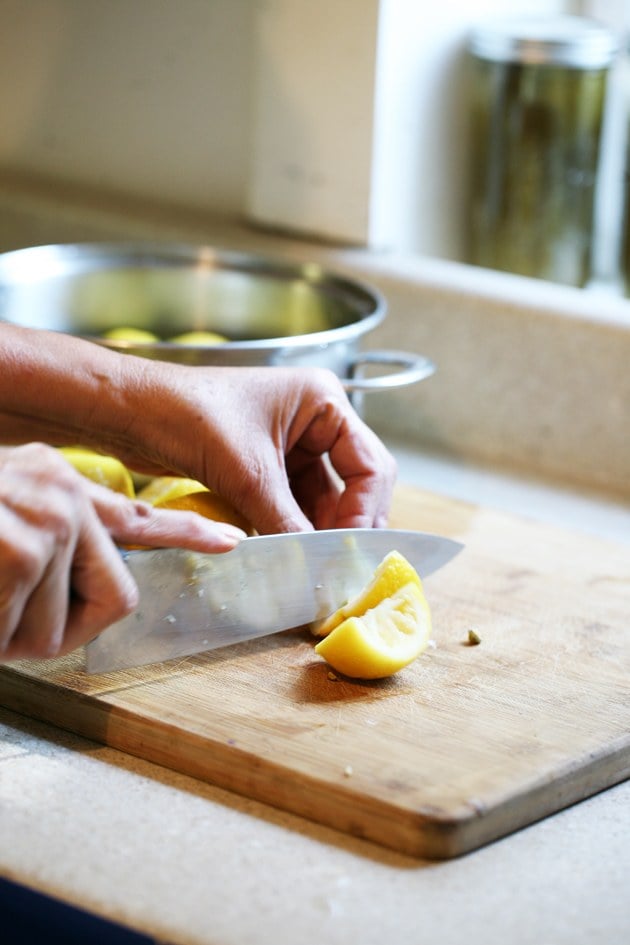 Once you have a few lemons, cut them into small pieces. We used about 6 lemons here, I think, and we cut each lemon into 8 pieces. You can go smaller or larger with your pieces, there are no rules.
Just a side note here, you can keep the lemon seeds and use them in jams since they have natural pectin in them and will thicken your jam naturally (I show how to do this in my Peach Jam post so make sure to check it out).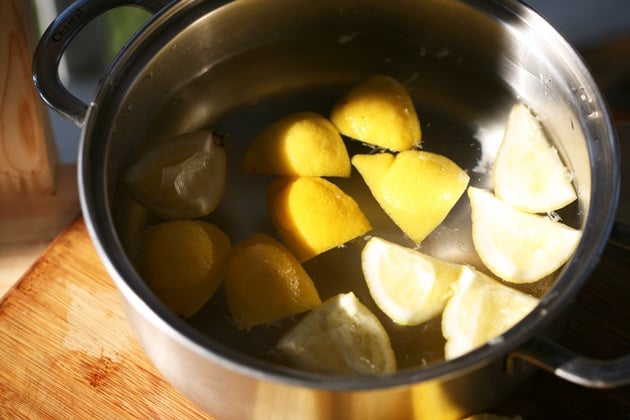 Place your lemon peels in a pot and fill it with water.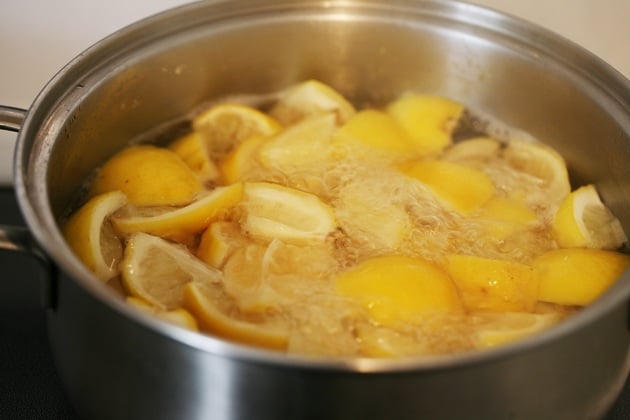 Place your pot on the stove top and bring the water to a boil. Lower the heat but keep your water boiling gently.
We want the peels to soften, this might take 30 minutes or maybe 45, depending on how thick your lemon peels are. Keep checking the softness with a fork just as you do with potatoes.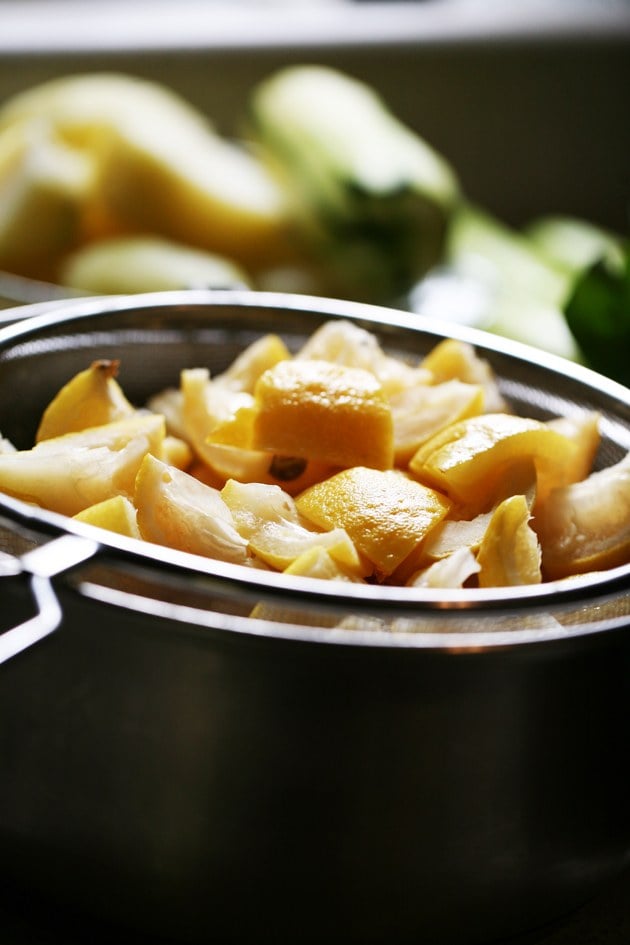 Once the lemons are soft, transfer them to a strainer or a colander and let them dry and cool a bit.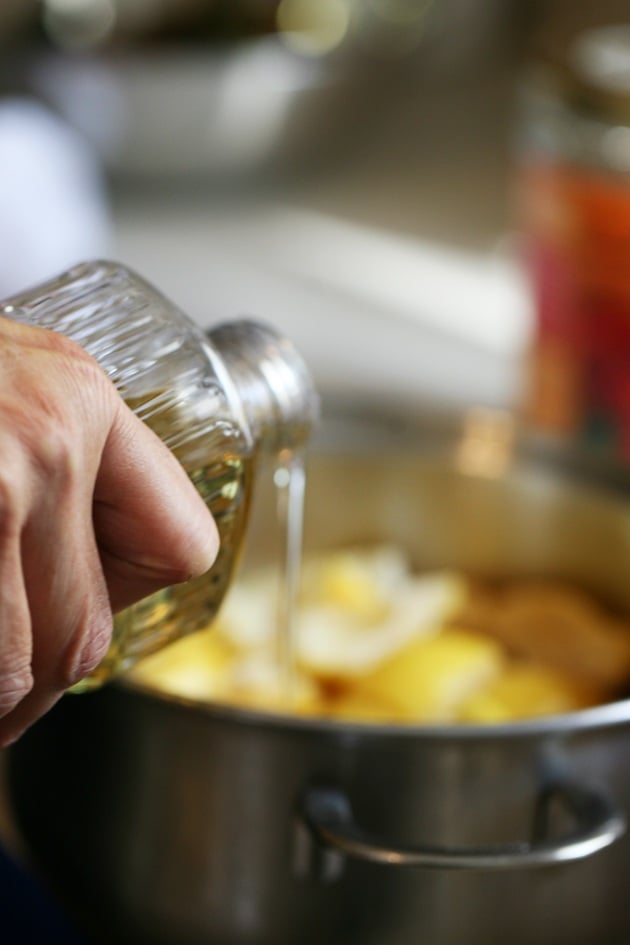 Once the peels are dry and cool, put them back in the pot or in a mixing bowl and add 6 tablespoons of oil…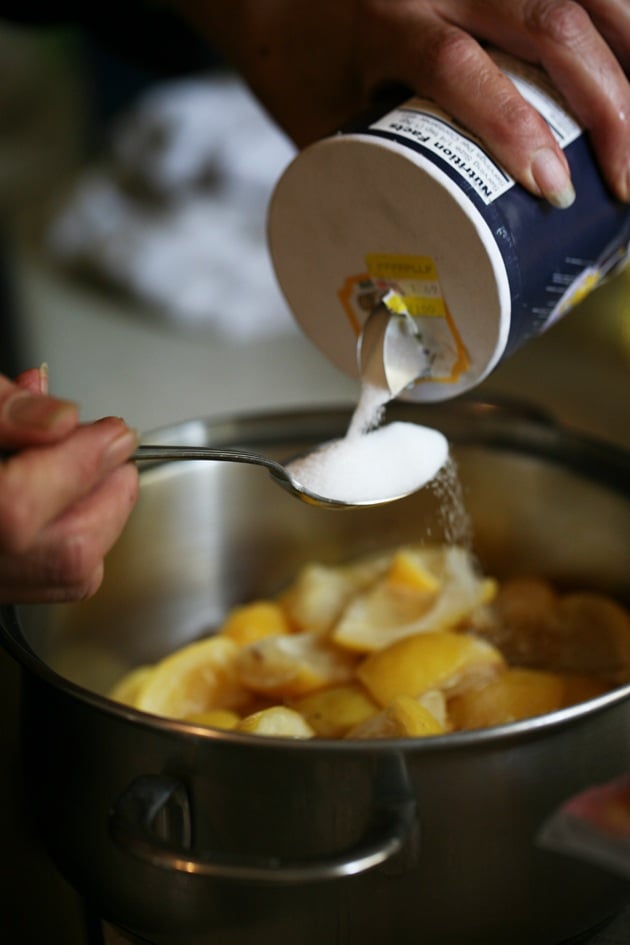 And 4 tablespoons of salt (preferably sea salt)…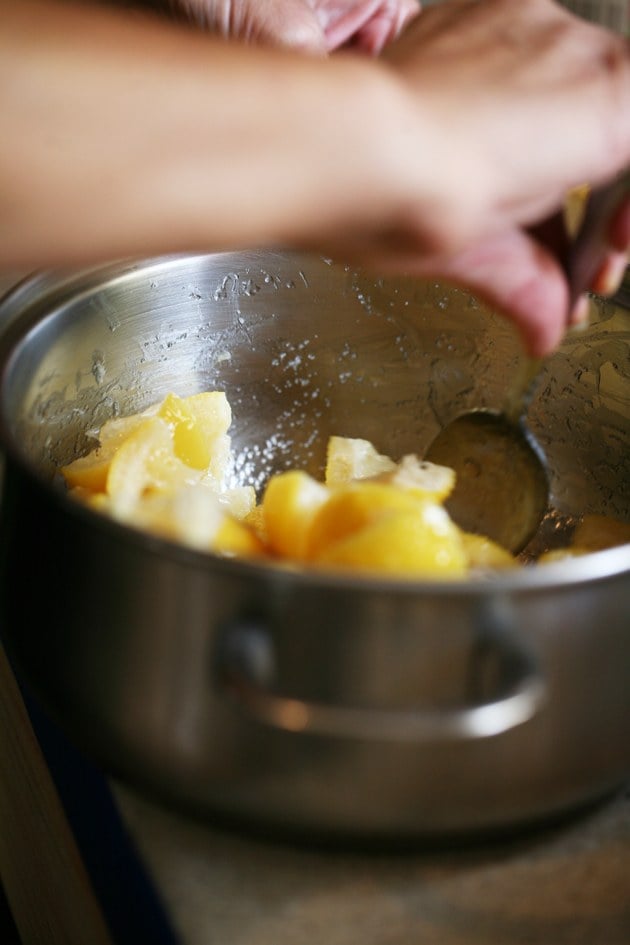 Mix the oil, salt, and lemon peel together…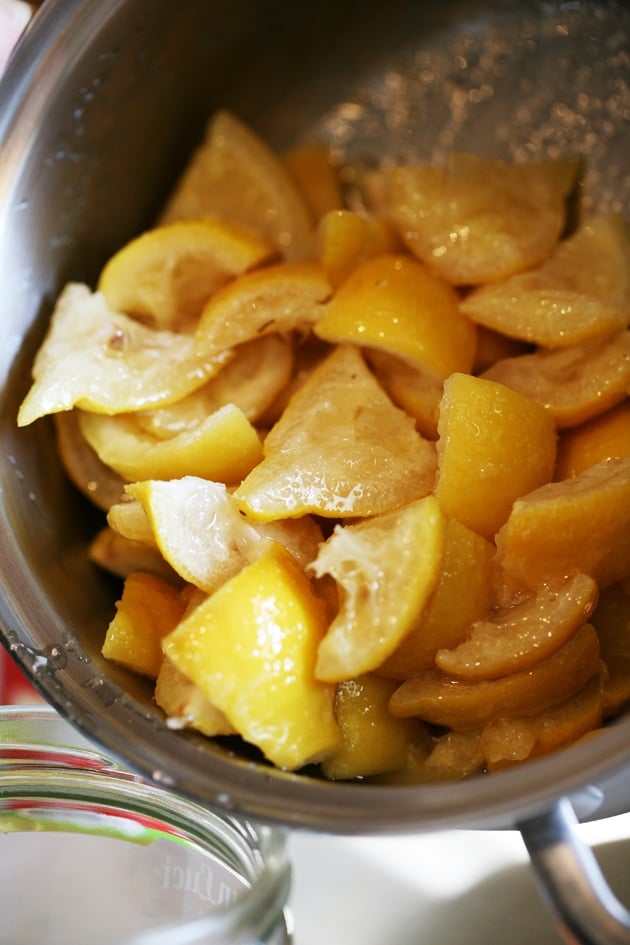 Until the lemons are all coated with the oil and salt.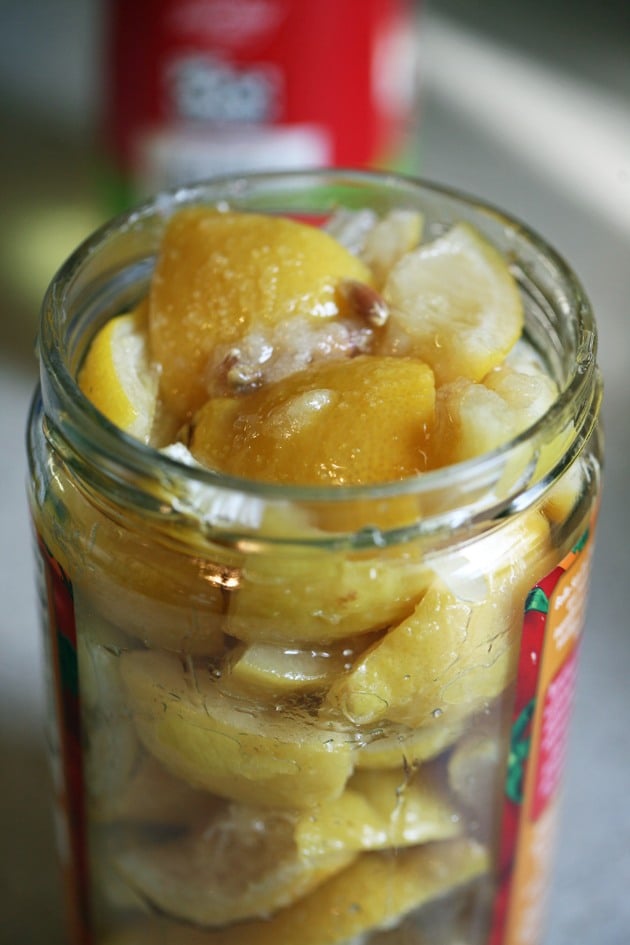 Then all you have to do is transfer the lemons into a jar and keep it in the fridge. They are ready to eat.
Notes About Preserved Lemon Peels…
Boiling – the reason we boil the lemons is that we want them to be ready to eat right away.
If you don't want to boil the lemons you can cut your lemons, put some salt in a jar, then a layer of lemons, then a layer of salt, then a layer of lemons and so on until the jar is full.
Once the jar is filled with lemons and layers of salt, add oil all the way to the top. If you do it this way you can leave the jar in the pantry but it will take the lemons a couple of months until they soften.
Storing – the reason we keep the preserved lemon peels in the fridge is that we want to use a smaller amount of oil.
If you want to keep your jar at room temperature you would just have to add some more oil and make sure the lemons are covered.
Seasoning – another note to make is that you can add different seasoning to the lemons. You can add whole cloves of garlic, red pepper flakes, cayenne pepper if you like it spicy, maybe some thyme… Be creative.
Serving Preserved Lemon Peel…
You might be thinking… Yes, it sounds and looks simple enough to put together but what in the world am I going to use this in?!
Let me give you a few ideas…
Let's say that you bake fish. You place your fish in tin foil and add olive oil and salt and pepper, maybe rosemary, and… Lemon peels!
You can so the same thing with chicken too.
Or maybe you make yourself a sandwich with mayo and turkey breast or another kind of lunch meat… Add preserved lemon peels to the sandwich.
Or let's say that you make this delicious Mediterranean egg salad or, really, any other salad… Add preserved lemon peels to it!
You can use it to make a lemony pasta sauce or you can place it in the food processor and make a paste out of it!
There are so many ways to use these and they are all great, delicious ways.
---
I hope that you'll give this recipe a try! I know it might be a bit out of the box… Maybe not a very common recipe, but I can assure you that it is delicious.
Theses preserved lemon peels will last weeks in the fridge. I usually make a big jar of them and then just grab a couple here and there to add to my sandwich or salad.
Make sure to always use a clean fork when you fish some out of the jar.
If you liked this recipe, here are a few more preserving recipes you might like…
Apple Scrap Vinegar (let's use apple peels as well, shall we!?)
Preserving Peppers in Vinegar and Salt
How to Make Candied Oranges and Can Them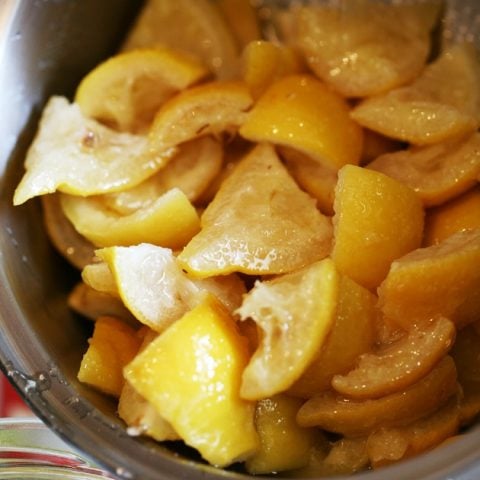 How to Preserve Lemon Peel
Additional Time:
10 minutes
Delicious preserved lemon peels in oil and salt.
Ingredients
Peel from 6-8 lemons
6 tablespoons oil (vegetables or canola will do, you can also try olive oil)
4 tablespoons salt (preferably sea salt)
Instructions
Cut the lemon peels (each lemon to at least 8 pieces).
Place the peels in a pot, fill it with water. Place the pot on the stovetop and bring to a boil.
Lower the heat so the water is boiling gently.
Boil until the lemons are soft (probably 30 minutes or so).
Place lemons in a colander and let them cool down and dry.
Transfer the lemons back to the pot or to a mixing bowl and add the oil and salt. Mix to coat the lemons.
Transfer the lemons into a jar and keep in the fridge.
Notes
The lemon peels are ready to eat right away. They should last a few weeks in the fridge.
Make sure to use a clean fork to get them out of the jar. You can add them to sandwiches, and fish or chicken dish, and to salads.
You can also place them in the food processor and process into a paste.
Nutrition Information:
Yield:

1 quart jar
Serving Size:

1
Amount Per Serving:
Calories:

942
Total Fat:

86g
Saturated Fat:

6g
Trans Fat:

1g
Unsaturated Fat:

76g
Cholesterol:

0mg
Sodium:

25420mg
Carbohydrates:

63g
Fiber:

19g
Sugar:

17g
Protein:

7g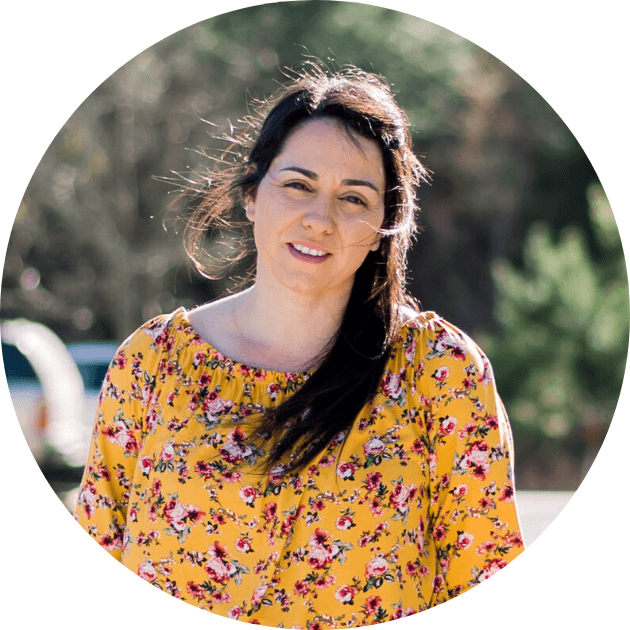 Hi! I'm Lady Lee. I help homesteaders simplify their homesteading journey while still producing a ton of food! I am a single mother of four, I was born in Israel and raised in an agricultural commune called a Kibbutz. Now I homestead in central NC.