Over the years, I tried all kinds of ways to support my tomatoes. It usually involved tying since I never had enough room to store those big tomato cages over the winter. I have friends who support their tomatoes with cages, and they do, in fact, work pretty well. But I wanted to find a way to support a large number of plants in the field without needing to have a mountain of cages by the end of the season.
How to Build Tomatoes Trellis…
Early in the Spring, I was looking for a better way to trellis peas and beans and came across a trellis design that I liked. With a little bit of money and a little bit of work, I build the trellis (you can see it here) and it worked great. So I decided to keep the same concept, but make it more suitable for tomatoes.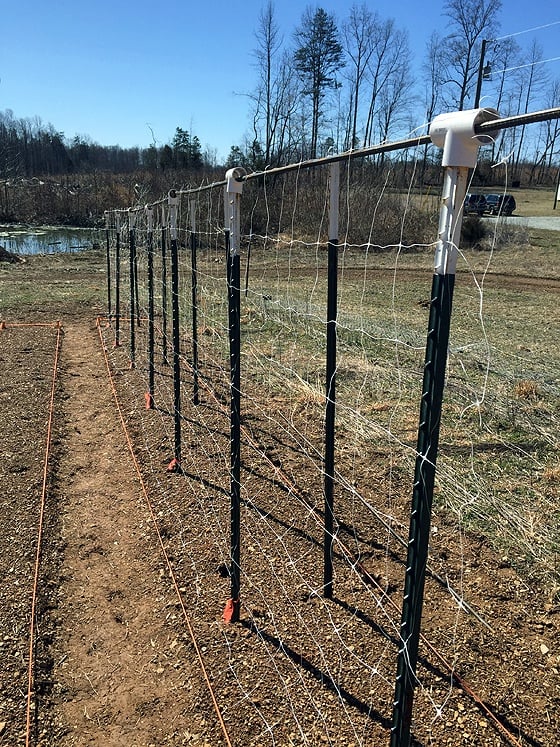 This is my pea trellis from earlier this spring. For the tomatoes, I still used the 7′ T-posts, the 10′ rebars and 1 1/4" dia PVC 90 degree tees. It's pretty easy to build, but first, before you start setting the trellis, make sure to prepare the soil. I've learned that it's much easier to do that before you build the trellis than to work around the posts latter. So, once the soil is ready for planting, drive the posts a foot deep into the ground 4.5 feet apart. On each post, place the PVC T and run the rebar inside the PVC T. For every two posts you'll need one rebar.
For the tomatoes, instead of using the crop net, I simply tied a twine to the rebar…
And then tied the twine to the bottom of each tomato plant.
I pruned each of my tomato plants to a maximum of two vines, then I wrapped each vine around its own twine.
As the plant kept growing, I gently wrapd the twine around it. You have to be careful not to break the top of the plant, but even if you do, it's not a big deal. The plant will still grow tomatoes. In fact, some growers break the top of their tomato plants on purpose when the plant reaches a certain height so it can use all the energy to grow tomatoes instead of foliage.
All in all, I am pretty happy with this set-up. The best thing about it is that next season I can leave the posts in place, add the crop net and grow beans or peas in the same location. If I want to remove it, I can store the posts, PVC Ts and rebars easily without them taking a lot of space.
You can see some of my tomatoes here. Some of them suffered from blossom end rot probably because of insufficient watering. I am totally relying on rain this year since I still don't have a well or a pond on our land. By the way, the cucumbers are also trellised on the same system with crop netting, just like the beans and the peas. Cucumbers are my most successful crop this season.
What is your favorite way of supporting tomato plants?
Lady Lee is a single mother of four, she was born in Israel and raised in an agricultural commune called a Kibbutz. From a very young age, she was very interested in agriculture and farming.
She is a former IDF fitness trainer and is passionate about simple, natural living. She now lives in NC with her four kids, dog, cat, goats, ducks, and chickens.