This is a step-by-step tutorial on how to weave a basket. This is a round basket that is very simple and fun to make. I use it for eggs and tomatoes. It's a great, fun project for anyone who likes craft and whats to learn the basics of basket making and it's also a great weaving project for kids. Here is how to weave a round basket…
---
Basket making has been on my mind for a long time now. It's such a useful art and a great skill for anyone to learn but especially for those of us who wish to live a little closer to the land.
I don't like knick-knacks. I do like things neat and beautiful but they need to be useful as well. Maybe it will change later on, but at this point in my life, with four little kids, a home business, and a farm to run I simply don't want to have to maintain and clean something that I can't use.
Baskets are beautiful, useful, and natural. And now that the summer garden is done I need to replace it with another project, God forbid I'll only have 16 projects going on at the same time, it's gotta be 17… At LEAST 17 delicious projects at all times.
So the other day I went to the Habitat for Humanity store which is my favorite place in town. I buy my kids toys for 25 cents there (when I say toys I mean, pots, pans, wooden spoons, containers, fabrics, stuffed animals, little wooden things – stuff like that because they don't really care for modern-day plastic kids toys).
They love it because they get to buy a lot of things and I love it because it's cheap and I don't mind if they ruin their "new" toys by playing with them in the mud or water or whatever.
It's also a great place for supplies for projects. I can find anything there from windows to books to fabrics.
Anyway, I was going through the craft area looking for iamnotsurewhat when I noticed a garbage bag full of basket making supplies. I got so excited! It had round reed in there and flat reed and spokes, and clothes pins… So many things and the whole bag cost $1.
You know it came home with me!
How to Weave a Basket…
What I really want to do, my end goal, you can say, is to be able to walk around in nature and gather willow or honeysuckle or other materials and use those natural, local materials to weave with. I would love to be able to make useful things like small furniture, storage containers, and backpacks.
There is still a lot for me to learn to get to this skill level but the journey of a thousand miles begins with one step, right? So my first step was to learn to use the supplies I found and weave a simple round basket.
Reed Basket Weaving…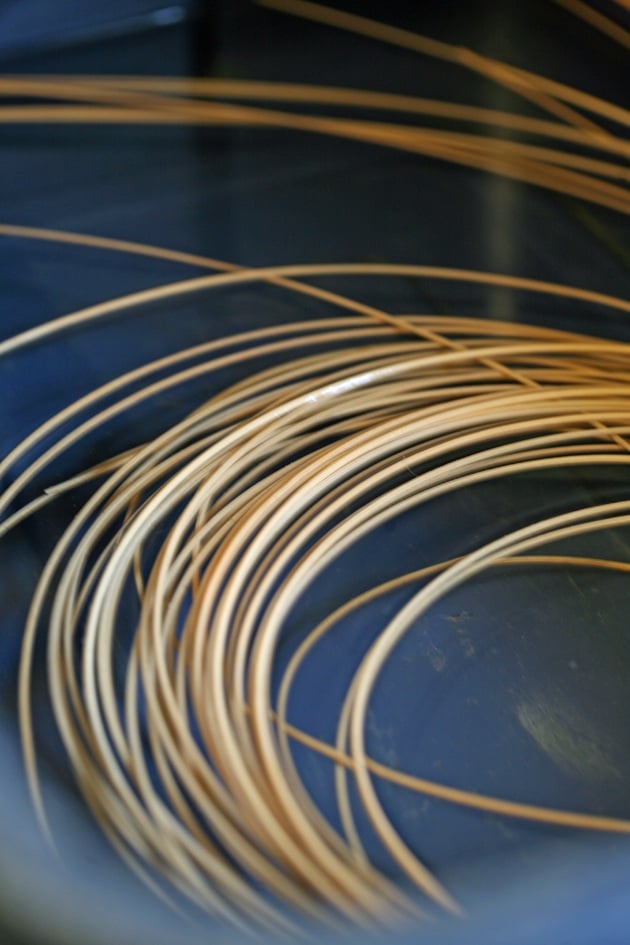 I chose to use the thin, round reed that was in the bag.
The first step was to soak it in water for a couple of hours to make it flexible to avoid breakage when used. I also soaked the spokes which I guess were cut from the same reed.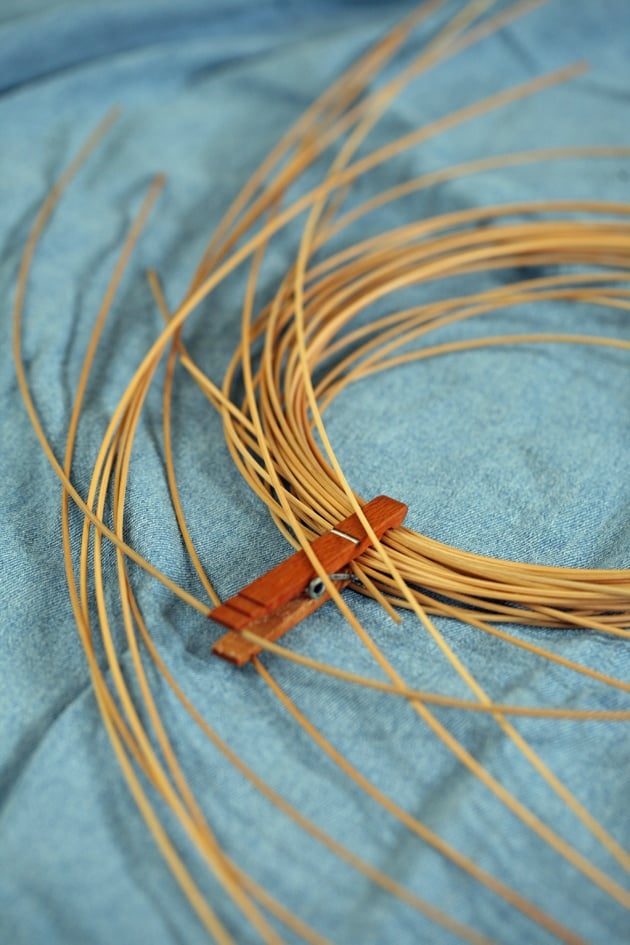 Once I was ready to weave I took the spokes out and enough reed for me to start with (I left the rest in the water).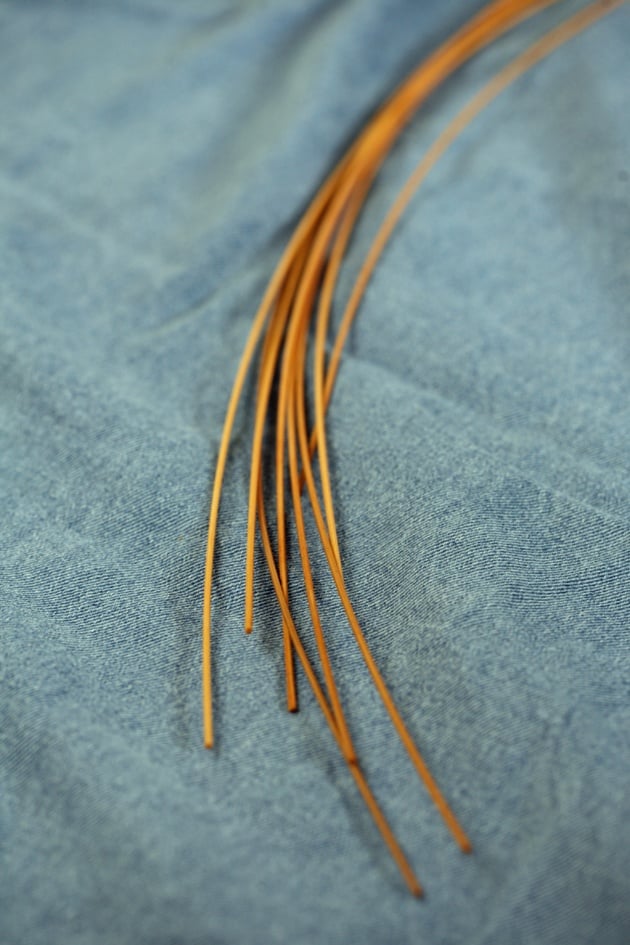 The spokes were cut from the same roll of round reed that was in the bag. They were about 24" long and I decided to use them at this size for a small-medium basket.
How to Weave a Basket: Step By Step Tutorial…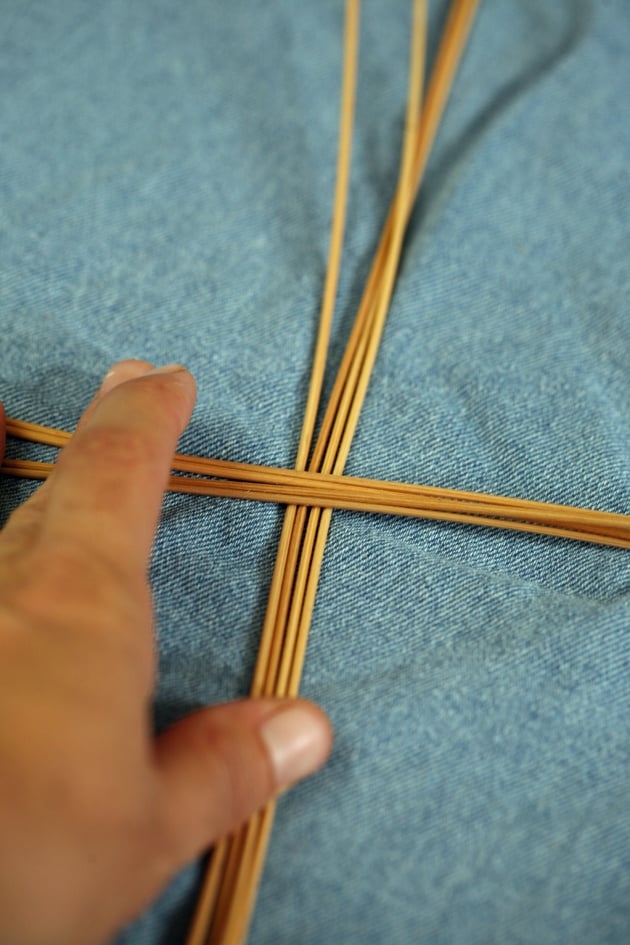 I used 8 spokes. The first step is to separate them into two groups of four, lay the spokes within each group flat next to each other and then lay one group on the other group and center them to create a cross.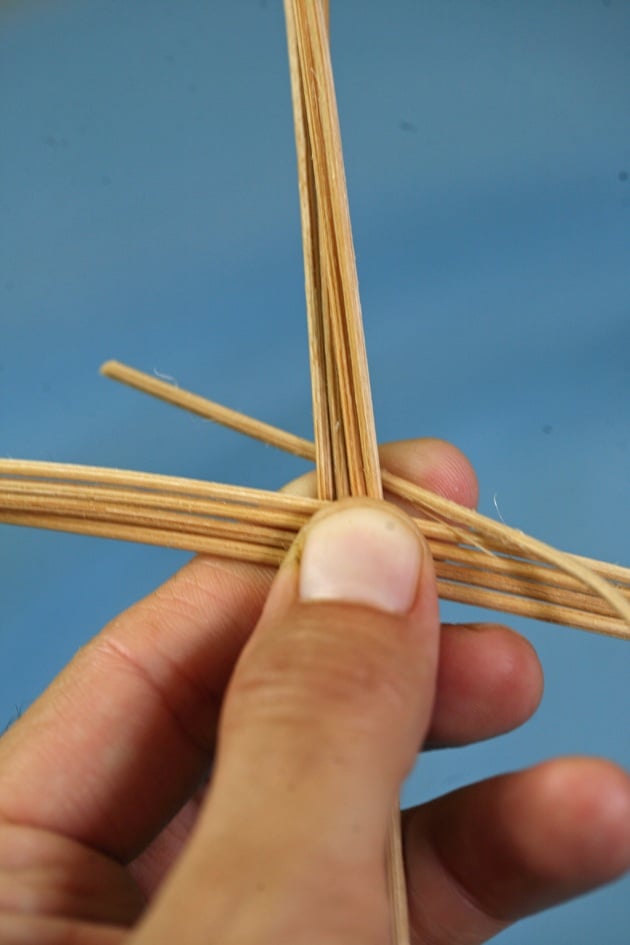 Now it's time to start lashing which is the weaving that holds the spokes together in place. I took my long piece of reed and placed the end of it under the group of spokes that is underneath…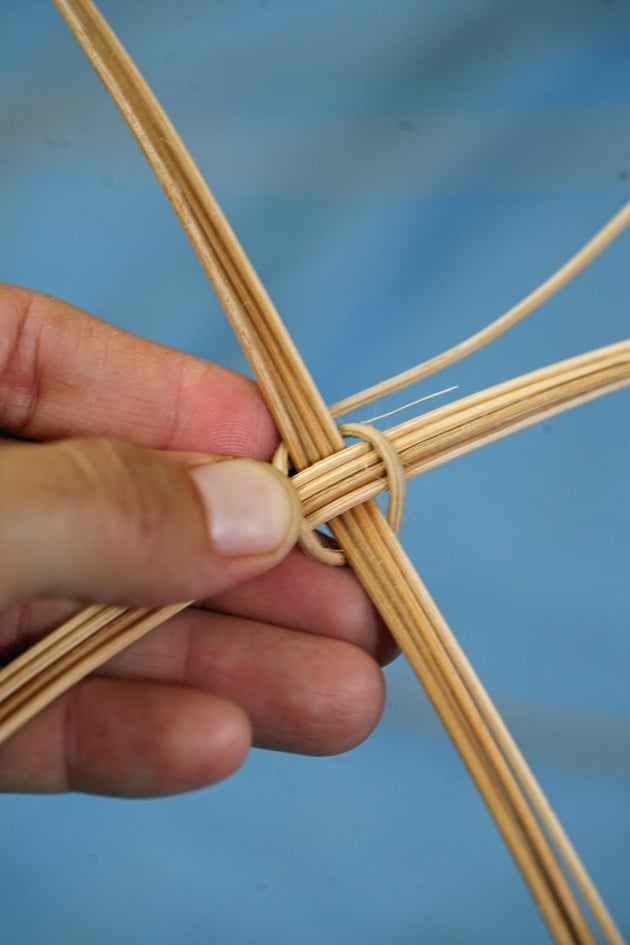 Then I went over the group of spokes that are on the top, under the group that is on the bottom, over the group that is on the top, and under the group I started from.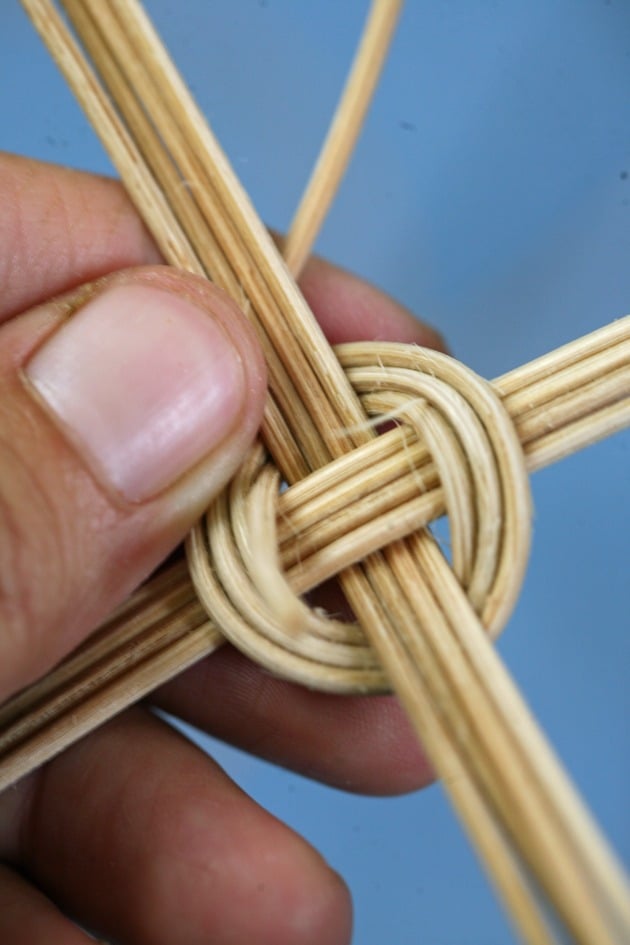 I did this three times and tacked the end in so it's held in place.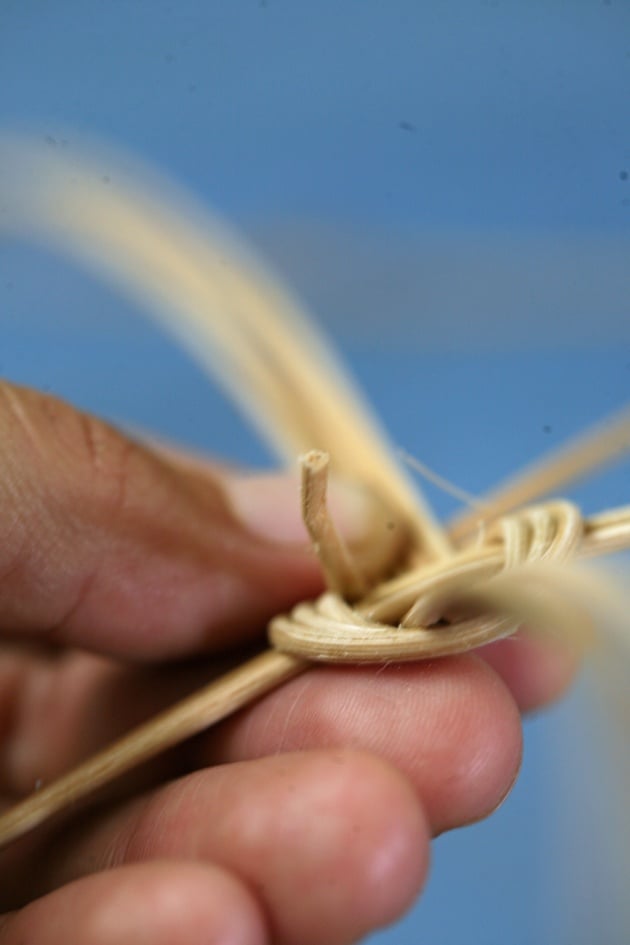 You can see it better here.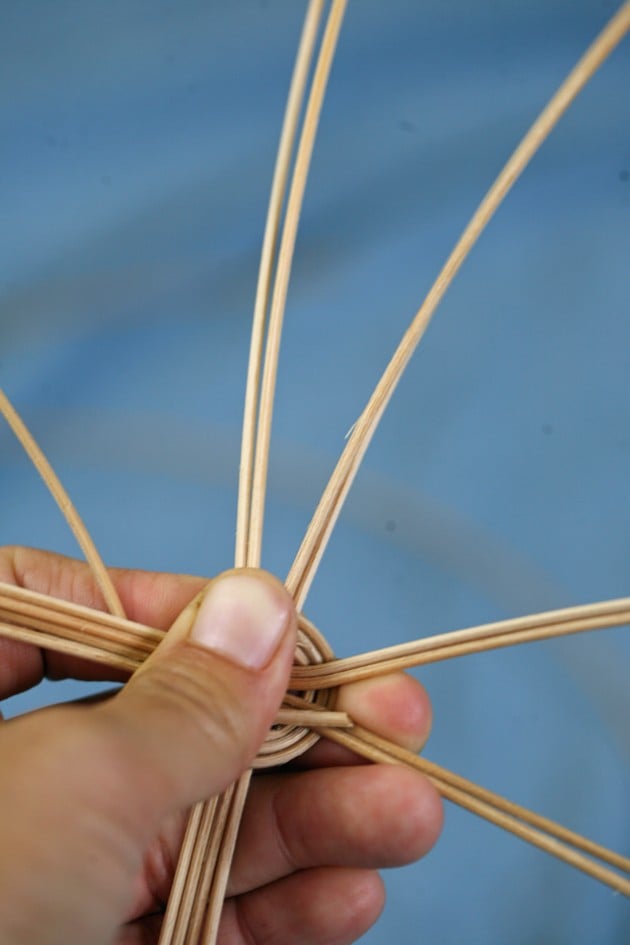 Now that the three rotations of lashing done it was time to start the actual weaving.
I separated each group of spokes into two groups of two, that gave me eight groups of spokes. When weaving this type of round basket it is important that you have an odd number of spokes…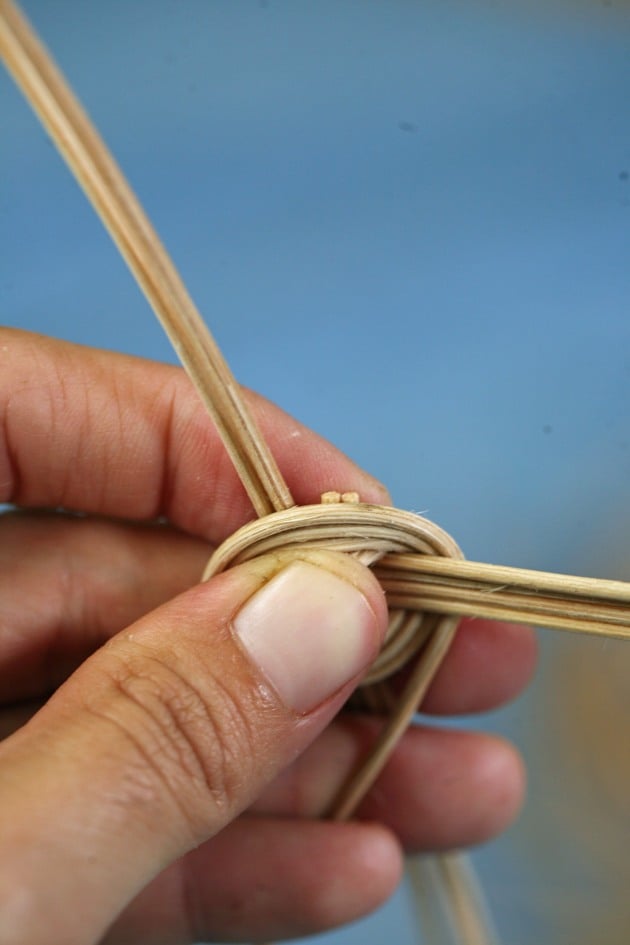 So what I did was cut off one group of spokes very close to the lashing.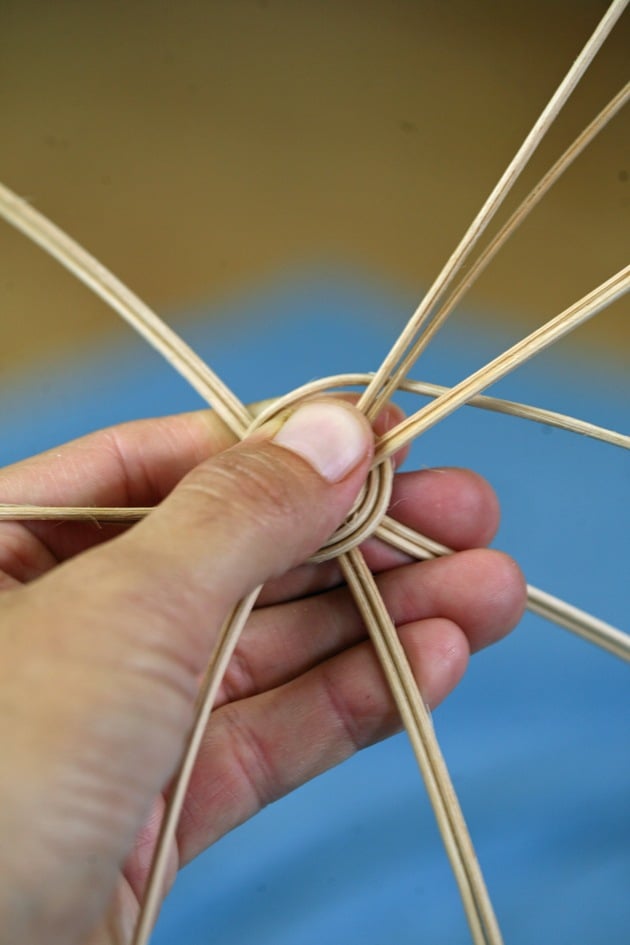 I separated all the spokes and started weaving. As I weaved I tried to make sure that the spokes are spaced evenly around the circle.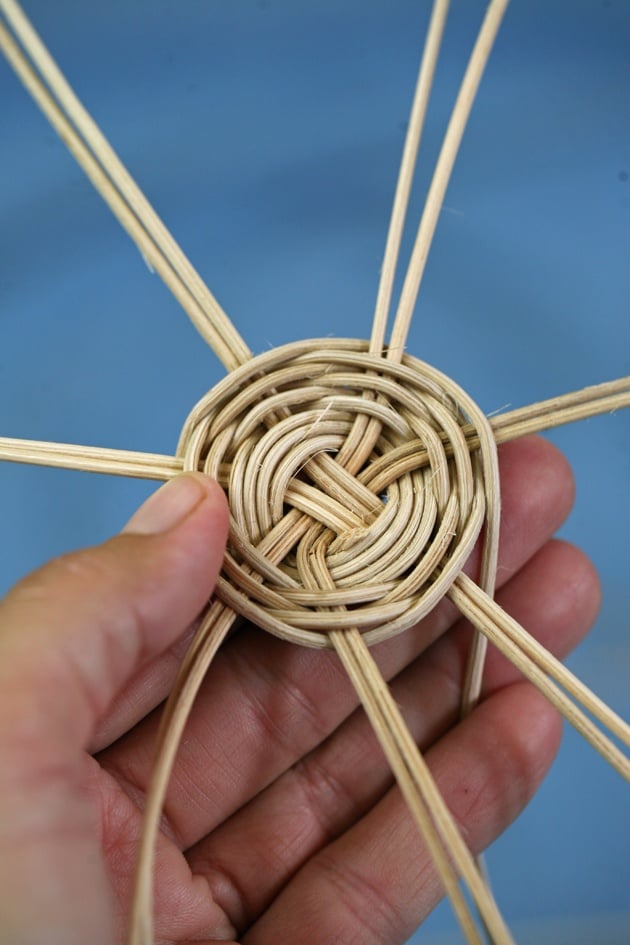 I simply went under one spoke and over the next, under a spoke and under the next and so on around the circle. After I went around one time I checked myself by making sure I weaved under a spoke in the second rotation if I weaved over it in the first rotation.
I kept weaving around the circle of spokes…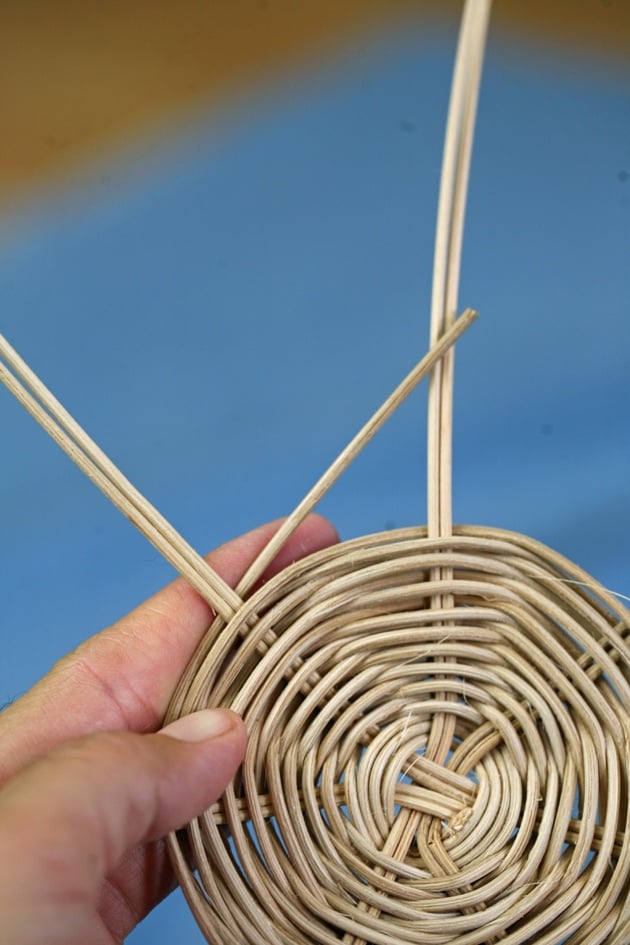 Until I ran out of reed.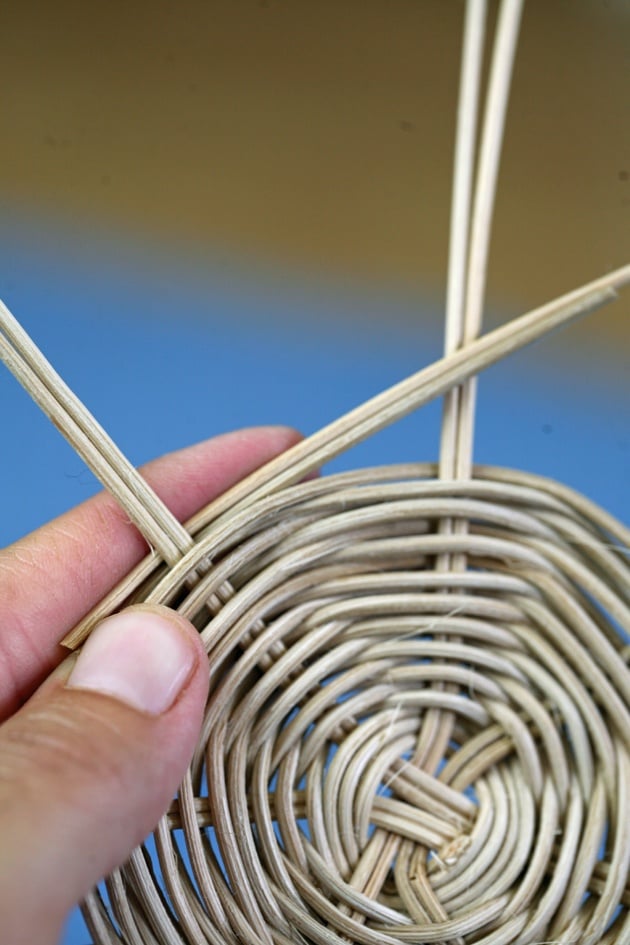 To change to a new piece of reed I placed the end of the new reed right next to the end of the old reed and kept weaving.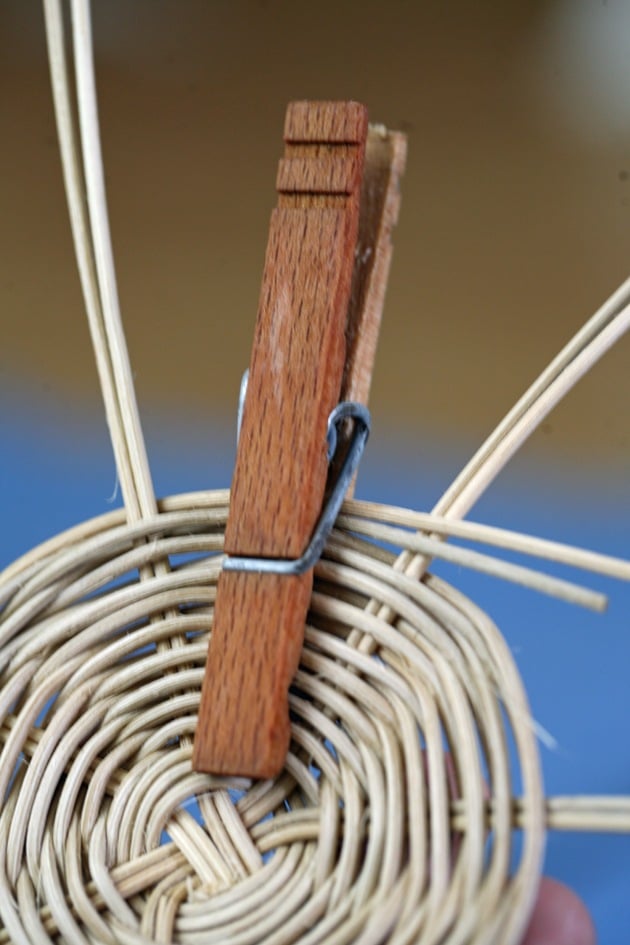 Using a clothes pin helped me hold the two ends together in place.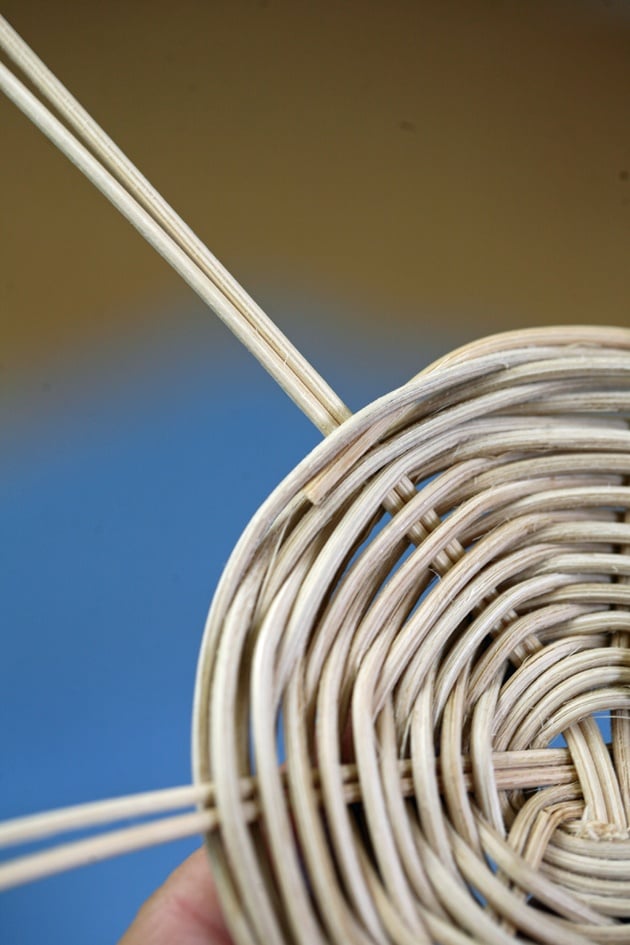 Once the new reed was secured I tacked the end of the old reed in between the spaces of the woven reed to hide it. After the basket is done I'll go back and cut it so it is barely visible.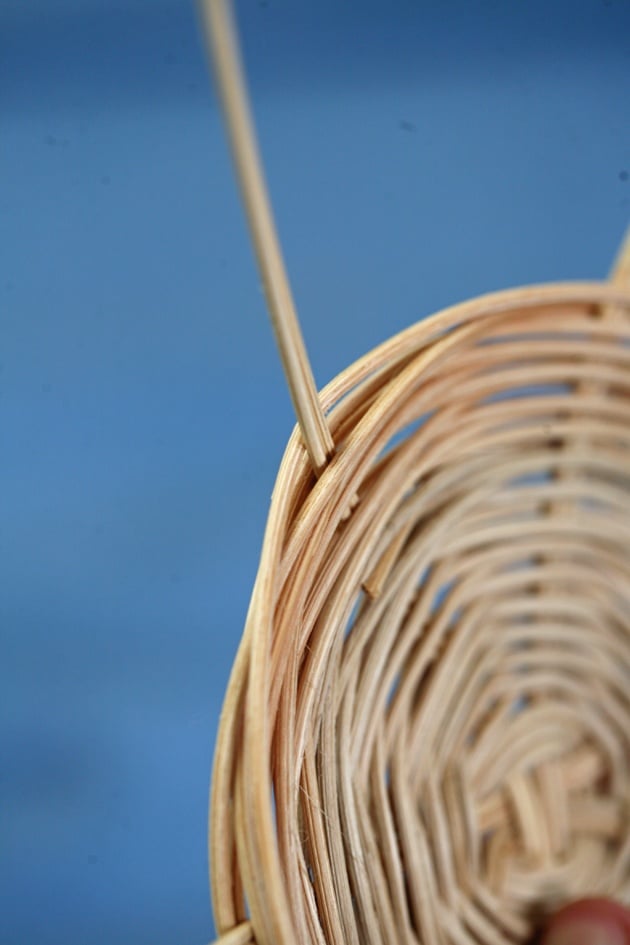 I wanted to make a medium basket with a relatively wide base. I figured I could use it for eggs on my kitchen counter but as I weaved I noticed that the reed I was using was too thin to create a wide, sturdy base. So I had to compromise on a smaller kind of basket and start angling the spokes a bit sooner than I intended.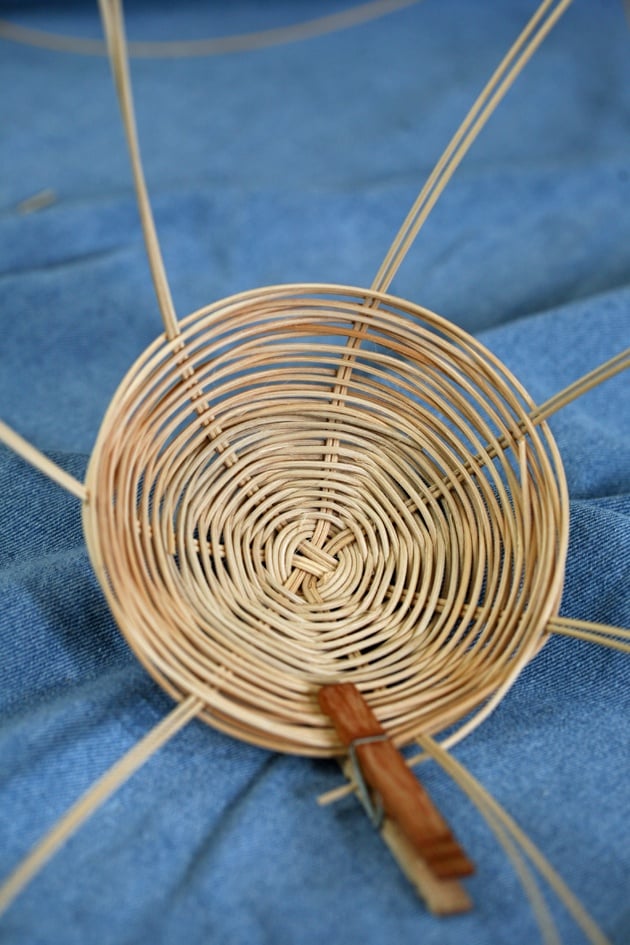 As I weaved, I gently pushed the spokes away from me to form the basket shape.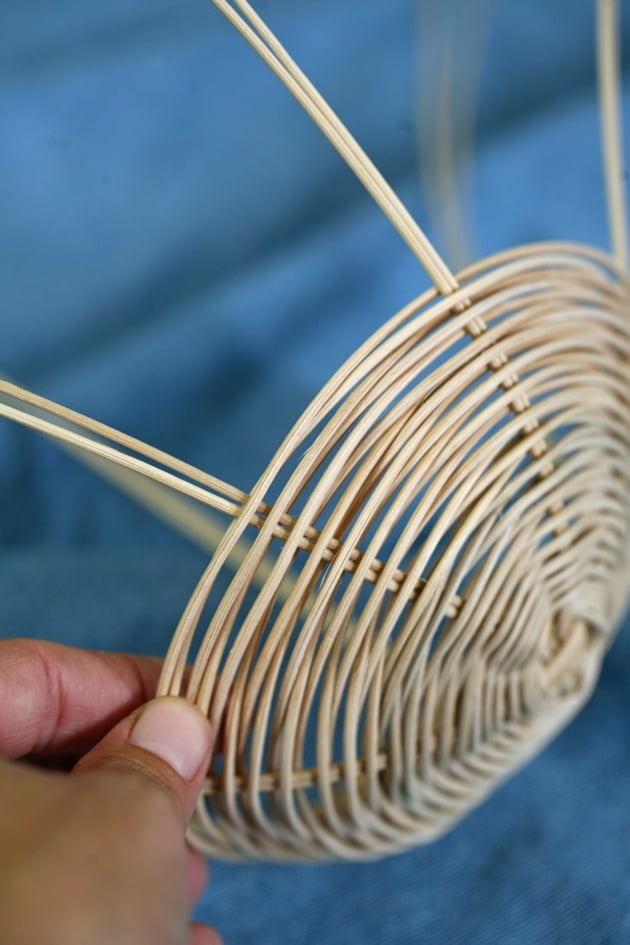 Here is a view from the outside of the basket…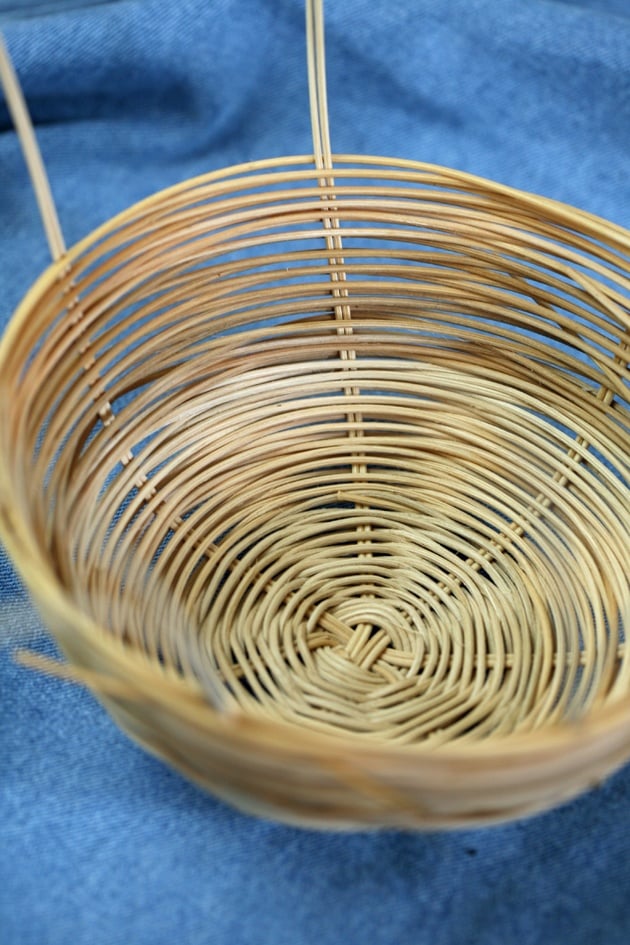 I kept weaving around and around until the basket looked big enough to me and I still had about eight inches or so of spokes so I could easily finish the basket.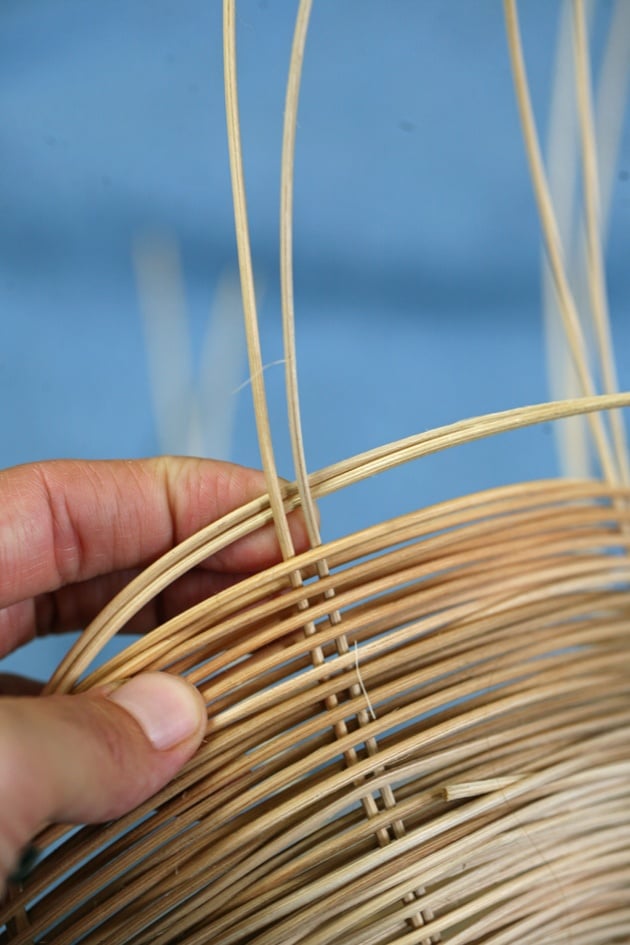 To finish the basket, the first step is to bend each spoke before the one next to it…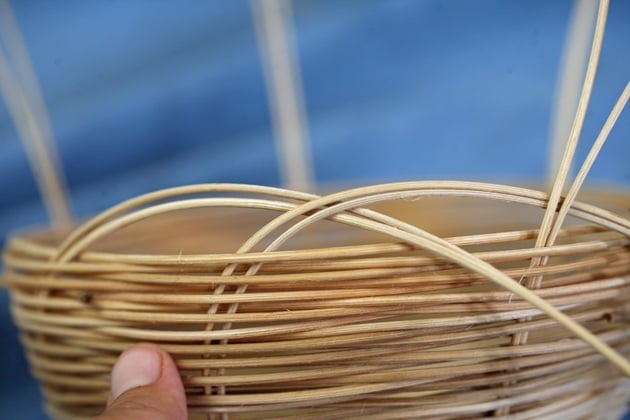 And then tacked under it.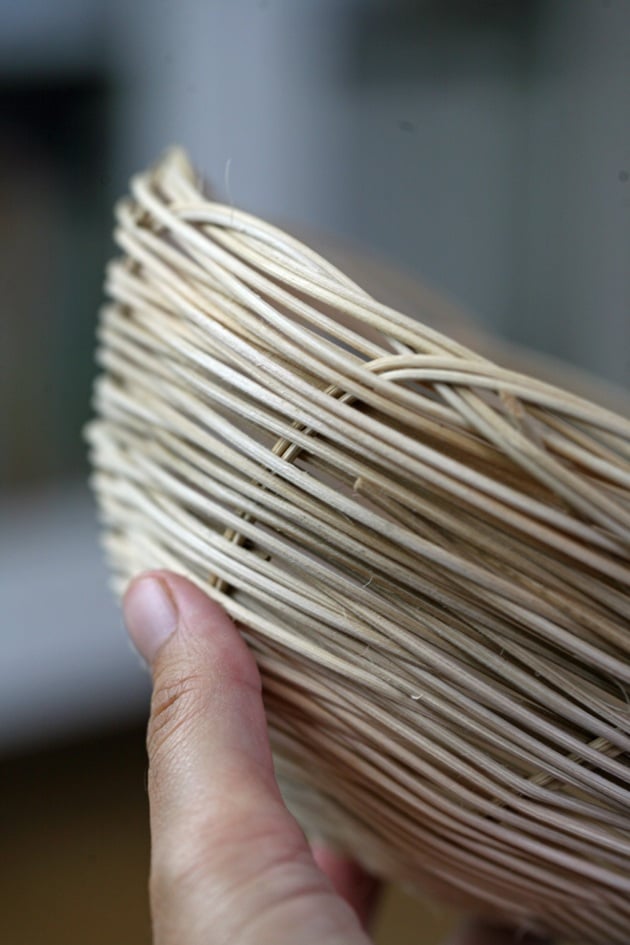 The next step is to take the end of each spoke and tack it back into the basket.
I thought this would be a very easy step but it was actually the hardest for me because the spokes were so thin and springy that they kept jumping out and I couldn't really secure them tightly in place.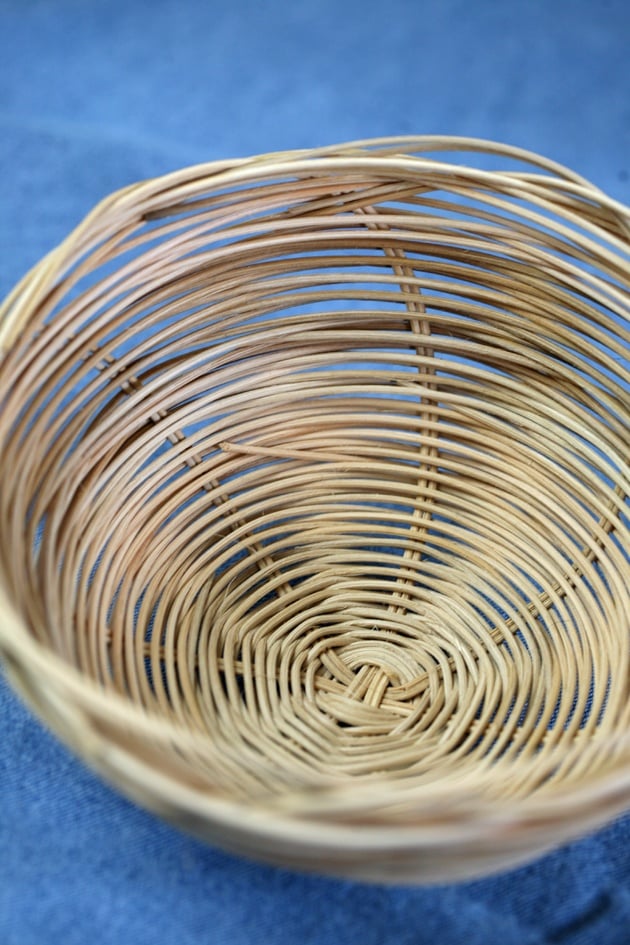 I think that to fix this I should take a piece of twine and sew around the top of the basket which will make the whole basket much stronger.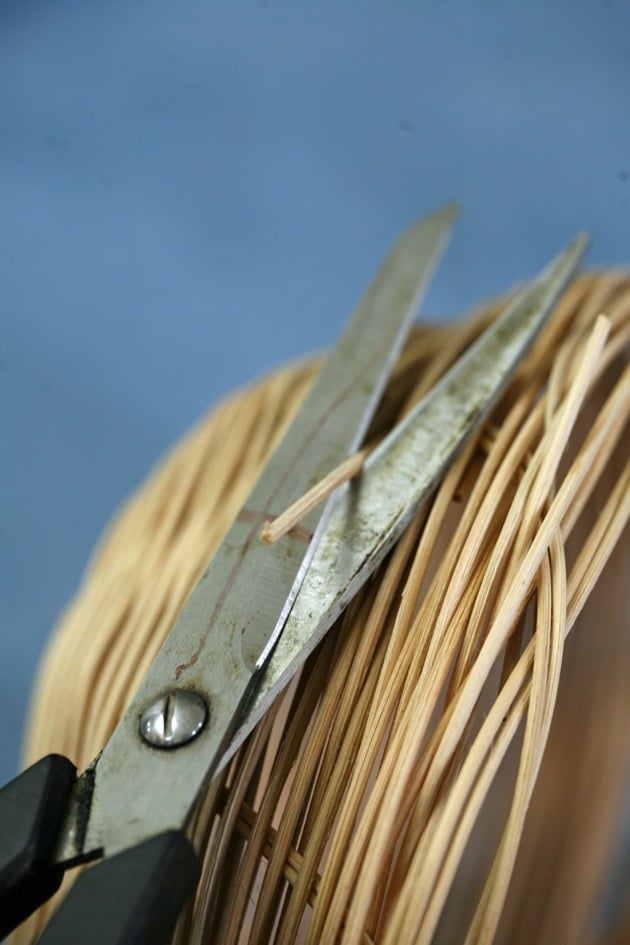 The last thing I had to do was to take my scissors and cut all the ends that were sticking out of the basket off.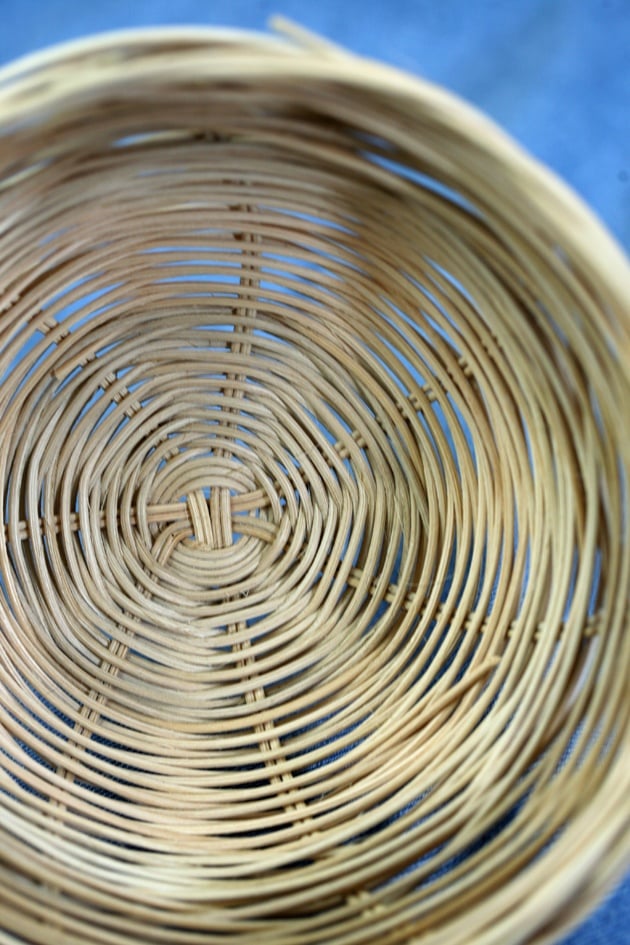 That's it for this simple basket weaving project! Our basket is ready.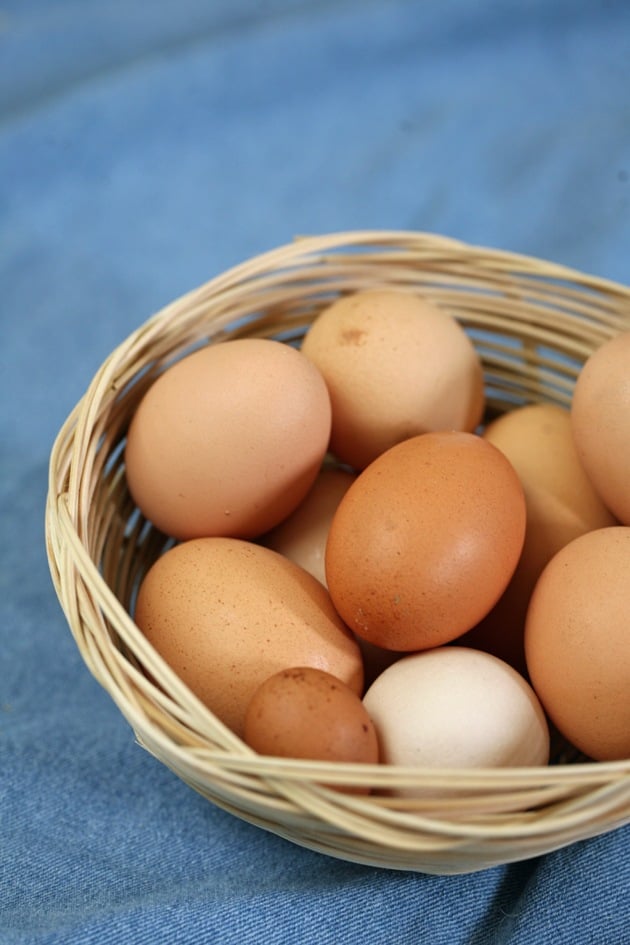 It was such a fun and relaxing project and I think the result is not too bad for my first time.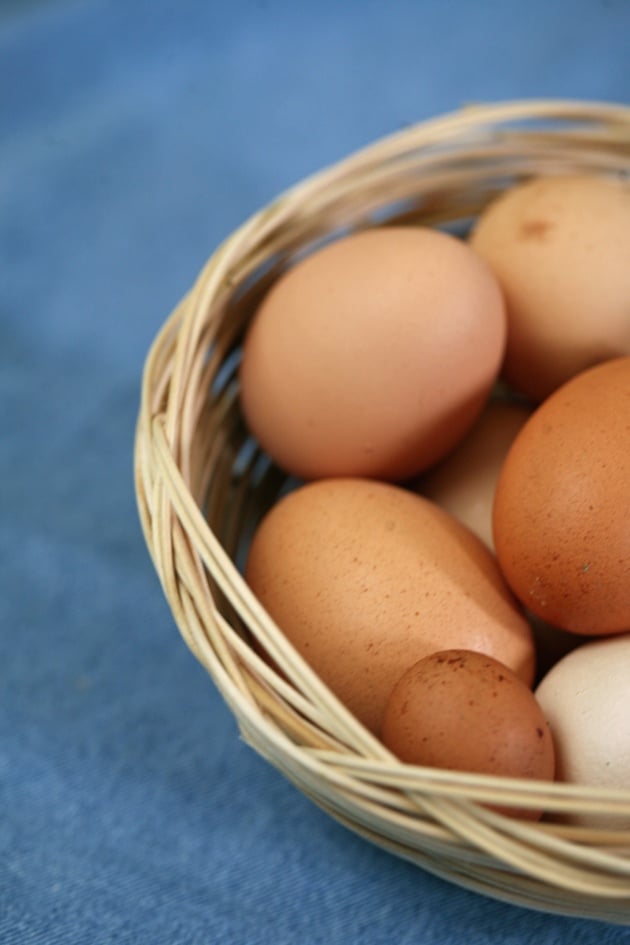 I was surprised that the basket could actually hold a good number of eggs…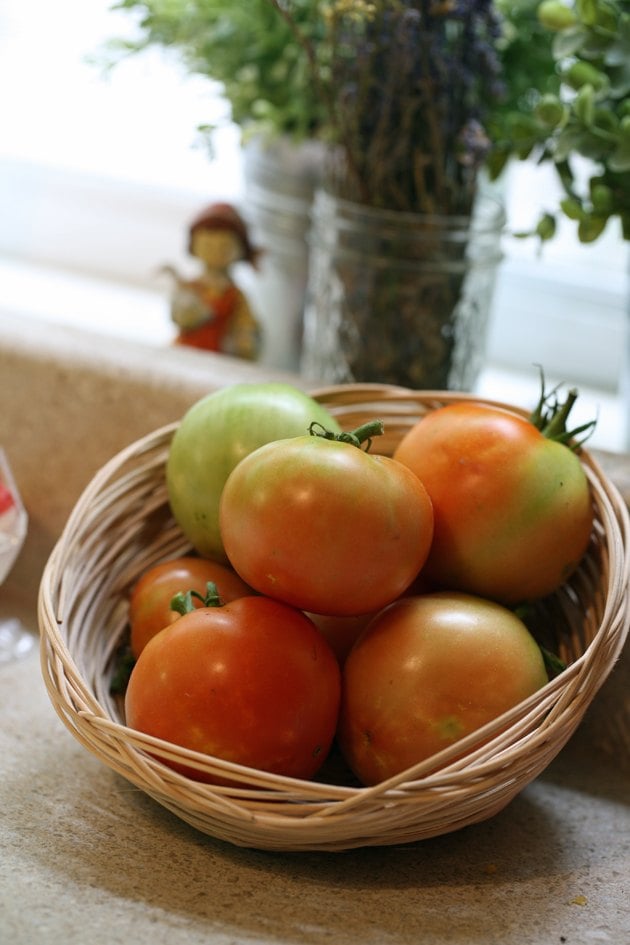 And I also tried to place my not-completely-ripe tomatoes in it and it looked so cute on the counter.
I am definitely hooked! I will be trying to make a square basket with my flat reed soon and I have already ordered another pattern to start work on. In addition, I've started researching to learn about the natural materials we have here in NC to do more weaving.
I think that the easiest will be to start with honeysuckle and weave a basket similar to this one. There is so much I want to try but I'll have to take it one project at a time.
If you would like to try your hand at basket making, here are a few great resources I found:
Basic Beginner's Guide to Basket Weaving – this is a great basic guide to start with.
Basket Maker's Catalog – supplies and a whole lot of information on basket making. Also, they have a few really nice free basket patterns including instructions on how to weave them.
Basketmaker's Weaving – this is an old site that appears is not being updated any longer, but still, there is a lot of great and useful information there. I am linking here to a basic basket maker's terminology page but look at the sidebar on the right for more helpful posts.
Jill Choate Basketry – A lot of video tutorials especially if you click on her You-Tube link.
NC Basket Works – a lot of information on basket making, free patterns, products, and instructions.
Matt Tommy – this guy is amazing! Especially if you are interested in weaving with natural materials. His blog is really informative and he also offers classes in Asheville, NC.
This list of web sites should keep us busy for a while but if you know of any other site that has valuable information please let me know.
I found a new hobby and I am so excited to learn and explore!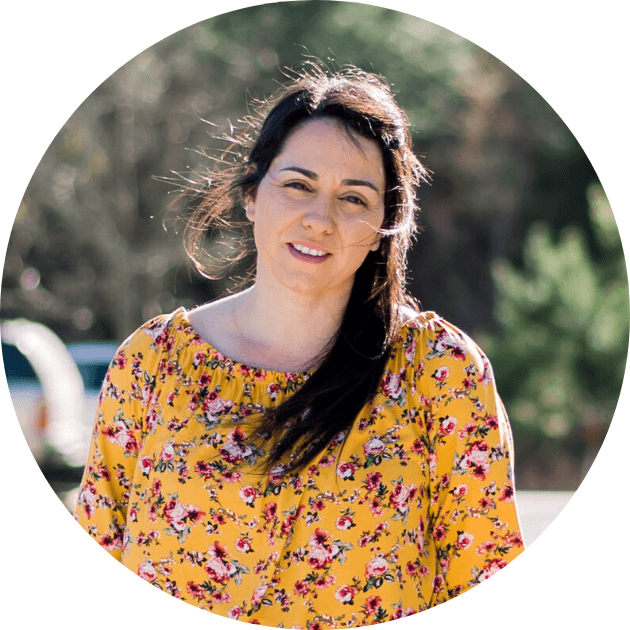 Hi! I'm Lady Lee. I help homesteaders simplify their homesteading journey while still producing a ton of food! I am a single mother of four, I was born in Israel and raised in an agricultural commune called a Kibbutz. Now I homestead in central NC.