In this post, we are going to talk about bamboo screening. I've had the chance to learn so much about bamboo from someone who is very passionate about it and I'd like to share my experience and this information with you. I had no clue that bamboo was so useful and that it could be worked in the way I'll show below! It was a great experience that showed me that bamboo can be used for all kinds of different outdoor projects like a bamboo garden screen or a bamboo privacy screen, or really a bamboo fence will work in so many places around the homestead.
---
I had the pleasure of spending another magical weekend at Turtle Island Preserve. It's becoming my favorite destination for mommy-run-away-weekend (I spent a weekend there before learning how to tan deer hides).
This time, I went to volunteer for the weekend and ended up receiving a privet bamboo workshop! How that happened, I am still not sure, but the moment I'd heard that a bamboo expert was on camp and he was going to weave a bamboo screen and build a hand washing station entirely from bamboo, I was right there by his side.
You know I was. Camera in hand and approximately 2 million questions.
I didn't really care about the hand washing thing to tell you the truth. I think the whole hand washing ordeal is completely overrated, but the weaving part? Now that was something that caught my attention.
DIY Bamboo Screening – How to Make a Bamboo Screen…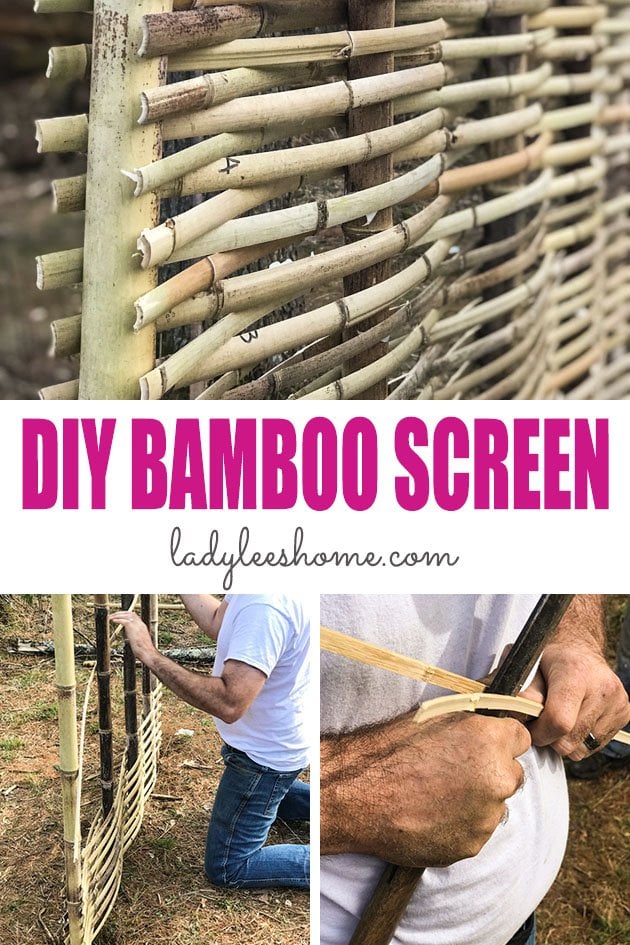 Basket making is a hobby of mine and my ultimate goal is to harvest my basket making supplies from nature (read how to weave a simple round basket). We have a ton of honeysuckle and kudzu here in central NC, and I am working on learning how to harvest and use those, but I knew that bamboo was another plant I could use (we have plenty of it too on the side of the road) so I wanted to take advantage of the opportunity and learn more.
I also know that the same weaving technique can be used for outdoor projects like a bamboo fence and bamboo trellis and such… In fact, I've already experimented a bit in the past with a bamboo trellis, but I needed to learn how to use it better.
What I didn't know was just how amazing this plant is!
This post will be too long if we start getting into all the different bamboo varieties and how to grow… I am now thinking about planting some bamboo on my land so I might write a post about this later, but for now we'll just go over the basics and, hopefully, it will inspire you to learn more about bamboo.
** Turtle Island is a primitive camp devoted to teaching primitive skills, off-grid simple living, survival, natural building and so much more. Check out their workshops and events or how you can volunteer and support them on their website here.
About Bamboo Plants…
Bamboo is an evergreen grass.
Bamboo is hollow and rarely flowers. The grove is connected underground by a web of rhizomes that give it amazing strength.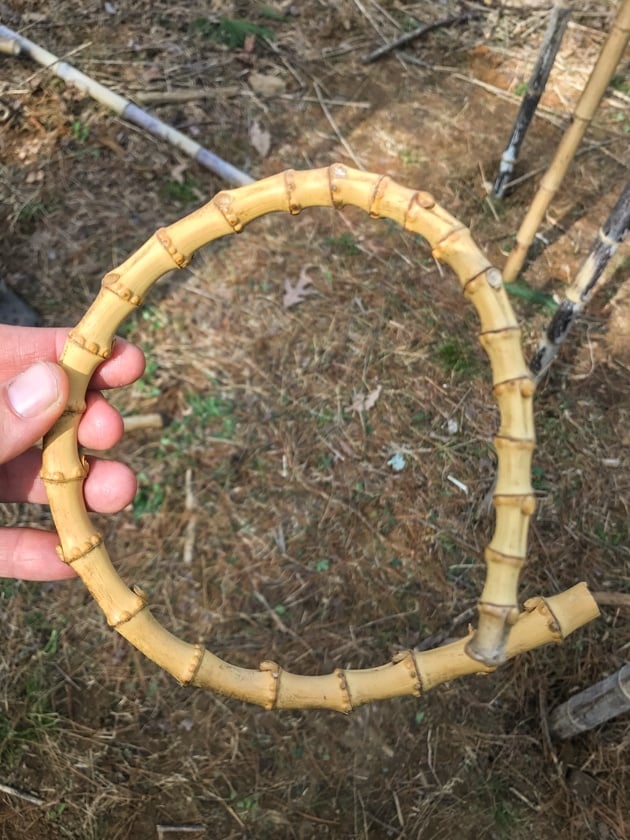 This is how an underground rhizome looks like…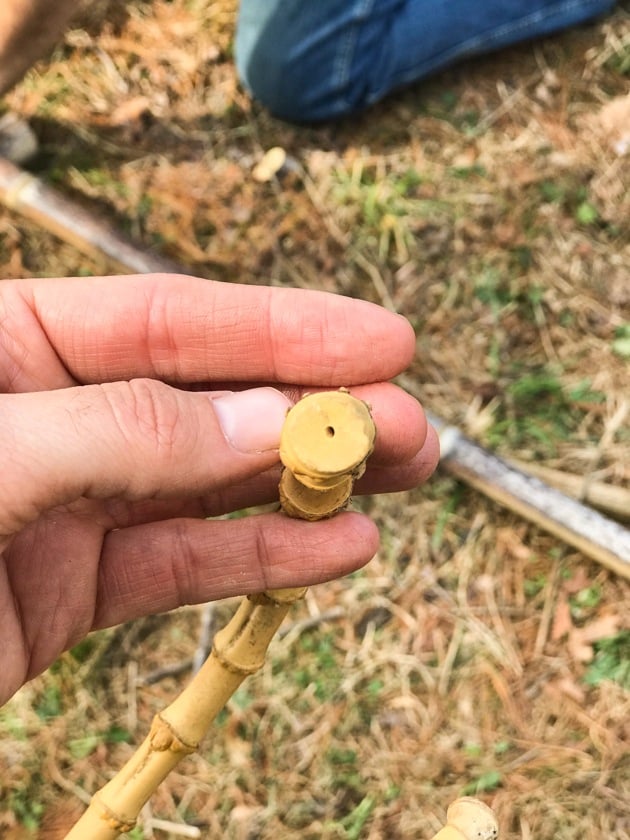 The main difference between the underground part and the above ground part is that the underground rhizome is not hollow.
New plants come up every spring from the rhizome, they poke from the ground kinda like asparagus and they grow very fast. In fact, bamboo is the fastest growing plant in the world! A bamboo cane will grow to its full size in 60 days.
Some varieties can grow 47.5'' in 24 hours!
After those 60 days, it will not change its size anymore. Instead, the bamboo will keep hardening and growing and dropping leaves. Part of correct grove management is harvesting bamboo at the five-year mark.
Bamboo grows everywhere, and as I hear, is not at all hard to grow. Most varieties don't like severe cold. Most bamboo varieties prefer wet and warm climates, however, there are some varieties that will grow in the mountains successfully.
Aaron, who you'll see below building the hand washing station, was an intern of Keiji, a bamboo farmer. Keiji And his wife created a magnificent 6-acre bamboo forest (which is now on my Places-to-Visit list) in the mountains of NC.
This is a short video UNC-TV did on them. It's absolutely amazing…
Uses for Bamboo…
Bamboo might be the most useful plant in the world. While building the handwashing station, we tried to compare it to cannabis which is one of the most useful plants I know of… Bamboo won because of the ability to build with it.
In Asia, there are houses and schools made from bamboo (You have to watch this TED!). You'll see soon that it is a great building material.
It's used outdoors in the garden for building trellises and fences and bamboo screens and indoors it can be used to build furniture and bamboo rugs.
It can be used for basket making, to make useful dishes and artistic sculptures and jewelry.
It can be used to make utensils and toys and musical instruments.
It can be made into weapons like spears and knives.
Like hemp, you can make clothes from bamboo and I even heard that there are bamboo diapers!
Bamboo is used for medicine, and the young shoots are harvested in the spring and used as food. There is even bamboo beer!
So you see, this plant is just a great gift from nature. It grows so fast, can be harvested in different stages and used for just about anything.
DIY Bamboo Screening and a Handwashing Station…
So now that we have a better idea of how bamboo grows and what it's used for, let's build something!
It all started from a pile of bamboo canes and the desire to eliminate a plastic jug.
Previously, Turtle Island's visitors used to use a plastic jug to wash their hands. The mission was to create a comfortable and easy to use (because kids use it too) hand washing station that is a 100% built from natural materials just like everything else at Turtle Island.
It needed to be useful, beautiful, and natural.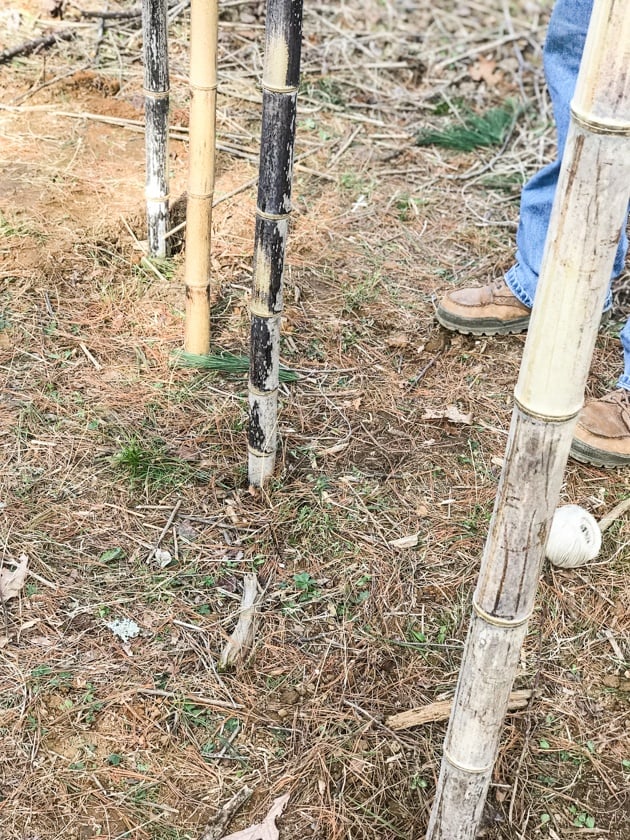 Aaron started with four canes in the ground. The outer two are stuck about one foot into the ground and the middle two just rest on the ground.
This will be a nice decorative wall and the handwashing thingy will be right in front of it. This is also how you'll build a fence for a garden or a decorative screen/wall to hide garbage cans or something of that sort.
The canes that we used here are cured. Bamboo needs to go through a few months of curing before it can be used for building. The canes are harvested when they are 5 years old and then stored in a well-vantilated location away from direct sun.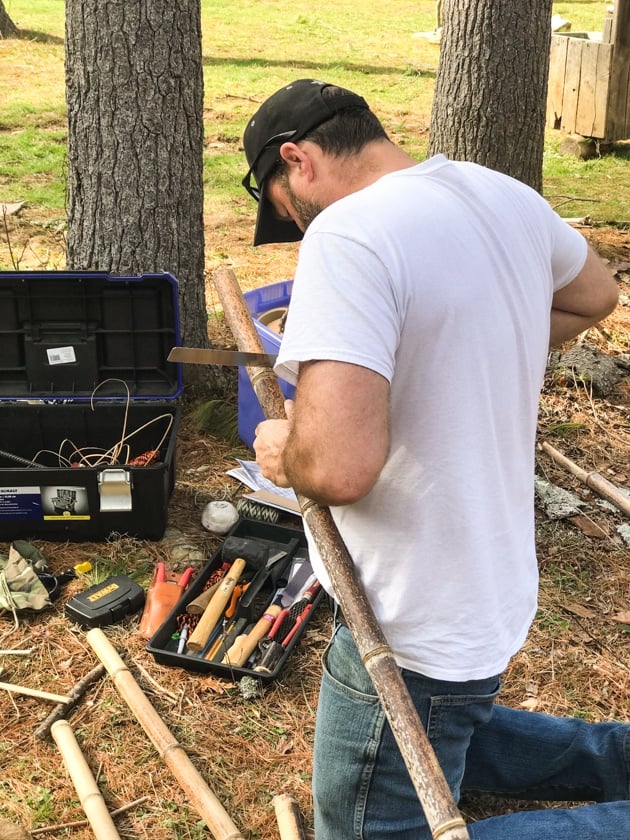 Half of the top of each cane is cut…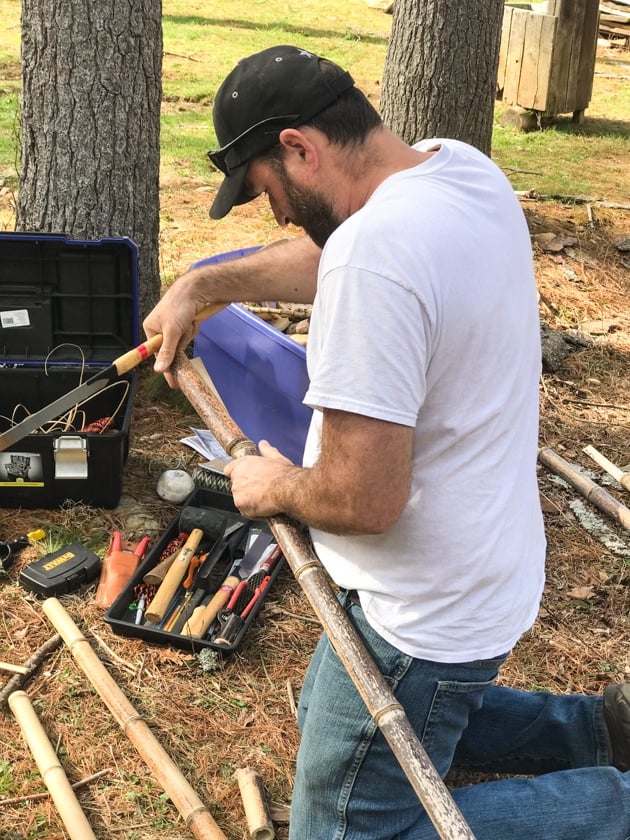 And removed…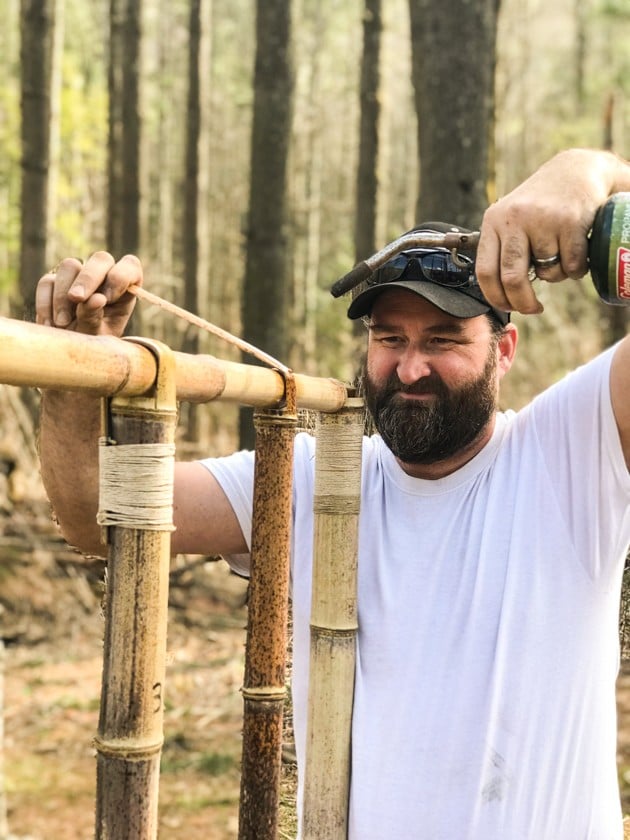 Then the remaining piece is bent over a top cane that holds everything in place.
Aaron is using a small hand torch to heat the top piece and slowly bend it over the pole.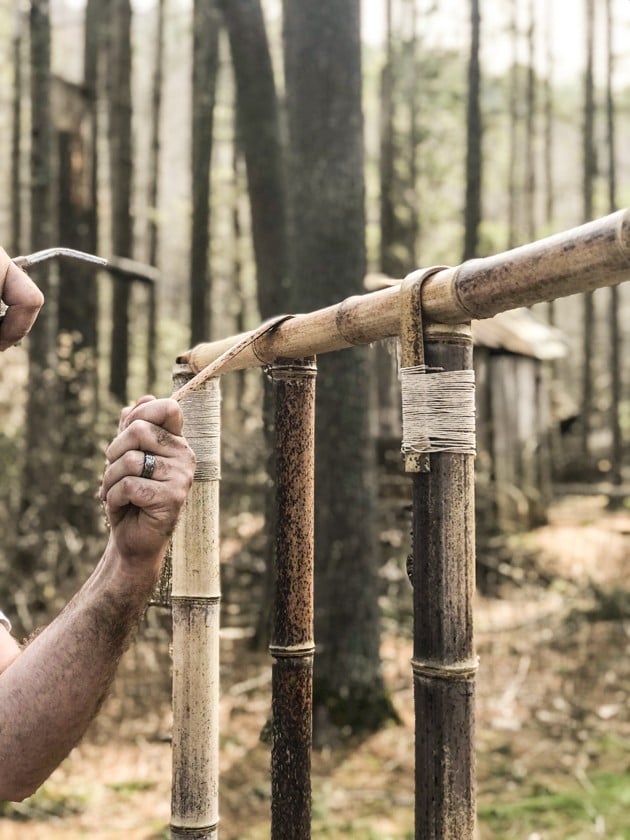 He just keeps going slowly until it is completely bent.
I had no clue something like that could be done! I was completely amazed!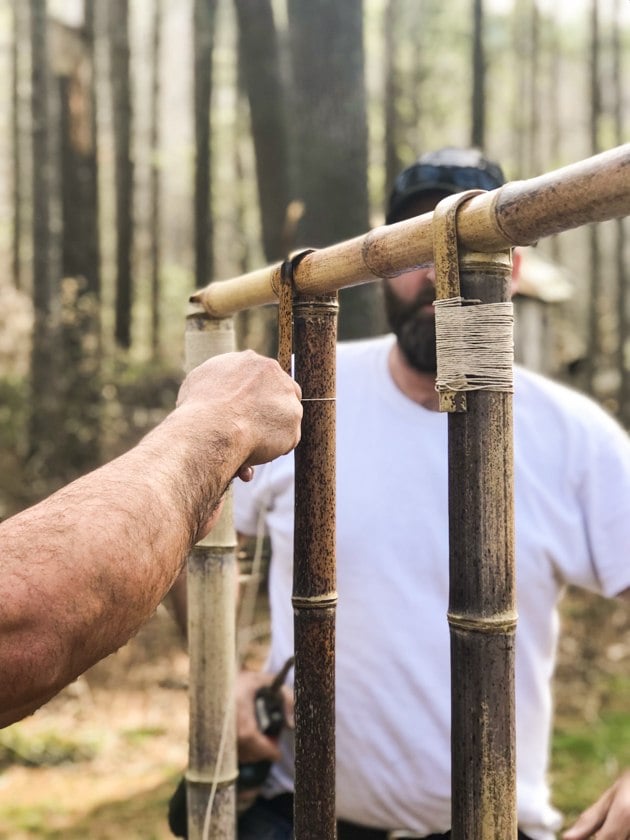 Once it is bent in place, we used a twine to artistically tie it to itself.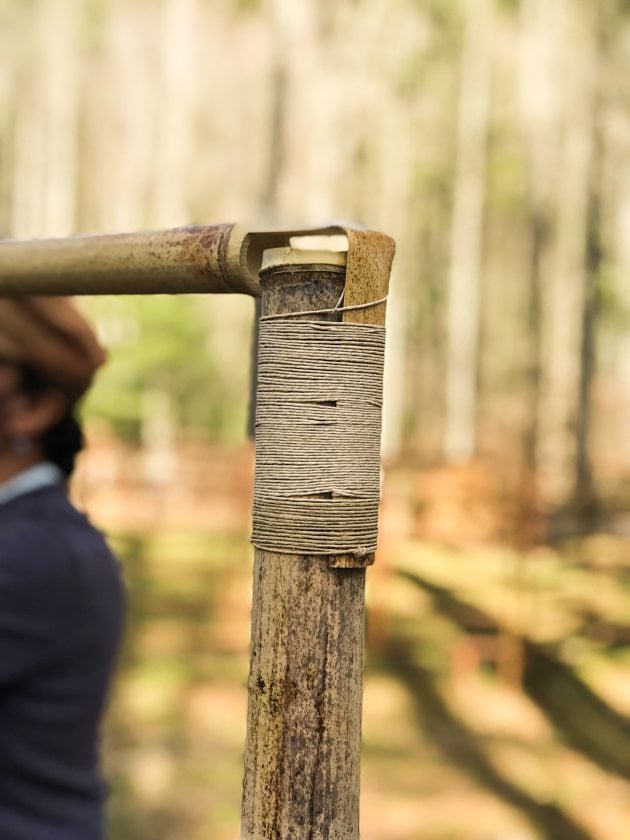 At the corners, the bamboo is bent at a 90-degree angle to hold the outside cane.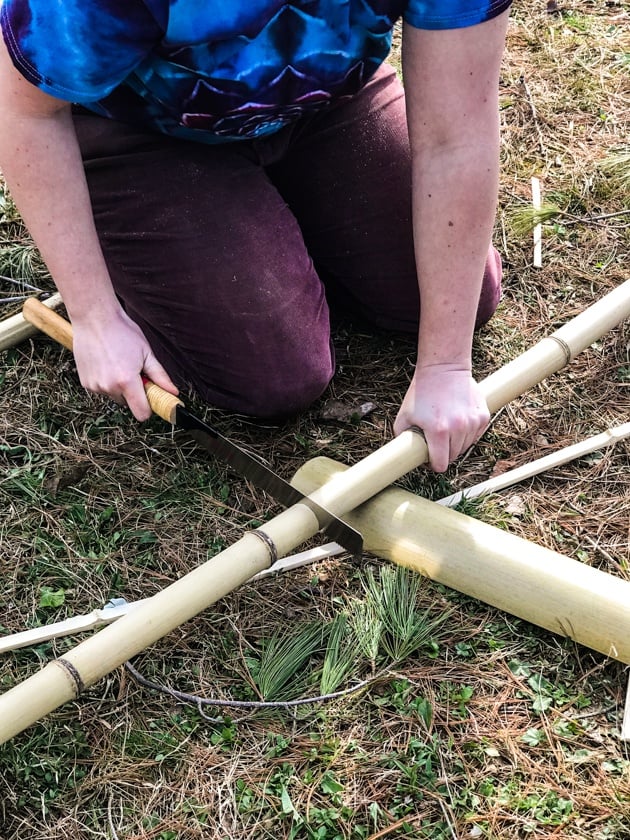 Now we needed to cut the bamboo to the width of the four canes so we can start weaving this wall…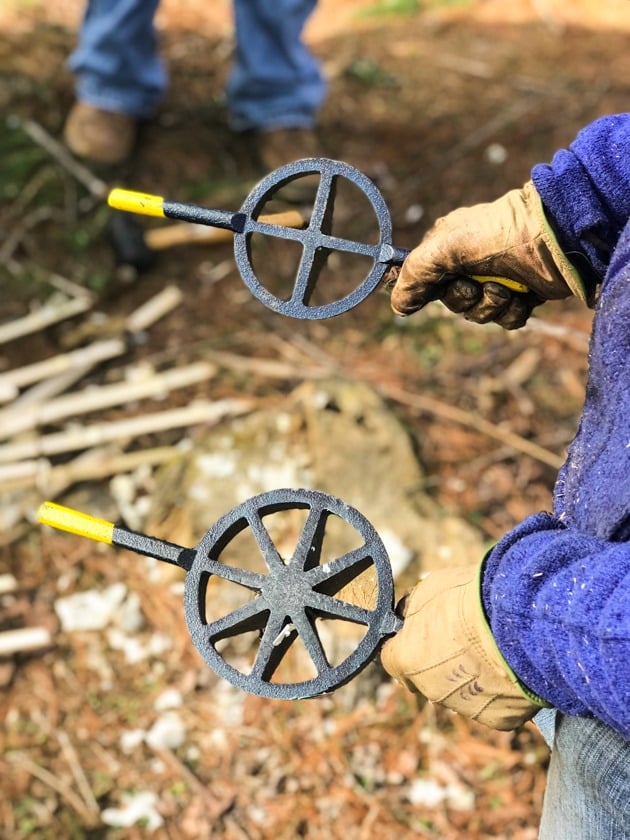 Once it is cut to length, we used those special splitters to create bamboo strips that we could use for weaving.
The upper one will split a bamboo cane into four and the lower one will split a bamboo cane into eight.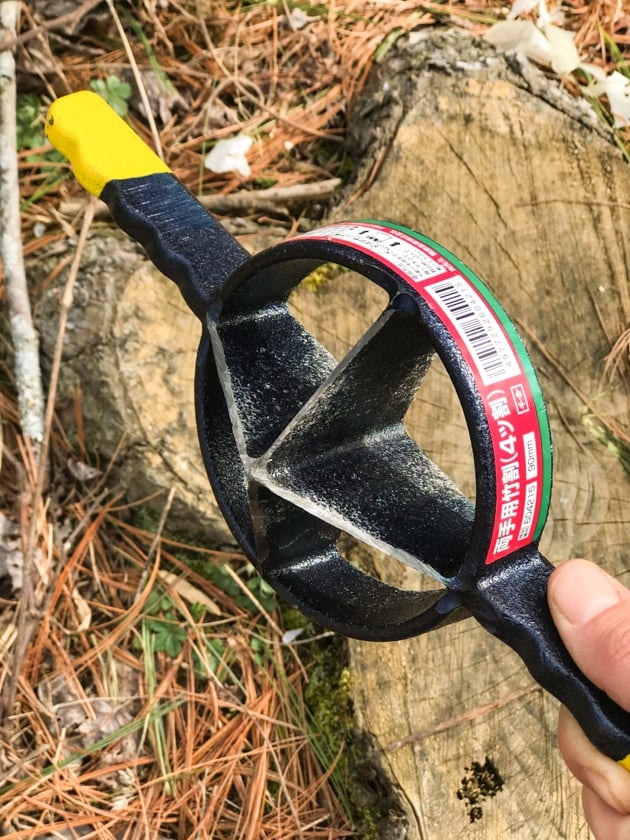 Here is the underside of this tool, what it is is really a knife.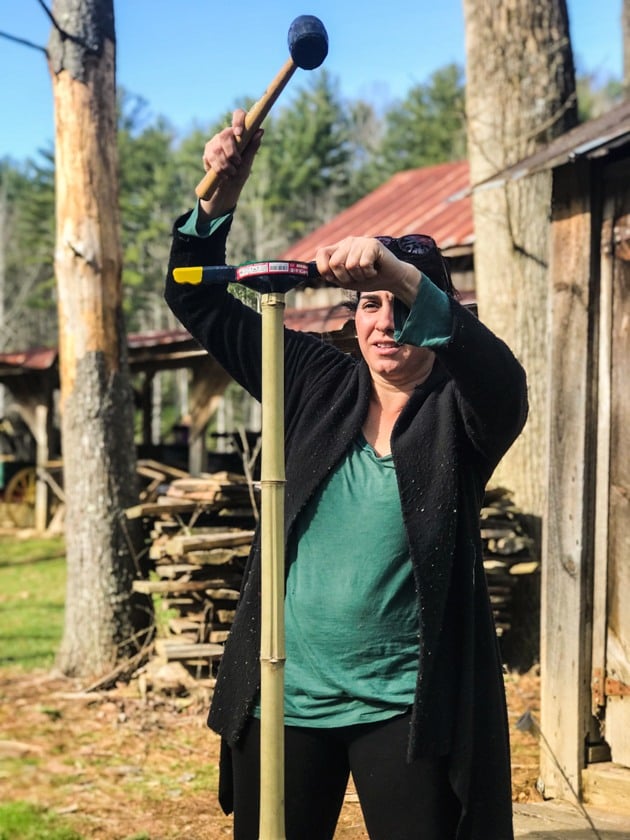 You place the bottom of the cane on a hard surface (we used a flat rock), hold the round splitter on the top of the cane, and bang on it a couple of times with a mallet, just for it to cut into the bamboo…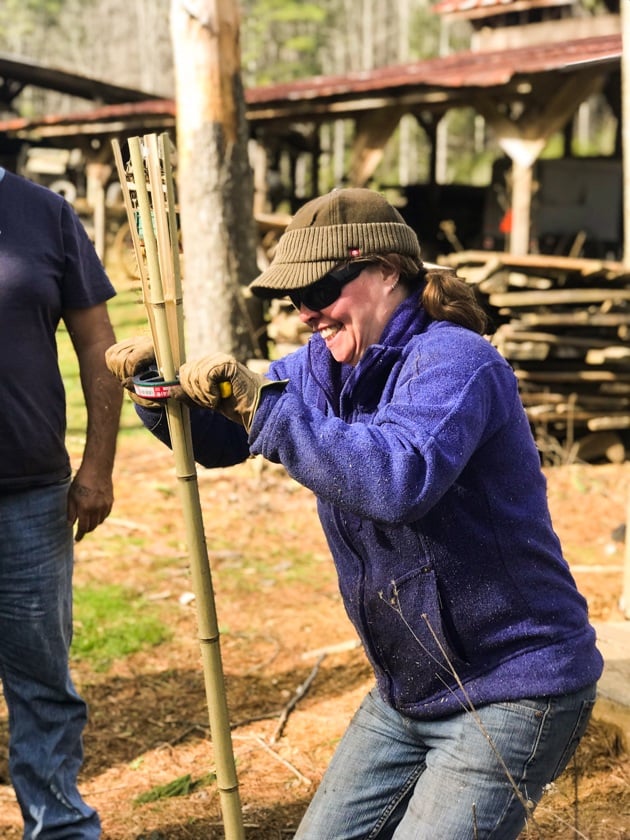 Now, once it cut into the bamboo, you hold the handles and bang the bamboo cane on the flat rock. This will cause the round tool to split the bamboo.
Note – you will see different people having fun with this project… We had a big bamboo party going on there!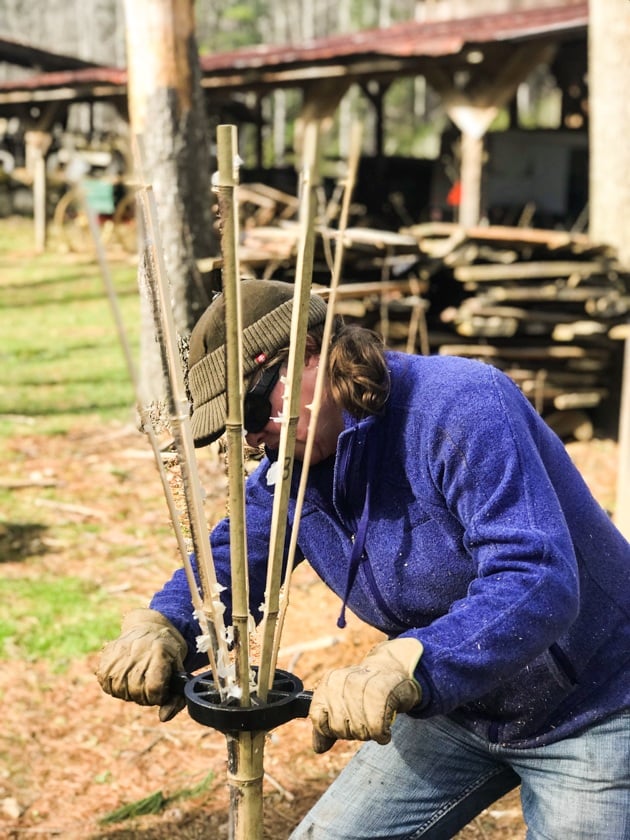 See how it just keeps going down the length of the cane?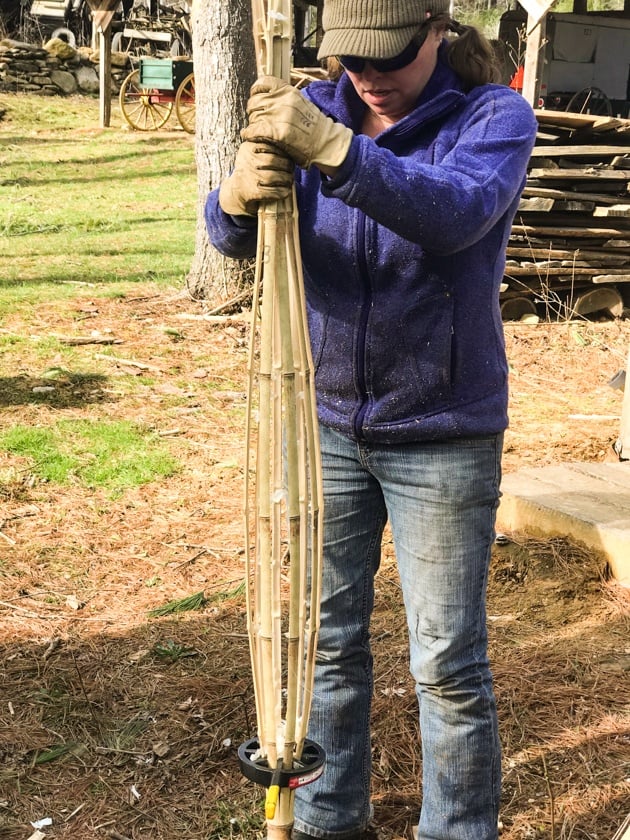 No need to bend… Once the splitter is low, you gather the pieces and bang the bamboo on the hard surface. The splitter will keep on cutting until it gets all the way to the bottom of the cane.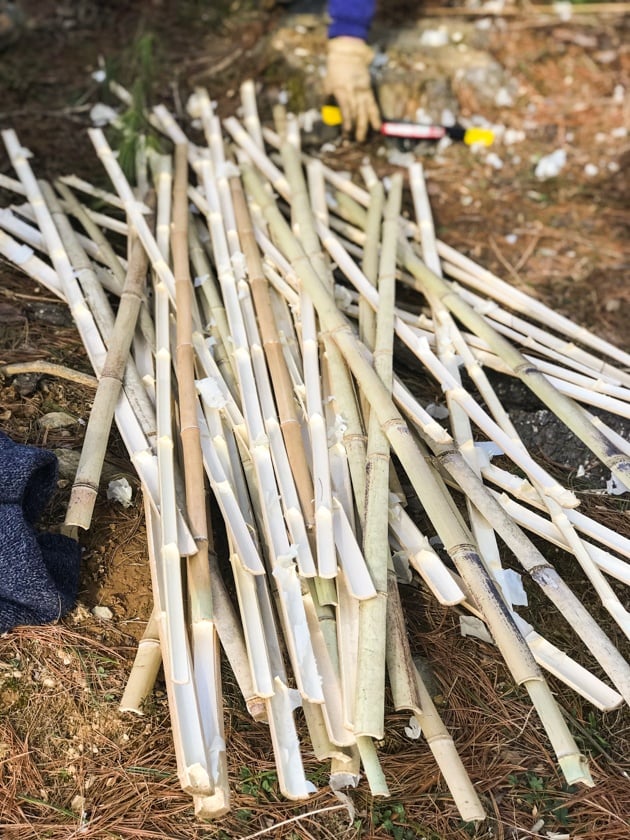 This is what we got after a little bit of work… A nice pile of split bamboo canes.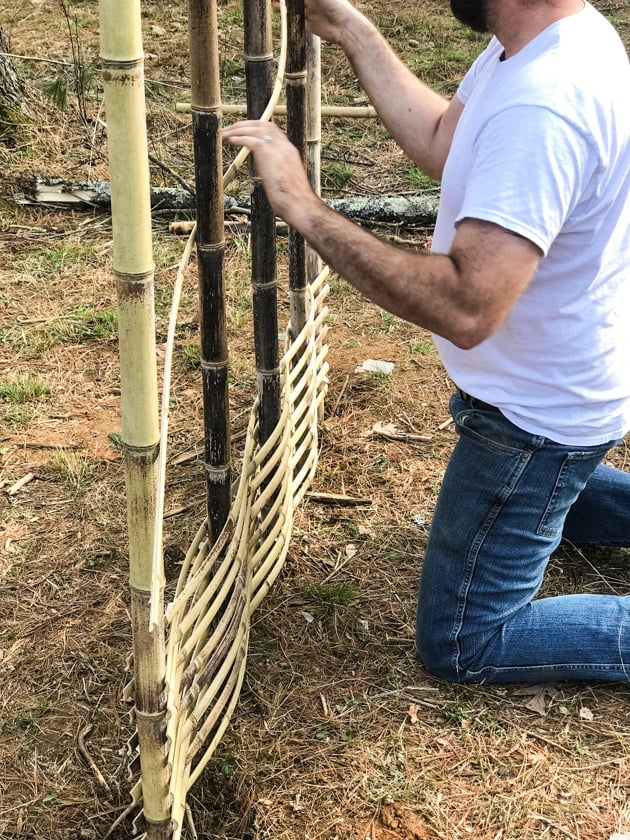 Now we used those split pieces to weave between the four standing poles.
Cool, huh?
But I had a question here… What if I want to weave a basket? Those pieces are great for fencing or building walls but they are too thick for a basket…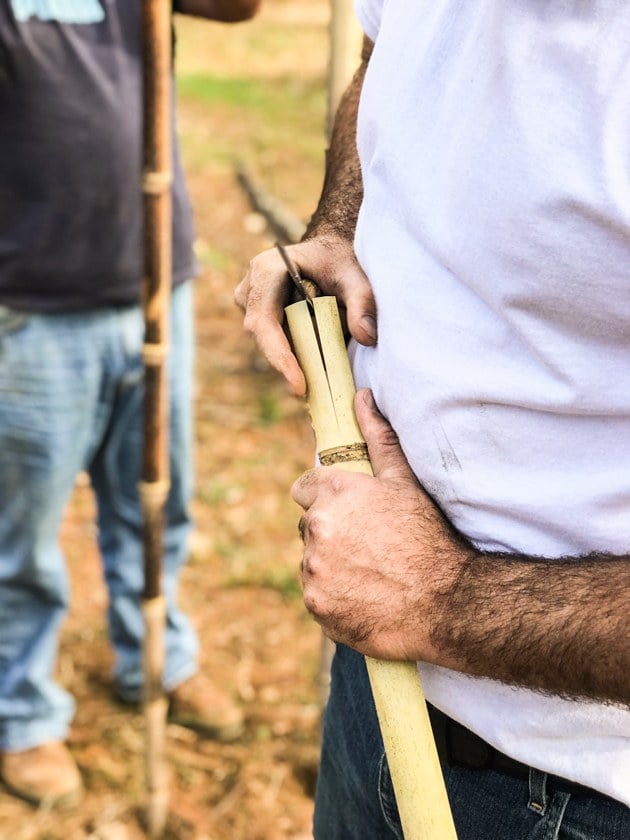 So Aaron showed me how you'de split the bamboo pieces further to make them into even smaller strips for basket weaving…
You use a special knife (you can't do this with just any knife) to split the width of the piece…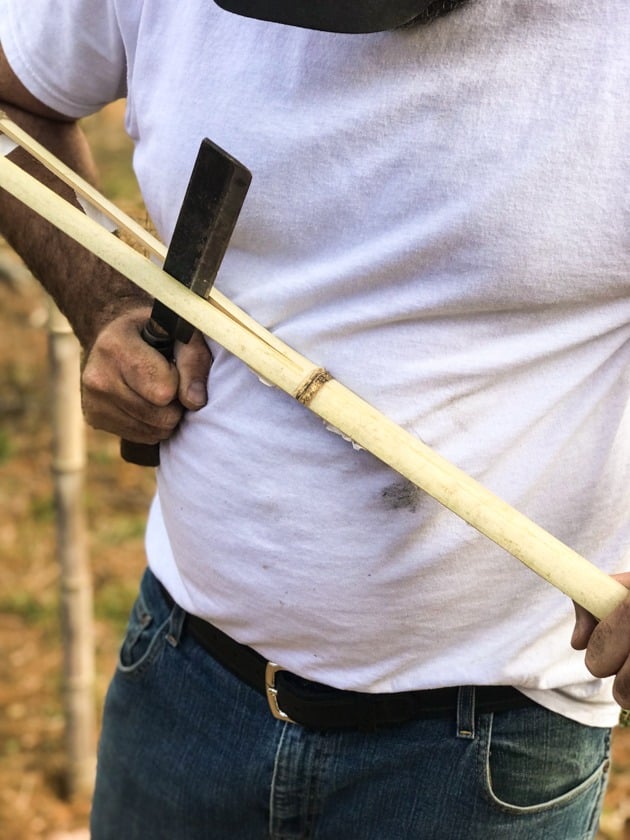 He kept pushing the knife down… This knife is thick, and you can see that at this point the blade is not touching the bamboo anymore. The knife is not cutting, just splitting, this is what makes the bamboo split evenly.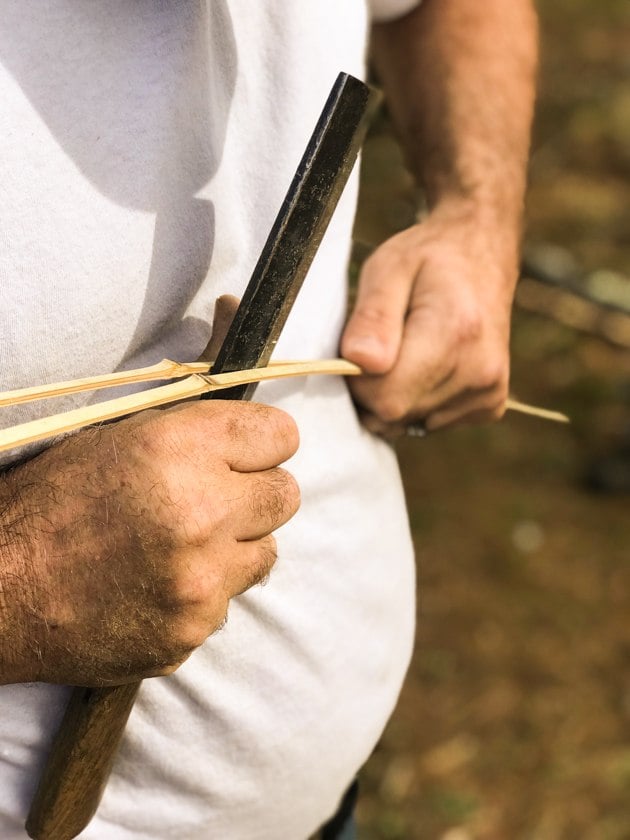 You can keep going on and on splitting the width of the bamboo until your piece is narrow enough…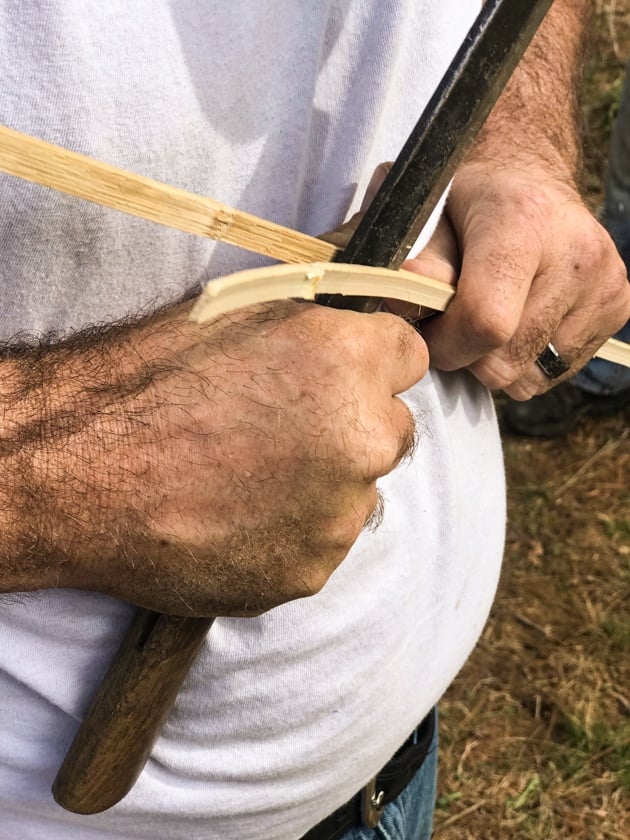 Once it is narrow enough, we want to split the thickness of it to make it thinner so it's more flexible…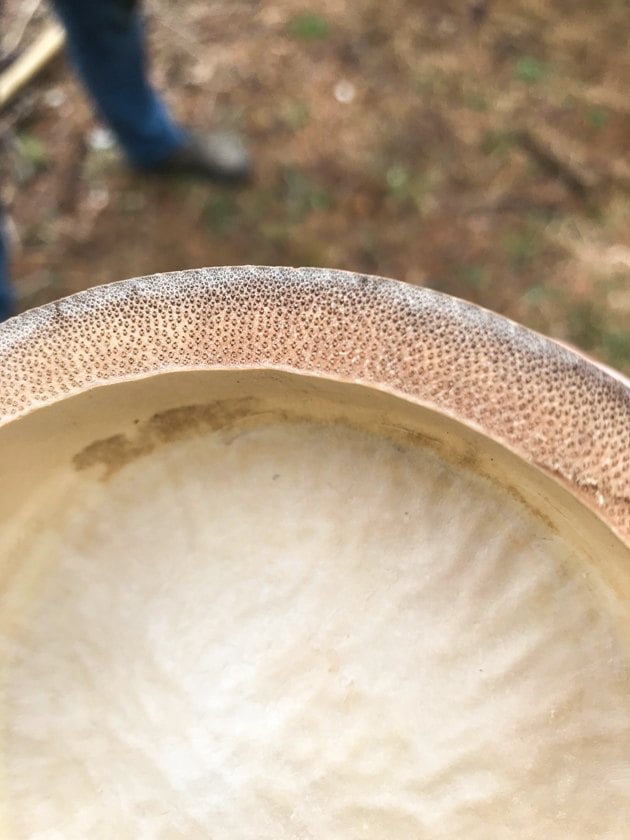 See those dots on the cross-section of this bamboo pole? See how they are dense on the outside but more spread as they get close to the center of the cane? This is our mark…
The first split is on the 40/60 line, right where these dots start to spread further apart…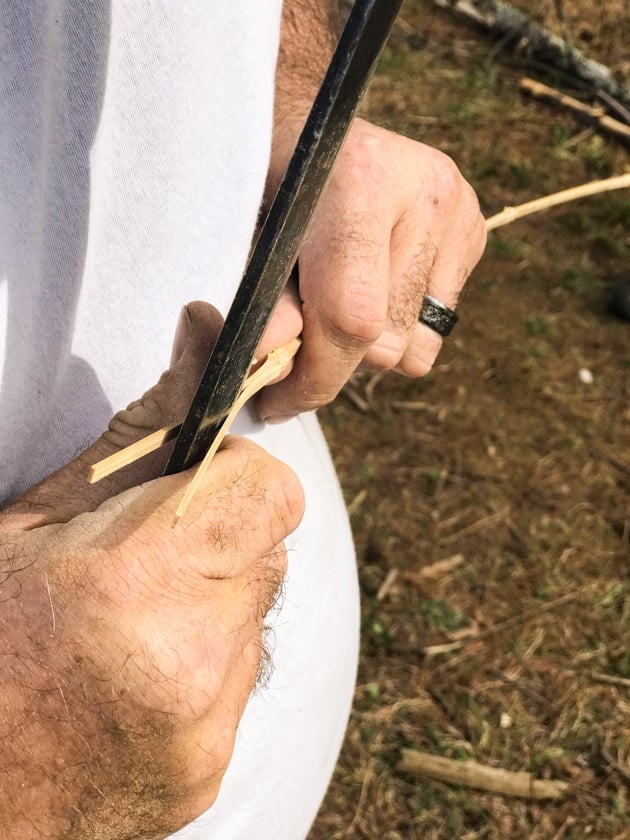 After that first cut, the division is 50/50.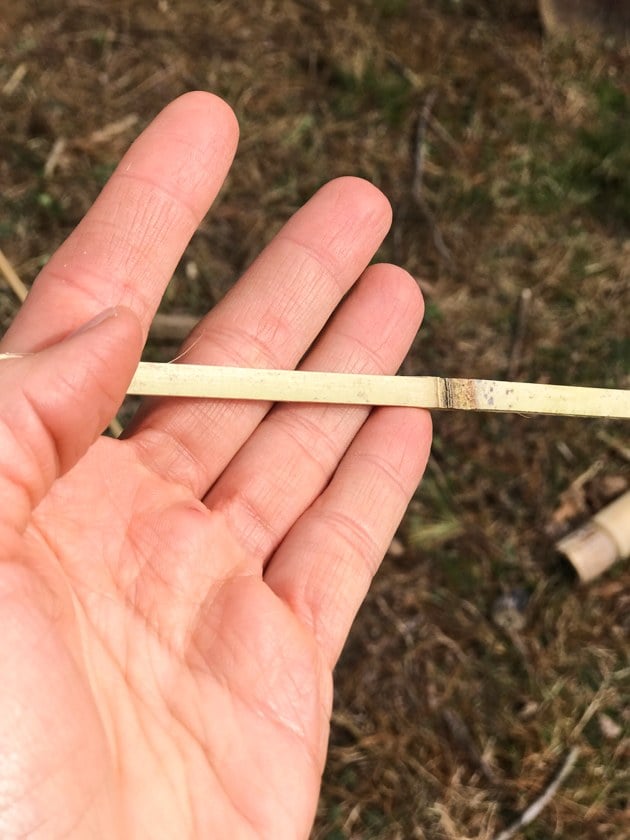 We went from the big piece to this…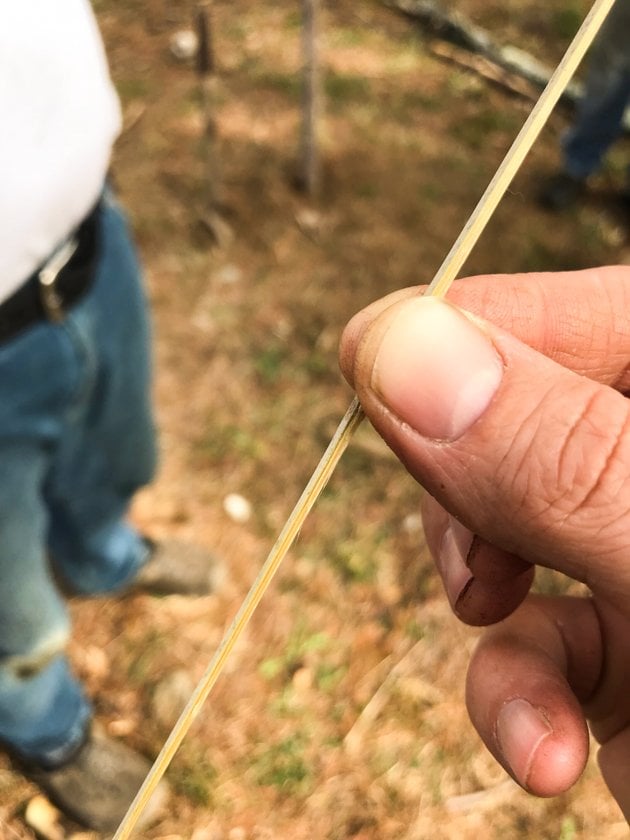 To this!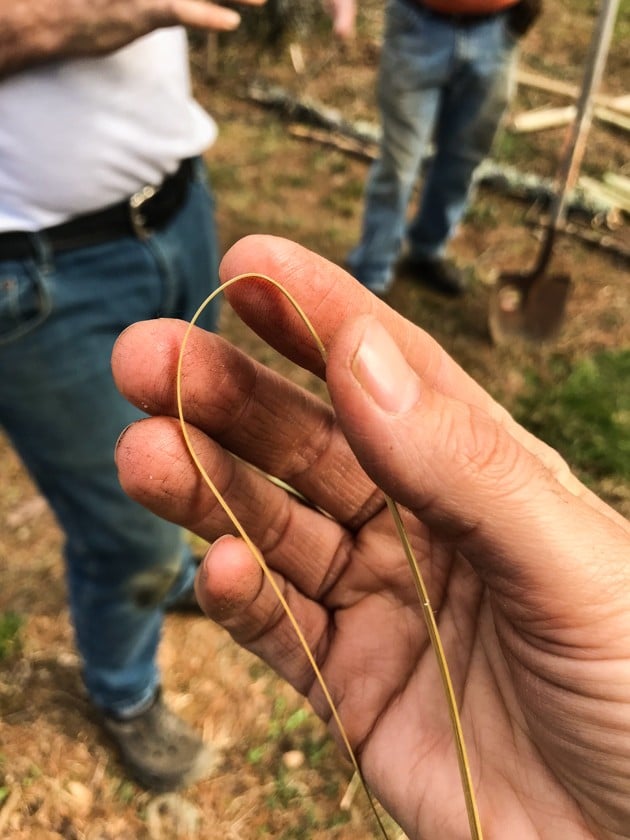 Look how flexible this is! You can definitely use this tiny thing for basket making. Isn't this amazing (the bamboo, not my hands…)?!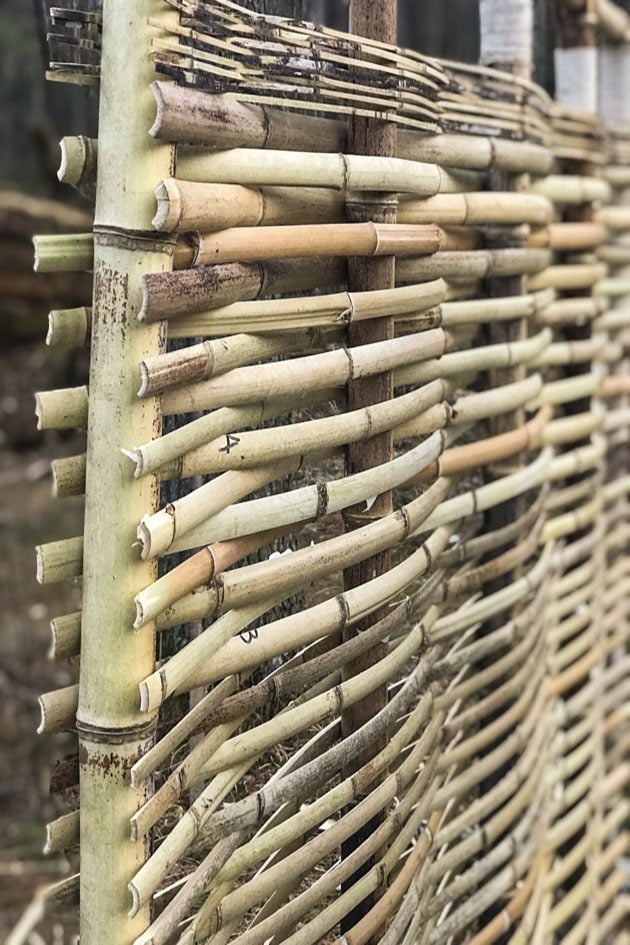 Ok now, back to the handwashing station…
We kept weaving up the four canes until we got to the top. We added a decorative weave of smaller pieces at the top and left a few inches clear so people can see the twine holding the bamboo together.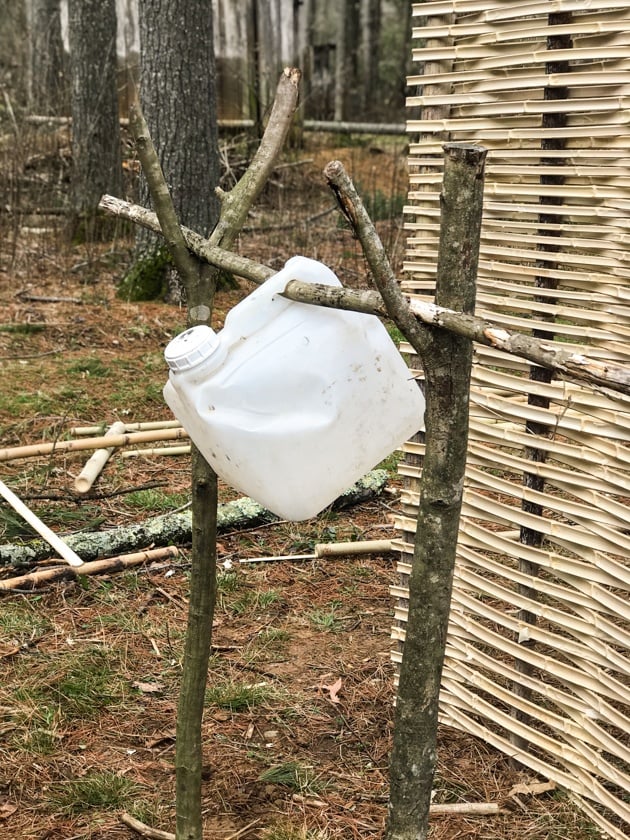 We decided to keep the plastic jug but hide it behind the wall so we transferred what Turtle Island already had and installed it behind the wall. But for the front, Aaron wanted to make something that will display the possibilities of working with bamboo…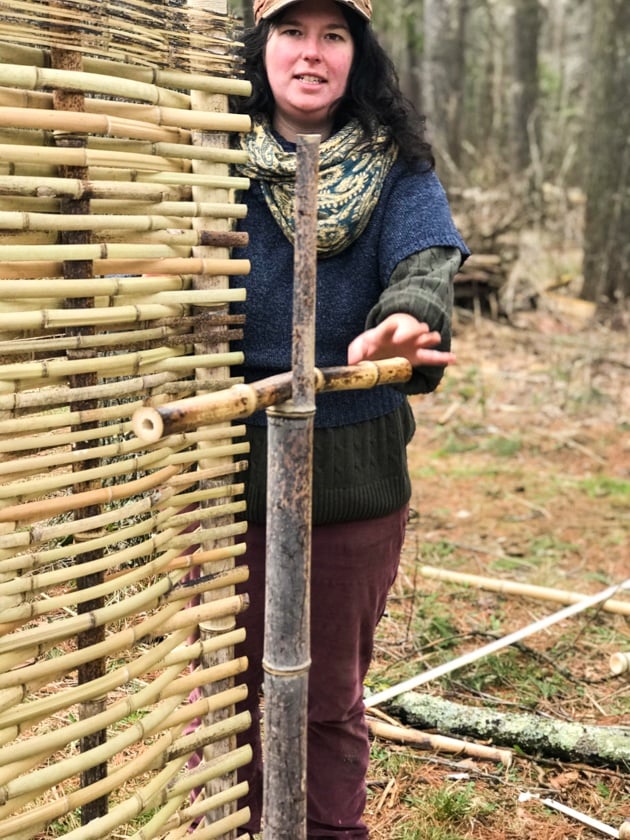 It started with this T. The cane is about a foot in the ground and the top cane will be connected to the standing cane using the same technique we used with the wall, by heating the top part, bending it over, and tieing it to itself.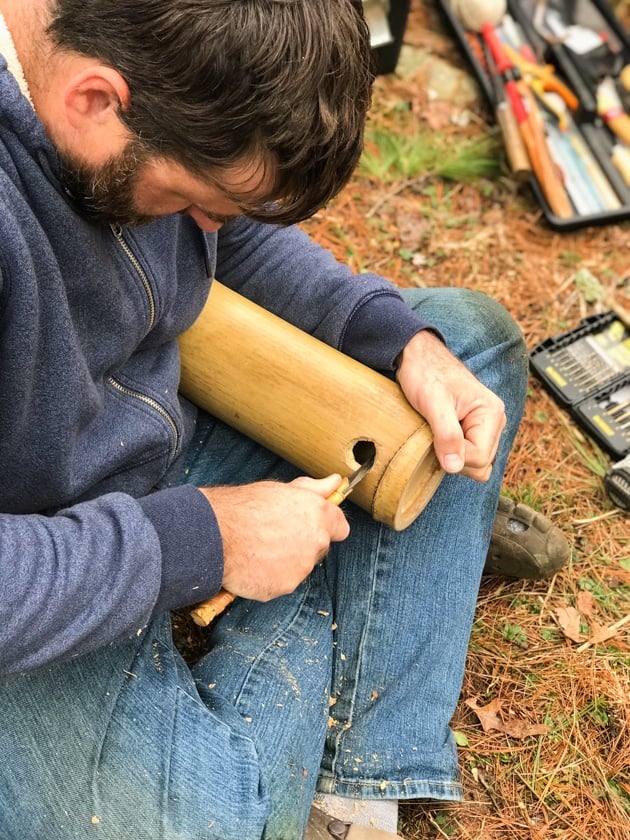 To hold the water, Aaron came up with a bamboo container idea. He made two holes in it so we can slide the horizontal cane right through it…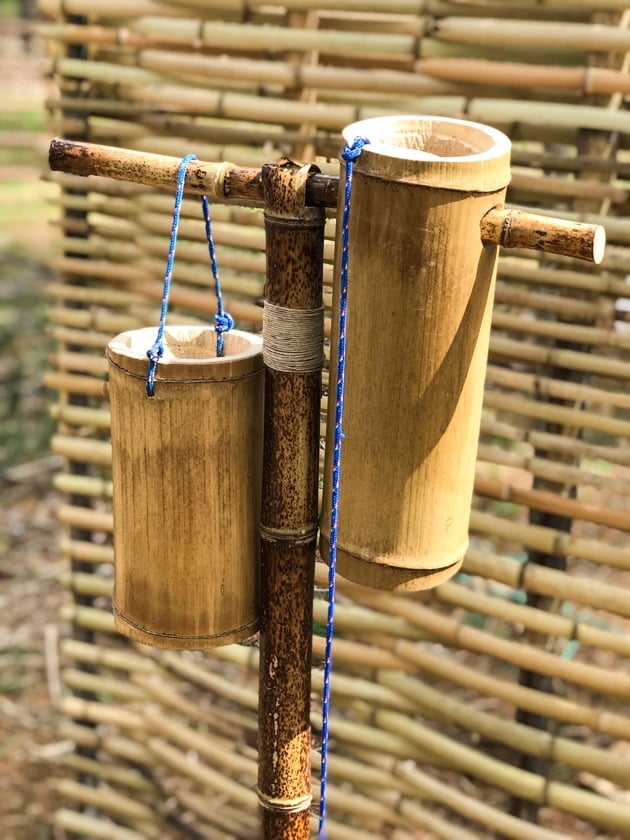 Like so…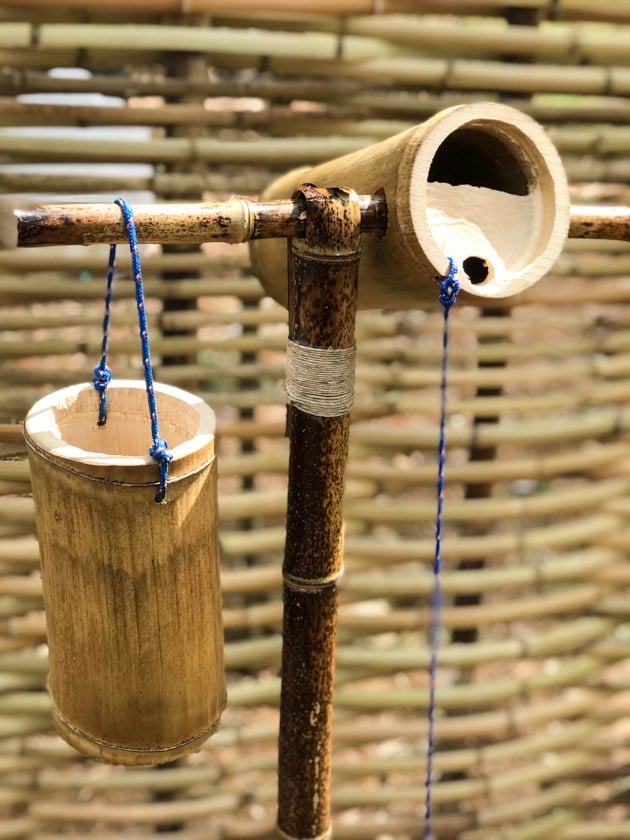 And at the top of it, he made a big opening so it's easy to fill it with water and a smaller hole for the water to come out of.
On the other side of the cane is a bamboo cup/container kinda thing that is completely open at the top, making it easy to scoop some water. You then use this cup to fill the other container.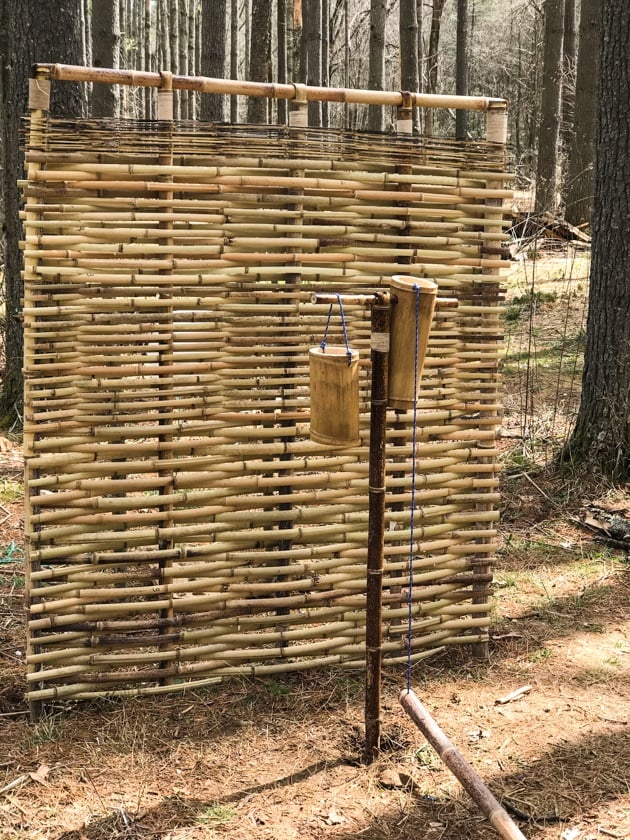 The container is tied to a smaller bamboo cane on the ground which you step on to tilt it so the water can come out…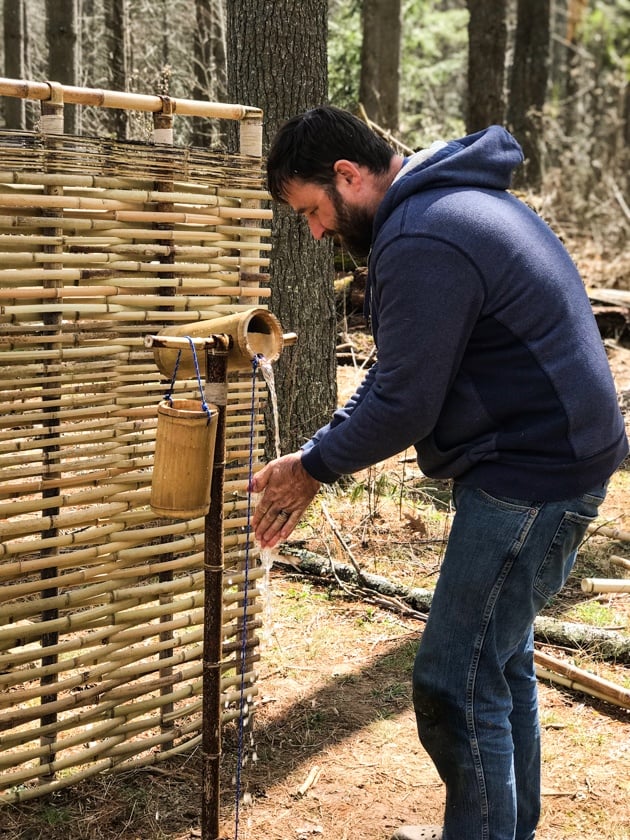 Here it is at work! Isn't that cool! What do you think?
I loved this idea, it's so beautiful, but more than the handwashing thing I kept thinking about that amazing wall behind it… I can think of garden fence, walls to hide things like garbage cans and such, even raised beds and various size planters… And that's not even mentioning the basket making potential here…
One thing is not very clear to me yet, is how to preserve the bamboo. I know from experience that it will dry and chip (bamboo does not decompose!), so there is probably a way you should paint your outdoor bamboo project to keep them in good condition longer, just as you would do with wood.
I also heard that there is a borax treatment that the canes can go through before you use them for building, but didn't research this yet.
I have a feeling that this is just the beginning of my relationship with this plant… I have a lot more to learn but I am really thinking about planting some bamboo on my land.
I have this area that is right by the creek and the soil stays damp over there… I have a feeling that this will be a great area for bamboo. I am afraid that it will take over the land though, so before I plant it I want to make sure I understand how to manage it.
Then, I just have to add a couple of panda bears and my kids will love me forever!
Do you have any experience building with bamboo? What do you think about this project?
More Projects…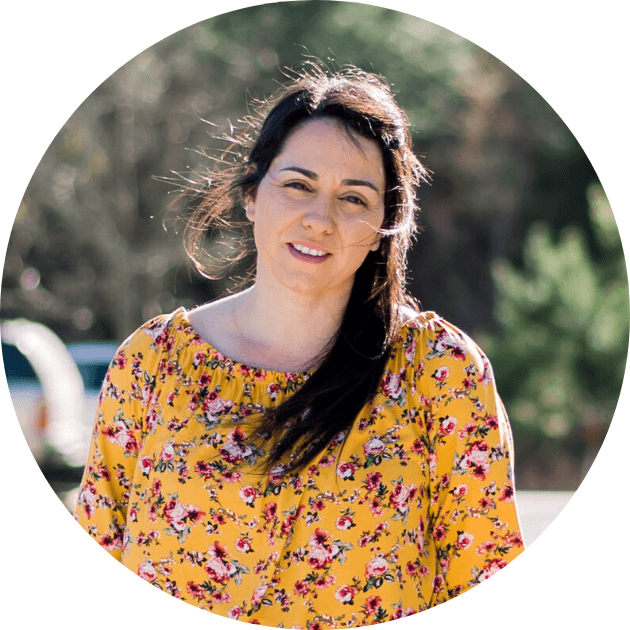 Hi! I'm Lady Lee. I help homesteaders simplify their homesteading journey while still producing a ton of food! I am a single mother of four, I was born in Israel and raised in an agricultural commune called a Kibbutz. Now I homestead in central NC.