We are going to learn how to dry apples in the oven, or in other words, how to make apple chips or how to dehydrate apples without a dehydrator. It's all the same thing and the result is a fun, healthy, tasty, and easy snack!
---
I have to admit that I don't often make this dish. Drying apples in the oven takes some time and usually we just prefer eating them fresh.
However, when apple season arrives and there are apples coming at us from everywhere (and you've made all the apple butter that you want), we often tend to try and find new and exciting ways to use them.
One of these ways is making apple chips. This is a fun, fall recipe for us. One that we always make around the holidays.
How to Dry Apples in the Oven…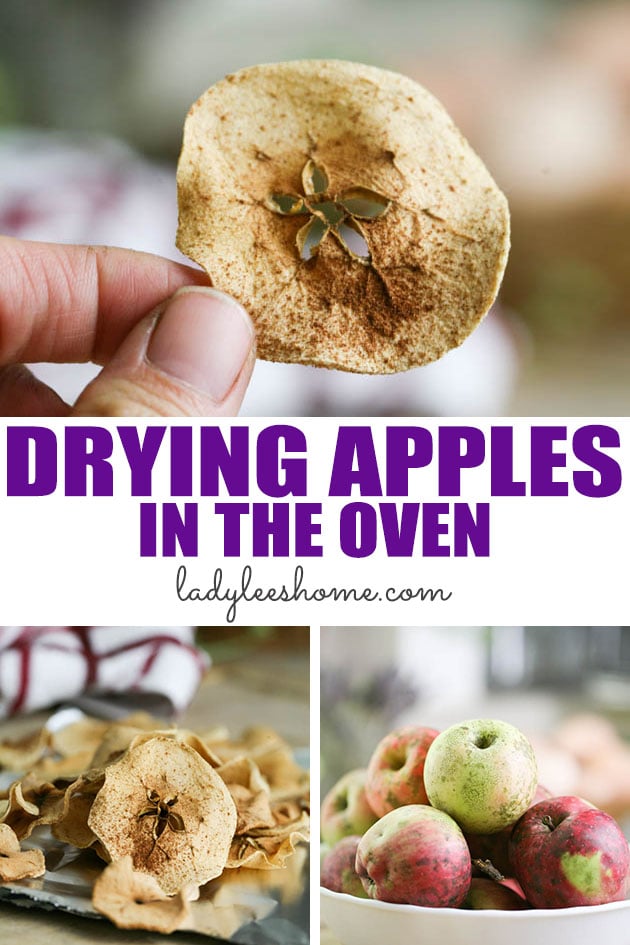 I don't own a dehydrator (yet), so when we feel like enjoying apple chips or dried apples (whatever you want to call them), I dry them in the oven.
It's not much work at all, however the drying process takes a while.
Let's just get to it… Let's dry apples in the oven.
Best Varieties of Apples For Apple Chips…
To make the apple chips taste a little better, I think that it's best to choose sweet apple varieties (so not sour varieties like Granny Smith).
I also think that it's better to choose firm varieties instead of the softer varieties like Golden Delicious.
So varieties like Gala or Honeycrisp might do better as chips, but at the end of the day, I think that you can dry any kind of apple in the oven.
What do I Need to Make Apple Chips?
Really, all that we need here are apples. I can fit about two medium apples per baking sheet.
If you want, you can season your apples. I love to sprinkle cinnamon on my apples. You can sprinkle nutmeg, pumpkin spice, or even a bit of brown sugar.
Tools For Drying Apples in the Oven…
Cutting board and knife – maybe you've already figured this out… I don't like kitchen gadgets (or any type of gadget really).
When it comes to slicing apples for apple chips, your life will probably be much easier, and the job will go much faster if you use a mandoline slicer after you remove the core with an apple corer.
However, I don't have either one of these tools so I just use a knife and a cutting board. I try to slice my apples as thin and as even as I can so they bake evenly.
I also love leaving the core. It makes this beautiful shape of a star or flower in the center of the chip.
Peeler – this is another optional tool. You don't have to peel your apples when drying apples in the oven. You can leave the skin or remove it, it's up to you.
Parchment paper – to line the baking sheet.
Baking sheet – again, I can fit about two medium apples on one baking sheet. If your oven is going to be working for a couple of hours to dry the apples, make sure to stick more than one baking sheet in there if you can.
We'll talk about how to store dry apples later.
Instructions For Drying Apples in The Oven…
I start with these beautiful apples that came from my neighbor's tree…
I did choose to peel my apples since the skin didn't look too appetizing. If you choose to peel your apples, make sure to use the scraps to make homemade apple scrap vinegar.
Next, I slice my apples very thin…
About 1/8th of an inch. I try to slice them evenly. This is easier to do if your knife is very sharp. If you do this with a mandoline then it's even easier.
Removing the core is optional. I don't remove it. I like how the center looks and we just end up eating around it.
Next, I lay the apples in one layer on a baking sheet lined with parchment paper and sprinkle with a little bit of cinnamon.
How Long to Bake Apple Chips?
Bake the apple chips in a preheated 200 degree Fahrenheit oven for 2-3 hours depending on how thin your slices are and how crispy you want your chips.
I usually bake them for an hour or so and then take the baking sheet out of the oven and flip the apples. I then bake them for another hour and check again.
Sometimes they are done and sometimes I have to flip them again and bake some more. It really depends on your personal preference.
How do You Know When Apple Chips Are Done?
Apple chips are done when they are as crispy as you'd like them.
Make sure to check them every 15 minutes or so after the first 2 hours of baking to ensure that you don't burn them.
My kids love them a bit chewy, I like them more crispy. I usually end up removing some after 2 hours or so and leave some a bit longer to get more crispy.
If you didn't use a mandoline to slice your apples then they are probably not sliced a 100% even. Some of them might dry before the others.
As you check your apples, just remove the ones that are ready and keep baking the other ones.
How Long Do Homemade Apple Chips Last?
Homemade apple chips are best served right away, however, they can be kept in an airtight container for a few days.
After you remove them from the oven, it will take them just a few minutes to cool down before you can enjoy them.
They are so good that we usually don't have any leftovers, however, if we happen to have any leftovers I store them in an airtight container for a few days.
---
This is a very simple snack and a great substitute to the chips we find at the store. It's a fun recipe and a great way to use apples.
It's a recipe that kids can easily make by themselves and I love that it teaches them that there are simple ways to make snacks that are both tasty and healthy.
If you are looking for more homemade chip recipes, check out these delicious purple sweet potato chips and this kale chips recipe!
If you are looking for more apple recipes and ways to preserve apples, check out these posts…
How to Make Applesauce and Can It
How to Dry Apples in the Oven
Bake Time:
2 hours
30 minutes
Total Time:
2 hours
45 minutes
How to dry apples in the oven: a fun, easy, healthy homemade apple chips recipe.
Ingredients
2 apples
1 teaspoon cinnamon
Instructions
Preheat oven to 200 degrees Fahrenheit.
Peel and core your apples (this is optional).
Slice your apples into thin slices, 1/8th of an inch. This will be easier if you use a mandoline. If you use a knife, make sure that it's sharp and try to make the slices as even as possible.
Lay the apple slices in one layer on a parchment paper lined baking sheet. You don't have to season them, but if you'd like you can sprinkle with cinnamon, pumpkin spice, or even a bit of brown sugar.
Bake the apples for one hour.
Remove from the oven and flip the apple slices. Return to the oven and bake for another hour.
From here on out, check your apple slices every 15-20 minutes. Bake them until they are as crispy as you'd like them to be. You can remove the chips that are done from the baking sheet and keep baking the rest of the slices until they are all done.
Notes
It will take the chips just a few minutes to cool once you remove them from the oven. They are better served right away. If you have any leftovers, you can store them in an airtight container for a few days.
Recommended Products
As an Amazon Associate and member of other affiliate programs, I earn from qualifying purchases (there is no change in product cost or charge to you! Thank you for helping me support the blog).
Nutrition Information:
Yield:

2
Serving Size:

1 apple
Amount Per Serving:
Calories:

98
Total Fat:

0g
Saturated Fat:

0g
Trans Fat:

0g
Unsaturated Fat:

0g
Cholesterol:

0mg
Sodium:

2mg
Carbohydrates:

26g
Fiber:

5g
Sugar:

19g
Protein:

1g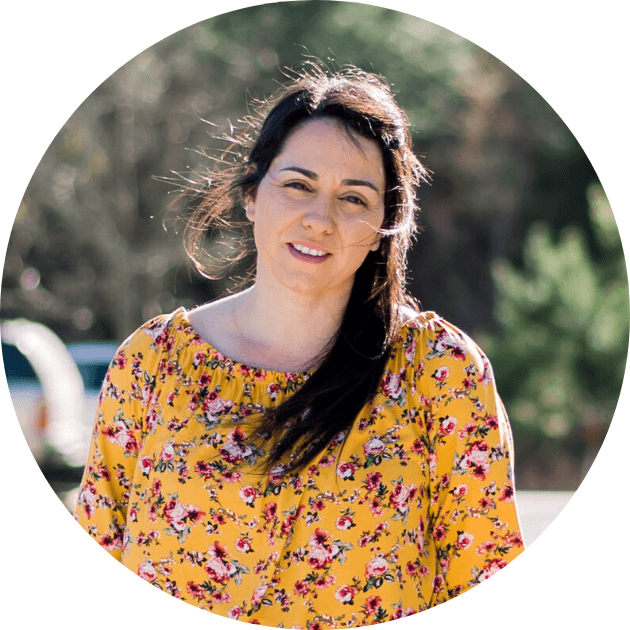 Hi! I'm Lady Lee. I help homesteaders simplify their homesteading journey while still producing a ton of food! I am a single mother of four, I was born in Israel and raised in an agricultural commune called a Kibbutz. Now I homestead in central NC.