In this post, we are going to go over 5 ways to braid challah bread and at the end, you can also find my challah bread recipe. In all five ways, we are using one or two strands and you won't believe what beautiful things you can do even with just a strand or two. Challah bread is a traditional Jewish bread that we make every Friday for Shabbat dinner. It's sweet and soft, almost a dessert.
---
A couple weeks ago my aunt was here from Israel for a visit. She is a baker… You put me and a baker in the same house for a week and I can tell you for sure this is going to be a problem.
So I made sure to schedule ahead of time a whole bunch of activities away from the kitchen or, in other words, far away from the house. Yet somehow I still managed to gain about 17lb that shall stick to my mid-section from now till the end of times.
I blame it all on the Challah Bread.
Five Ways to Braid Challah Bread and a Challah Bread Recipe…
In the week that she was here, we managed to make two batches of Challah bread that produced fourteen smaller loaves and four larger loaves.
Yup, that is eighteen loaves of Challah.
This happened because I faked a problem with my camera the first time we made Challah and insisted that we make another batch so I could take additional photos to share with you, my reader.
Thank you for being there for me during this hard time.
Anyway, I didn't want to give you just another Challah bread recipe, you can find a gazillion of those online and they are probably all very good. I thought it would be fun to share a couple of tricks and techniques from a professional baker with you. Still, the recipe we used is at the end of this post for you to print if you want.
First, sift your flour into a large bowl. Then, add the rest of the ingredients: yeast, eggs, canola oil, salt, and sugar.
In Israel, most of the recipes list quantities in grams. My aunt doesn't use a single measuring spoon or cup. Instead, she places the large bowl on a kitchen scale, then zeroes the scale (press the TARE button). She adds the right amount of flour; let's say 1 kg, then zeroes the scale again. She adds 20g yeast, then zeroes the scale. She adds 80g canola oil, then zeroes the scale. And so on and so on.
This trick is so useful. If she caters to 100 people and prepares many kinds of different baked goods, she never needs to wash measuring cups and spoons over and over again. It saves her so much time!
I wrote the recipe below like most recipes in America (measurements in cups and teaspoons), but also in grams like it's in Israel if you want to try and work this way.
After you add all the ingredients to the bowl, start adding the water. The recipe calls for 2.5 cups, but the professionals never just add the whole amount. Instead, Nava adds a little bit at a time while working the dough with one hand until all the ingredients are incorporated into a ball of dough.
Next, transfer the dough to a floured work surface.
You can easily make Challah in your mixer with a dough hook (knead for 8-10 minutes). I didn't have a mixer when she was here, so Nava showed me the right way to work the dough by hand.
You hold the part of the dough that is closer to you with one hand and with the other you stretch the dough forward, practically tearing it apart. No mercy here.
Then, you roll the dough back towards you…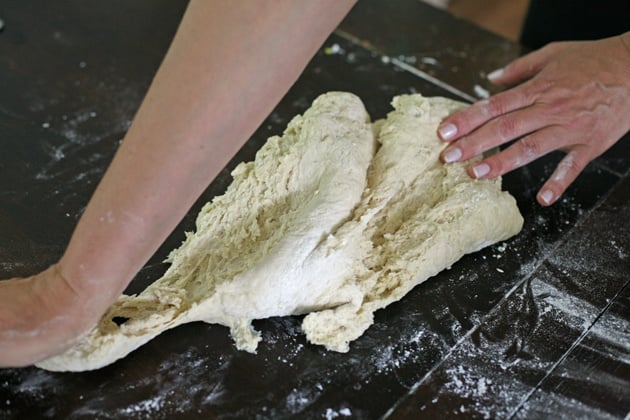 And stretch it forward again. Roll it back in, and forward again. If the dough is too sticky, add a bit of flour, but not too much, so the dough doesn't get too dry.
After about eight minutes, the dough will become smooth and soft to the touch.
Add some flour on the bottom of the bowl and place it back in the bowl. Then, with a sharp knife cut an X on the top. This will allow the dough to rise easily.
Dust the dough with a bit of flour…
Cover with a plastic bag and a kitchen towel and set in a warm place to rise for 40 minutes.
Here is how to check if your dough has risen enough (you can do this with any yeast dough). Stick your finger in the dough…
Pull it out, and if the dough doesn't bounce back, you are good to go.
Transfer the dough back onto a work surface dusted with flour and flatten the dough. Now, start dividing it. The easiest thing to do is divide the dough into three equal parts and make three large loaves. However, you can divide the dough any way you want depending on the size of the loaves you want to make.
Because we wanted to practice braiding we made smaller individual loaves. We made sure to weight each piece of dough to make sure they were equal in size so we could bake them together. Then we worked each piece of dough into a ball. The dough will be very smooth and soft at this stage, it shouldn't be sticky at all.
We divided this batch into seven smaller balls of dough (100g each), and two larger ones.
Now to the fun part! We start braiding the dough, there is no need to let it rise a second time here. We'll let it rise again after we braid it. I am showing you here the smaller loaves we made, but you do exactly the same for the larger loaves, it was just easier to photograph the smaller ones.
So take one ball and flatten it…
Then work it into a dough 'snake', as my kids say.
On a side note here, excuse my dining room table. It's used for homeschooling and I managed to buy my kids paint that wasn't washable. So the dining room is decorated… Kids style.
Back to the bread… as you work it, don't get frustrated. What will happen is that you'll try to stretch and roll the dough into strands, but it will keep bouncing back. The dough will refuse to stretch. So you always work with two pieces of dough. You work one a little bit then let it rest and work on the other one. You let the second one rest and go back to work on the first one. You'll do that a couple of times, and you'll get your strands. Making strands of dough is the beginning point of all the five different braiding techniques.
First Braiding Technique… The Ring
**Please note, I totally made this name up and the ones following it. I have no clue if these techniques have a professional name…
Shape the long piece of dough into a breast cancer awareness symbol…
Then take each one of the ends and wrap it around one side of the upper loop…
Until they meet. Pinch the ends together…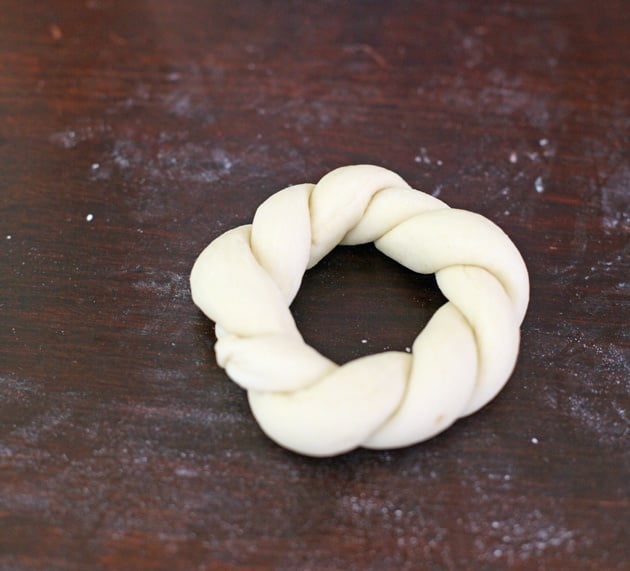 And voila! You have your first braided loaf ready. That was easy, right?
Set it aside on a baking sheet.
Second Braiding Technique… The Rose
Again, you start with one long piece of dough. Lift this piece from its center…
So you have two equal lengths dangling in the air…
Next, wrap them around each other…
Set it on the table and, starting with the closed end, roll the dough around itself.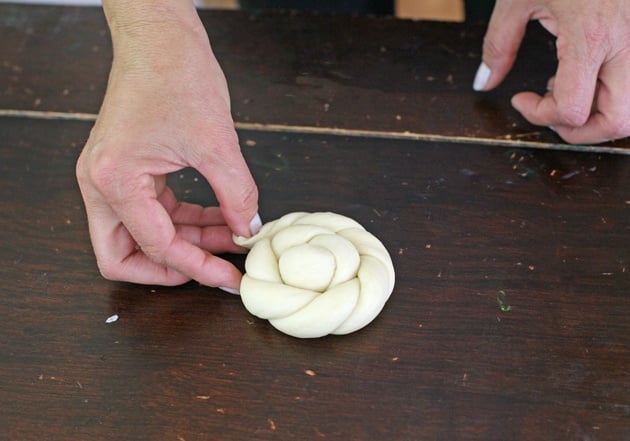 Tuck the end underneath the 'rose' and set on a baking sheet. This technique might be my favorite one. It 's beautiful to do a big loaf this way.
Third Braiding Technique… The Fake Eight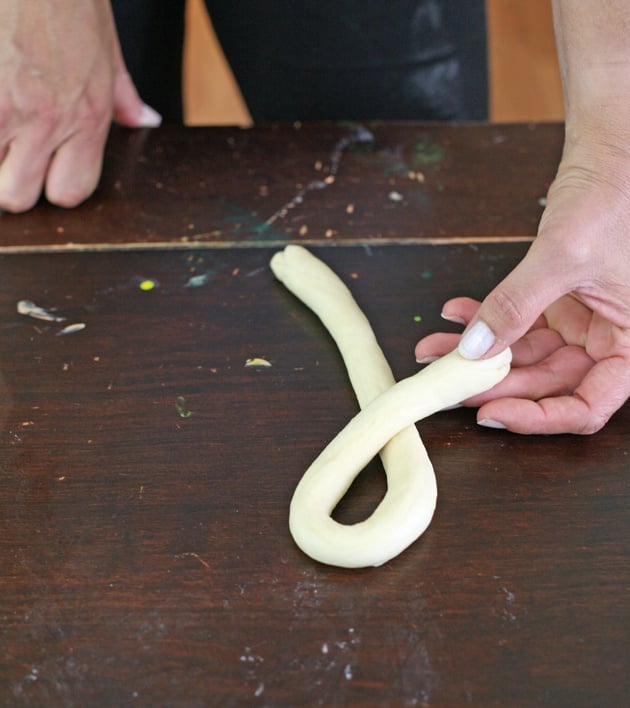 Again, start with one long piece and shape it into somewhat of a breast cancer awareness symbol but this time the loop should be smaller and one end shorter than the other one.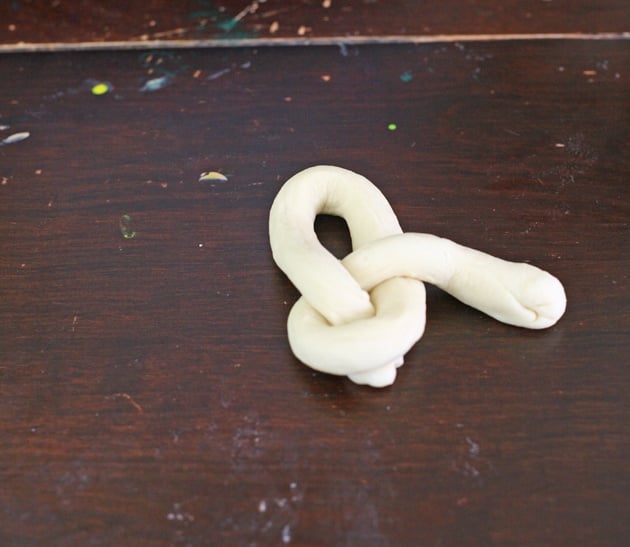 Tuck the tip of the longer end into the loop…
Twist the new loop that was created after the previous step…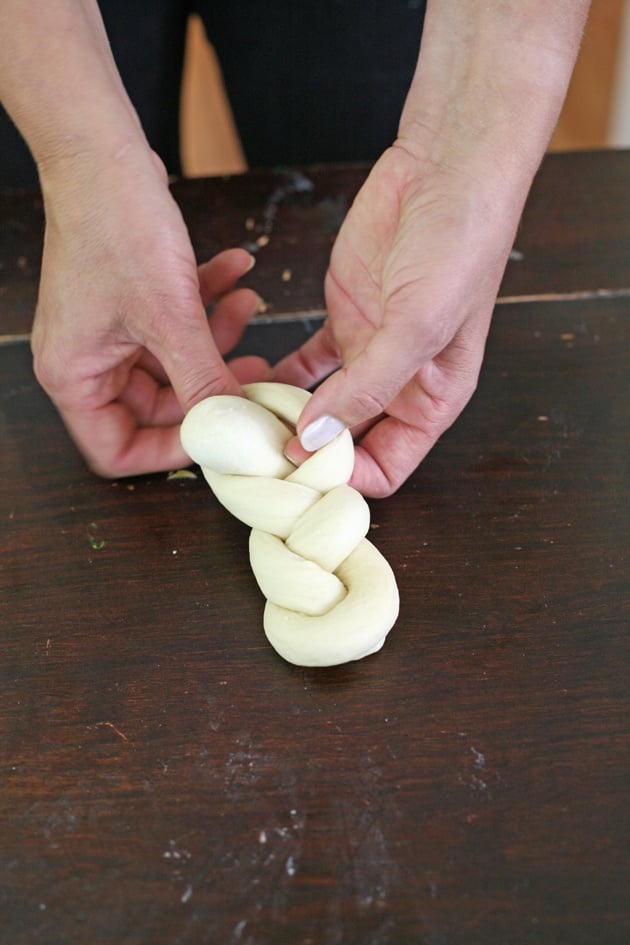 And lastly, tack the shorter end into the hole from underneath.
Here are the first three we did. I know you want to go make bread now, but wait! We have two more braiding techniques to go.
Forth braiding technique… The 3D Braid
For this one, you will need two long dough strands. Set one horizontally in front of you, then set the second one vertically to cross the horizontal strand. This was just an unclear way to say make a + sign.
After you make the + sign, press the center of the + to connect both strands.
Start with the bottom strand (in this case it is the horizontal one). Lift the two ends and change their direction. So now the end that was on the right is on the left, and the one that was on the left is on the right.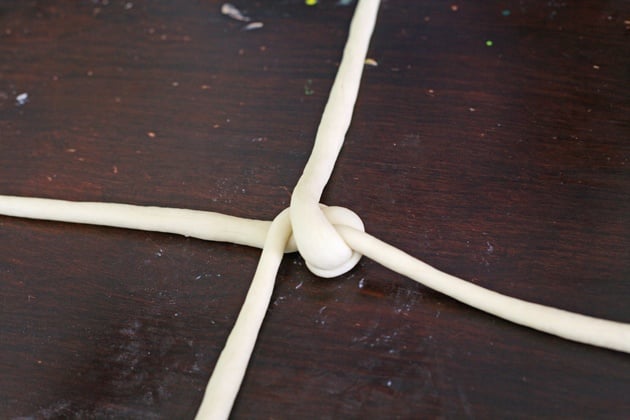 Do the same thing with the second strand…
Then, go back to the first. Keep changing the direction of the strands and moving between the first strand to the second one. Make sure to pinch the ends of the strands together when you get to the end.
Here is what you get. It's pretty much a 3D braid, and I love it!
Fifth Technique… The Simple Pretzel
This strand should be fatter and shorter than the other ones.
Nothing much to explain here. You simply tie the strand into a pretzel.
Now, look at that! I bet your kids will love it. Your husband too and your dinner guests won't stop talking!
After you place all your loaves on a baking sheet, beat one egg and brush them with it.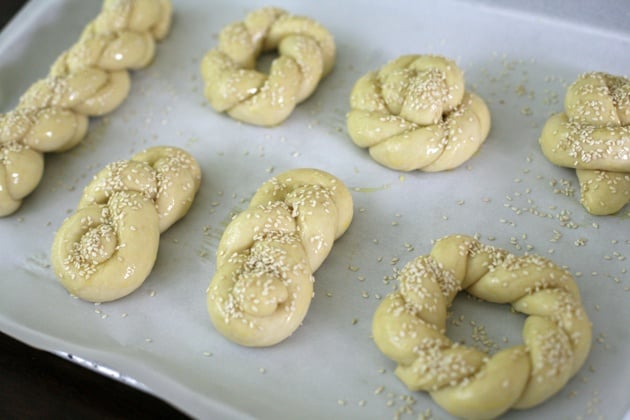 Sprinkle some sesame seeds and set the loaves in a warm place, uncovered, to rise for about 35 minutes.
After 35 minutes, heat your oven to 375F. When the oven reachs 375F place your bread in the oven and immediately reduce the temperature to 350F. Bake until golden, 35 minutes or so for the smaller loaves and 45 minutes or so for the larger loaves.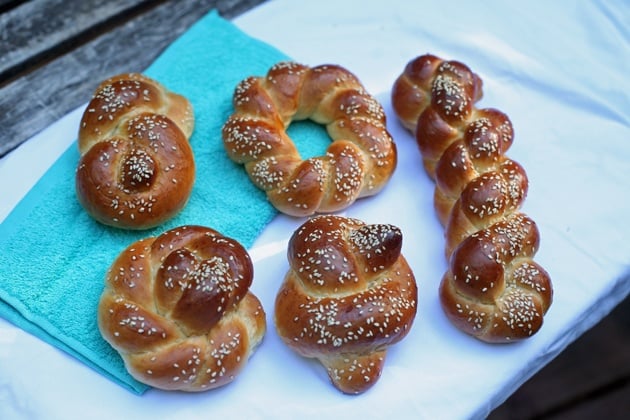 Once your bread is done, take it out of the oven and transfer to a cooling rack. It's soo good warm so don't let it cool too much before you dig in.
We do this every Friday. It's fun to let the kids practice the braiding techniques. This bread is delicious with just about anything and if you have any leftovers after dinner I encourage you to make french toast with it for breakfast the next day. This is absolutely the best bread for french toast!
This was fun, wasn't it? Now you go give it a try!
Here is the recipe for the dough…
Challah Bread Recipe
Yield:
7 individual loaves and 2 larger ones or 3 large loaves
Additional Time:
1 hour
30 minutes
Total Time:
2 hours
45 minutes
Soft and sweet traditional Jewish challa bread recipe.
Ingredients
7 cups bread flour (1kg)
1 1/4 tablespoons dry yeast (20g)
2 large eggs at room temperature
1/2 cup canola oil (80g)
3 teaspoons salt (20g)
3/4 cup sugar (100g)
Approximately 2 1/2 cups of warm water
Instructions
Sift flour into a large bowl.
Add the rest of the ingredients except the water into a well in the center of the flour.
Start working all the ingredients into a dough.
Add water a little bit at a time while working the ingredients into dough.
Transfer the ball of dough to a floured work surface and knead for 8-10 minutes.
Flour the bowl and set the dough back in the bowl, cover with a plastic wrap and a kitchen towel and set aside in a warm place to rise for 40 minutes.
Uncover, transfer the dough to a work surface and flatten.
Divide the dough, braid as you wish and place on a baking sheet.
Brush with egg and sprinkle with sesame.
Set aside, uncovered, to rise for about 35 minutes.
Heat oven to 375F, place the loaves in the oven and reduce the temperature to 350F.
Bake 30-50 minutes depending on the size of the loaves.
Nutrition Information:
Yield:

3 large loaves
Serving Size:

1 loaf of bread
Amount Per Serving:
Calories:

1733
Total Fat:

45g
Saturated Fat:

5g
Trans Fat:

0g
Unsaturated Fat:

38g
Cholesterol:

124mg
Sodium:

2180mg
Carbohydrates:

284g
Fiber:

9g
Sugar:

51g
Protein:

45g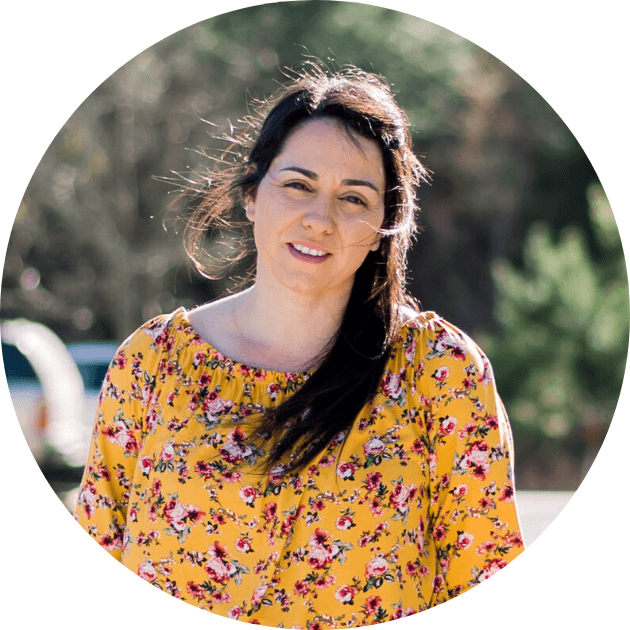 Hi! I'm Lady Lee. I help homesteaders simplify their homesteading journey while still producing a ton of food! I am a single mother of four, I was born in Israel and raised in an agricultural commune called a Kibbutz. Now I homestead in central NC.