It almost doesn't make any sense to grow regular head lettuce when you can grow an easy baby lettuce mix, also called lettuce mesclun.
This loose leaf salad mix is a blend of different varieties of lettuce and other greens that are very simple to grow. They add so much color to the garden and they are crisp and flavorful.
The verity that you see in the picture above (and the others in this post) is Encore Lettuce Mix from Johnny's Selected Seeds.
I've also tried their Allstar Gourmet Lettuce Mix which I actually like even better, which is why I don't have any more seeds left. I ate it all in the spring.
How to Grow Loose Lettuce Mix
Soil – Just your regular garden soil. pH of 6.5 is best. Good drainage and high level of organic matter for best results.
Sun – full sun (6-8 hours) is best, however, most mixes will do just fine in partial shade. You can also grow lettuce mix indoors easily by a sunny window or under grow lights.
Spacing – that's the best part. Not like head lettuce, mesclun mixes don't need almost any spacing. Lettuce seeds are so tiny that in order to space them correctly most growers start lettuce indoors and transplant to the garden when the plants are a few inches tall. The seeds in loose leaf mixes can be sprinkled 1/4"- 1/2" apart.
Row spacing – 6" between rows.
When to sow – Just like regular lettuce, mesclun lettuce like cool weather. You can start sowing outdoors 2-6 weeks before your average last frost date as long as you can work the soil.
For continues crop, sow successively every 3 weeks until the weather gets too hot or until two weeks before the first fall frost if you live in a cooler climate.
So for example, here in NC, zone 7B, I can start sowing in the beginning of March (last frost date 4/15). I'll keep sowing every three weeks until the middle of May because in June it's already too hot for the seeds to germinate. Then I'll wait until the temperatures drop in the end of September to start sowing lettuce mix again.
As you can see in the pictures, I still have the mix growing in the garden and we still eat fresh salads. Soon, the temperatures will drop to where the leaves won't survive outdoors without protection. If I cover my beds with greenhouse film, the greens won't grow anymore but will last for months under the covers.
If you live in the North, you can probably keep planting through the growing season. If you want your lettuce to last the winter, you will have to cover it much sooner then I cover mine.
Days to germinate – in most mixes, seeds will germinate between 5-10 days.
Days to harvest – you can start harvesting baby leaves at around 3 weeks. I usually get three cuttings from my lettuce mix. So I harvest, they grow again, I harvest, they grow again, then I harvest and pull the plants out, clean the garden and sow new seeds.
How to sow – dig a very shallow trench, about 1/8" deep. Then sprinkle seeds, try to space them 1/4" -1/2" apart but don't sweat it. I never really pay attention to in row spacing and they always grow just fine.
Cover the seeds lightly with 1/8" of soil and water well. Keep the soil moist until seeds germinate.
Harvesting and Processing Lettuce Mix
Use scissors to cut the leaves about half an inch above the soil preferably early in the morning…
Harvest your greens right into a large mixing bowl…
Place the bowl inside the sink and fill it all the way to the top with cold water…
Now, let year leaves float in the water for 5 minutes or so. Move them around a couple of times…
After 5 minutes, scoop the floating leaves up…
And place them on a clean kitchen towel.
You'll see the sand and soil left behind in the bottom of the bowl.
Now all you have to do is dry the leaves. You can use a lettuce spinner like this one, or this one if you grow large quantities (I used it when I sold at the Farmer's Market, it's awesome), or just a towel is fine.
You can store the leaves in a ziplock bag in the refrigerator (make sure they are dry), or…
You can make yourself a salad with your favorite dressing or sometimes we do just lemon, salt, and olive oil.
That is really all there is to it. I think my favorite part about those greens is that they grow so fast. After the winter, when I can't wait for a fresh garden salad, I plant lettuce mix and radishes as soon as I can work the soil and three weeks later I have an awesome fresh salad from the garden. I am not a very patient person (at all, I really need to work on that…) so this works great for me.
Do you grow loose lettuce in your garden?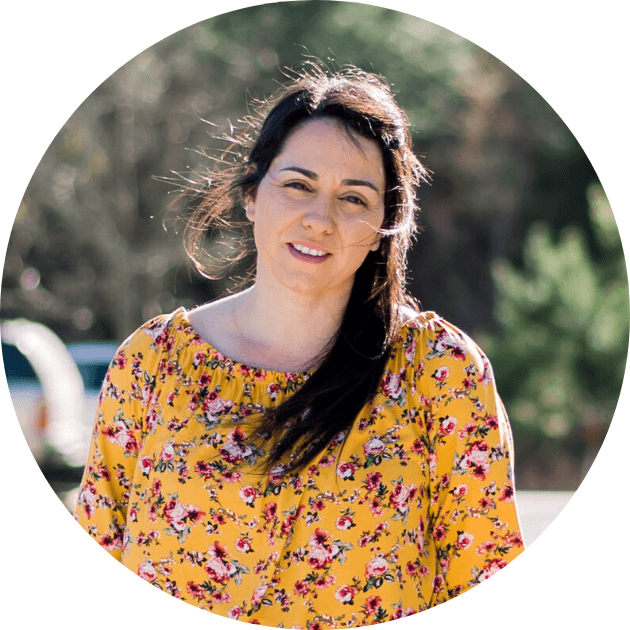 Hi! I'm Lady Lee. I help homesteaders simplify their homesteading journey while still producing a ton of food! I am a single mother of four, I was born in Israel and raised in an agricultural commune called a Kibbutz. Now I homestead in central NC.