In this post, we are going to go over 4 different techniques for grafting fruit trees. Can you imagine one tree giving you two, three, or even four different kinds of fruit!? Aside from how interesting and beautiful it can be, there are many benefits to this and in many cases grafting can save a tree from not producing at all or being very sick. We will also go over the benefits of grafting and when should you try to do it.
---
Oh man oh man oh man! I had the pleasure of sitting down with an older farmer a couple of days ago. We were talking about olive trees and somehow got to talking about grafting fruit trees. He got up, fetched a knife and a couple of branches from the nearby mulberry tree, and started demonstrating grafting techniques to me. What a treat it was to learn all this from someone with so much experience!
Of course, you and I both know I am going to forget everything in about 10.34 seconds, so I am writing it down. All about grafting fruit trees techniques, and sharing this valuable information with you, of course!
4 Techniques of Grafting Fruit Trees…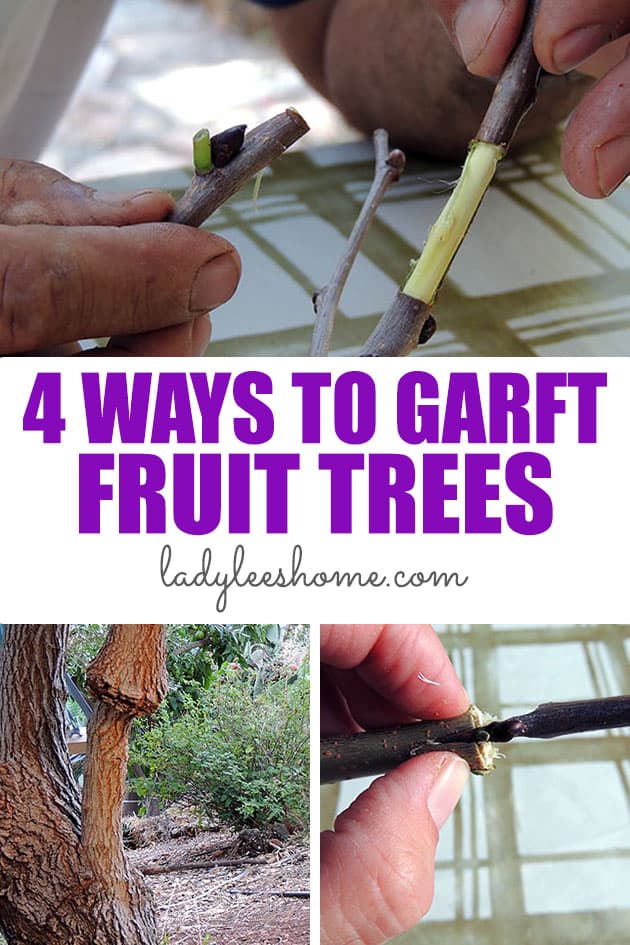 Before we start, I'll take a moment to link to all the great fruit tree information here on the blog. If you are a beginner or if you've grown fruit for a while, you can find great information in these posts.
What is Grafting…
Grafting means to unite a shoot or a bud with a growing plant by insertion or by placing in close contact. It is the joining of two living trees from the same family. For example, an apple with another variety of apple or a pear or an apricot or something else from the Rosaceae family.
Another example is an orange with another variety of orange or lemon or grapefruit or something else from the Rutaceae family. You can't graft an orange tree with an apple tree since they are not in the same plant family and can't "communicate". Grafting makes it possible to have one tree giving you 2 or more kinds of fruit!
Why Would You Want to Graft a Fruit Tree…
There are many reasons, but the bottom line to remember is that we want to take advantage of one tree to grow the crop of another. Let me give you a couple of examples…
Example 1 – let's say you have an established red apple tree. The location of this tree is perfect in your homestead, the root system is strong, you get a lot of delicious red apples from it, and it's big and strong enough to survive the Winter.
Your friend told you about this great green apple tree she has on her homestead, and now you think it might be nice to have a variety of green apple as well. But, you don't have room for another tree, or maybe you don't want to wait years before another tree starts producing fruit.
The solution? Grafting.
Join a small shoot or a bud of the green apple tree with your established red apple tree, and you have one tree producing two kinds of apples. You are still spending the same amount of time taking care of one tree, you don't water more than before, and you didn't use up any more space on your homestead, yet, you now have another variety of apples for your family to enjoy!
Example 2 – another example… Let's say you have an olive tree of variety A. that has been on your homestead for years as part of the beautiful view of your backyard. The problem is that a certain type of fly comes through your area around the month of July. This fly loves your olives. The fly lays its eggs in your olives, ruining them completely.
By the beginning of August, your yard is full of brown, bad olives. You don't want to spray with chemicals, you don't want to take the tree down, and you really want to enjoy a crop of olives. What can you do in order to save the tree? How can you use this established tree to produce great olives? The answer is grafting.
You know about an olive tree of variety B. This variety start producing olives a bit later, at the end of July or beginning of August after the fly is gone. You graft variety B on the established tree of variety A and you save the tree!
There are a million examples, but I hope these help you understand some of the reasons for grafting a bit better.
Method One…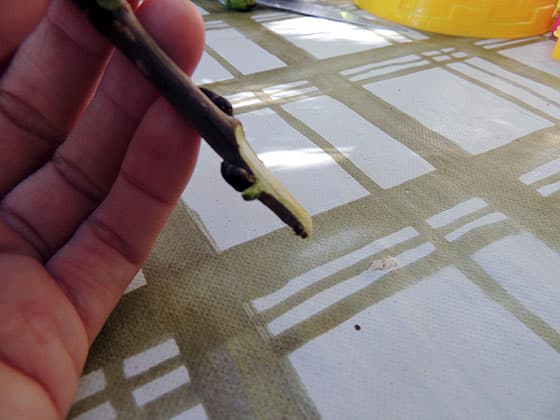 For better understanding let's say we are grafting tree A on tree B. The first way of doing this is by taking a shoot of tree A, hold it upright and cut half of the width of the lower one inch of the shoot, exposing the inside of the small branch. Next, go to tree B and find a nice size branch that you want to graft tree A on.
Shorten the branch of tree B by cutting some of it. Then cut off half of the width of the top of the branch to match the same cut you did to the shoot you took from tree A and join the two branches together. Make sure that the bark of shoot A touches the bark of branch B. Trees grow as new cells are added beneath the bark, those cells carry water and food throughout the tree. The bark of the two parts should touch for a better rate of success.
Next, wrap the joined area with medical cotton gauze or a piece of fabric to hold them firmly together. Cover the whole thing with a plastic bag, for a greenhouse effect. Make a couple of holes in the bag for ventilation
You should graft in late winter when the tree is bare of leaves. When Spring comes and temperatures start to rise, the shoot (A) will start growing. Open the bag gradually as the shoot is filled with leaves. A few weeks later, when more branches grow from the tree and it looks like everything is growing as it should, you can take the gauze off.
Method Two…
For this method, we need to cut shoot A's end into a thin tip, exposing the middle of the shoot from both sides. It's better to still keep a little bit of the bark on one side. Then, peel off only the bark of branch B. Insert shoot A between the bark and the rest of the branch of tree B. Again, make sure the remaining bark of shoot A is lined up with the bark of tree B.
This method is good if you want to graft a few shoots on a wide branch. You can then peel the bark in, let's say, three places around the wide branch and insert three shoots. Do the same as in method 1. Wrap the grafted area, cover it with a plastic bag, and so on.
Method Three…
In this method, shoot A will be cut the same way it was in method 2, but the branch of tree B (after we shorten it and clean from leaves) needs to be cut lengthwise in the middle, we basically split the branch in two about an inch deep. Then, insert shoot A into branch B.
Again, make sure the remaining bark on shoot A is lined up with the bark of tree B. The rest of the process is the same, wrap, cover with a plastic bag and so on.
Method Four…
In this method, you don't have to cut the branch you want to graft short, you just leave it as is… Find a nice size bud on tree A. Make a crosswise cut half an inch under the bud and another half an inch above the bud. You are only cutting the bark here, not the whole branch.
Next, make a lengthwise cut behind the bud from the top crosswise cut to the lower one. Again, cut only the bark. Very gently, not to ruin the bud, loosen the piece of bark with the bud until it comes completely off.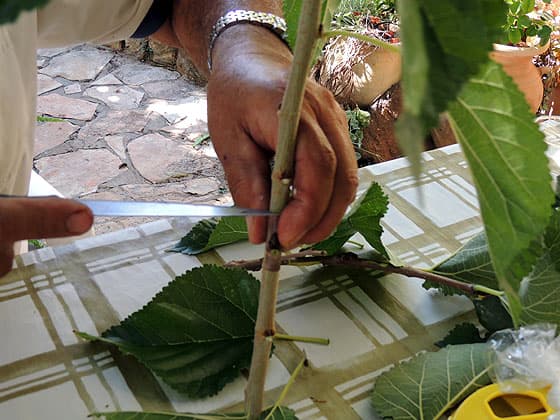 Next, go to tree B and find the branch you want to graft. Place the piece of bark with the bud from tree A on the branch of tree B and mark its top and bottom. Put the bud aside, and make two crosswise cuts on tree B where you marked, cutting only the bark.
Then, make another cut lengthwise in the middle to connect the two cuts you made in the previous step. We are opening a small bark window here for the bud from tree A. Take the bud from tree A and insert it into the bark window on tree B.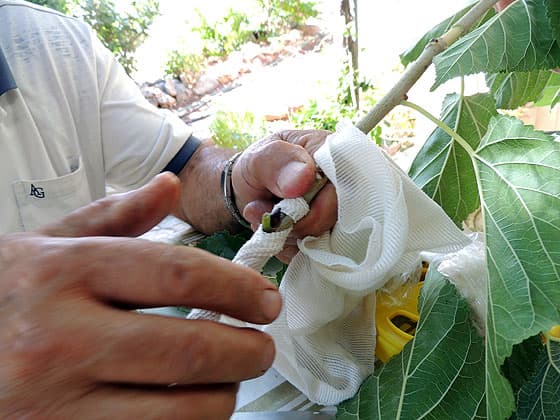 Wrap the area with medical gauze, but be careful not to cover or damage the bud itself. Lastly, cut a piece of the bark of tree B about ten inches or so above the grafted area. We do this to make sure the water and food the roots send up the tree, stay in the grafted area. Without the bark, the top area of the branch will dry out and eventually you will be able to cut it off.
There is no need to cover with a plastic bag. Remember to do this in late winter. New growth will emerge in spring from the bud, and a few weeks later you can take the gauze off.
An Example of an Old Grafted Tree…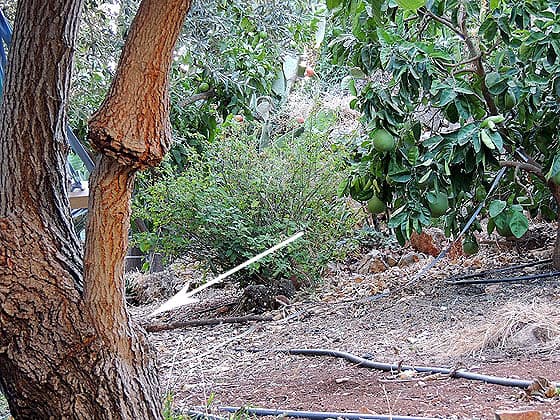 Here is an example of an old grafted mulberry tree. You can see the difference in the color of the bark between the two trees. It's in my ex-mother-in-law's yard, and every year she gets two kinds of mulberries from the same tree. I am not sure what technique was used to graft this tree, but the fruit of the second tree is much sweeter and bigger than the fruit of the first one.
Do you see the difference? How magical is that!? What do you think? Have you ever grafted a tree? Do you own a grafted fruit tree? Do you have a problem with a fruit tree you own that grafting might be able to solve? Share with me in the comments below!
---
I hope that this post was helpful. I really enjoyed sitting down for this demonstration. It was such valuable information from someone who has so much experience. Now, for me, it's time to practice!
More Gardening Tutorials…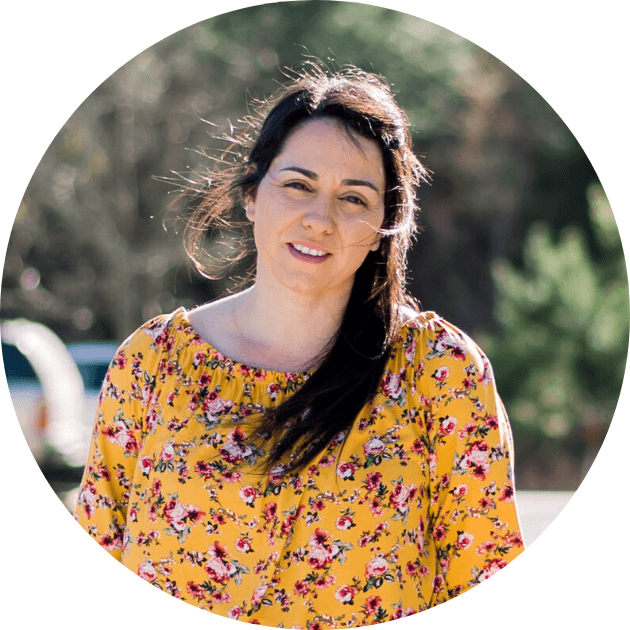 Hi! I'm Lady Lee. I help homesteaders simplify their homesteading journey while still producing a ton of food! I am a single mother of four, I was born in Israel and raised in an agricultural commune called a Kibbutz. Now I homestead in central NC.