This is a step-by-step tutorial on how to thin fruit trees. If you grow your own fruit, thinning your trees will help them grow larger and sweeter fruit. It will benefit the tree too and will ensure better production for years to come.
Thinning, if it's vegetables or fruit, is the hardest job for a gardener.
Your heart is aching when you pull or pick what looks like a perfectly good veggie or fruit. But as much as it's painful, even a gardener with the tiniest amount of experience will tell you that thinning is absolutely necessary.
If you grow fruit trees, thinning your fruit is part of a very good orchard management plan.
Let's start at the beginning…
How to Thin Fruit Trees…

Before we start, I'll take a moment to link to all the great fruit tree information here on the blog. If you are a beginner or if you've grown fruit for a while, you can find great information in these posts.
5 Steps For Choosing the Best Backyard Fruit Trees.
How to Plant Bare Root Fruit Trees.
How to Prune Fruit Trees to Keep Them Small.
How to Thin Fruit Trees and Why You Should Do It (this post!).
4 Techniques For Grafting Fruit Trees.
Grafting Fruit Trees – A Step-by-Ste Picture Tutorial.
Benefits of Thinning Fruit Trees…
Thinning the fruit on your tree will help prevent fruit from dropping to the ground too early.
It will help prevent limb damage from the weight of too much fruit. Damaged branches attract bugs and are more prone to disease so keeping your tree as damage-free as possible throughout the season is very important.
Thinning will also improve sun and air circulation around the remaining fruit, allowing them to ripen fully.
It will stimulate next year's fruit production and will help avoid biennial bearing. Biennial bearing is when a fruit tree bears fruit every other year because it's exhausted. It is a common complaint among gardeners and thinning can help prevent that.
But most importantly, thinning your fruit tree will improve the fruit size, the color, and the quality of the remaining fruit. Instead of picking small fruit with a large pit inside of it, your harvest will be sweet, meaty, and healthy.
When to Thin Fruit Trees…
You want to thin your fruit at an early stage before the fruit grows larger than one inch in diameter.
How to Thin Fruit Trees…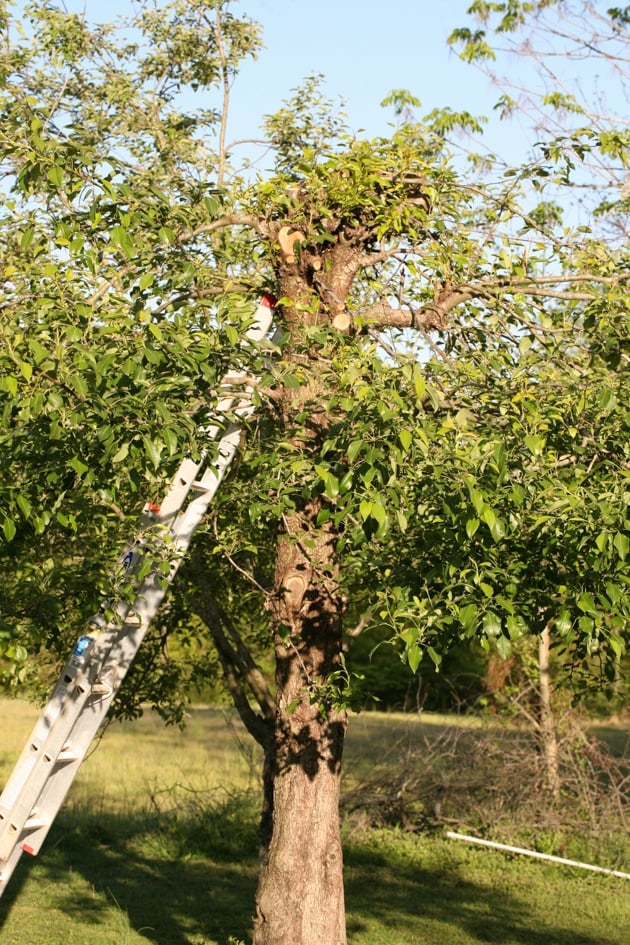 We are going to use my pear tree as an example in this post and then I'll give you some guidelines for thinning other fruit trees.
This pear tree was on the property when we bought our country house. It is an old tree (I am not sure exactly how old) that was neglected for years. It was huge, the branches were all over the place, it was sick, and didn't produce one good pear last year.
In early spring, David cut the whole top of it off. Aggressive pruning to say the least. We didn't do much more than that, just because life got in the way, but apparently even just cutting down the top of it did good because just a couple of months later I noticed tiny little pears on it.
I decided to thin the fruit and see if the tree can manage to bring the remaining fruits to ripen.
Pears, like many other kinds of fruit, grows in clusters…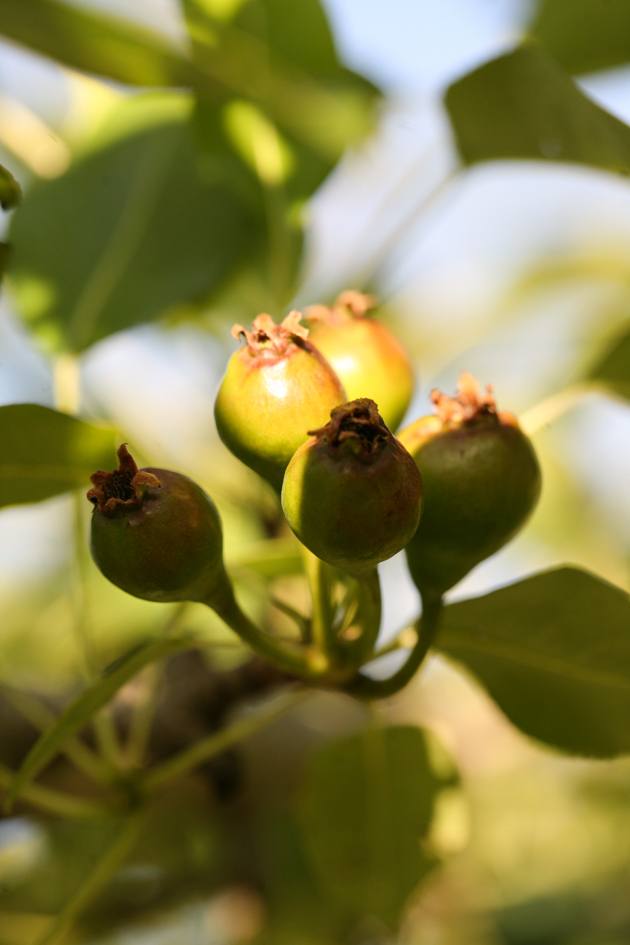 You want to make sure that you leave just one or two fruits per cluster…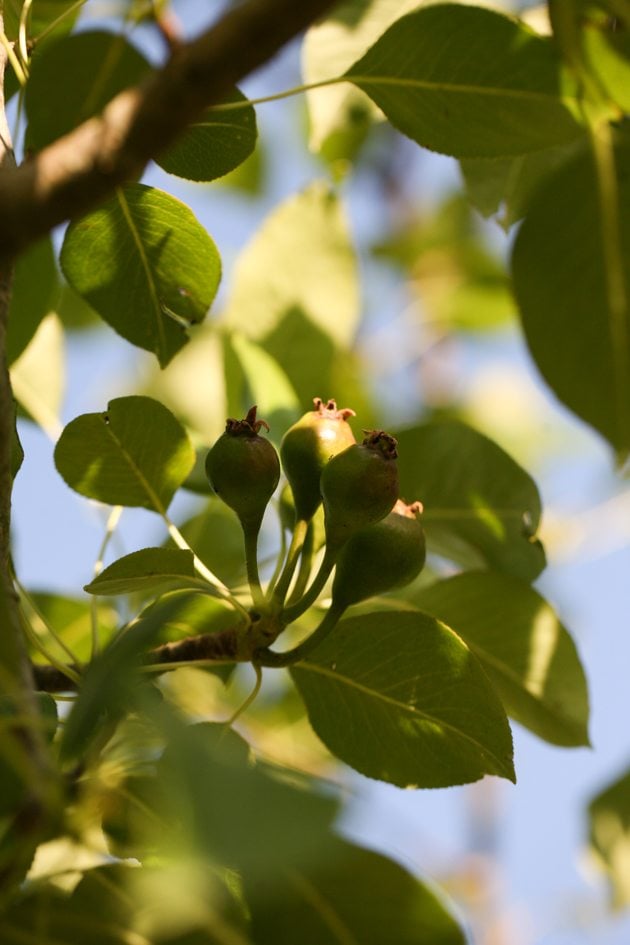 Even though the tree produced some fruit, there is not a whole lot of it, so you can imagine how painful it was to thin the little bit that I did have…
But it had to be done or I wouldn't get any fruit at all.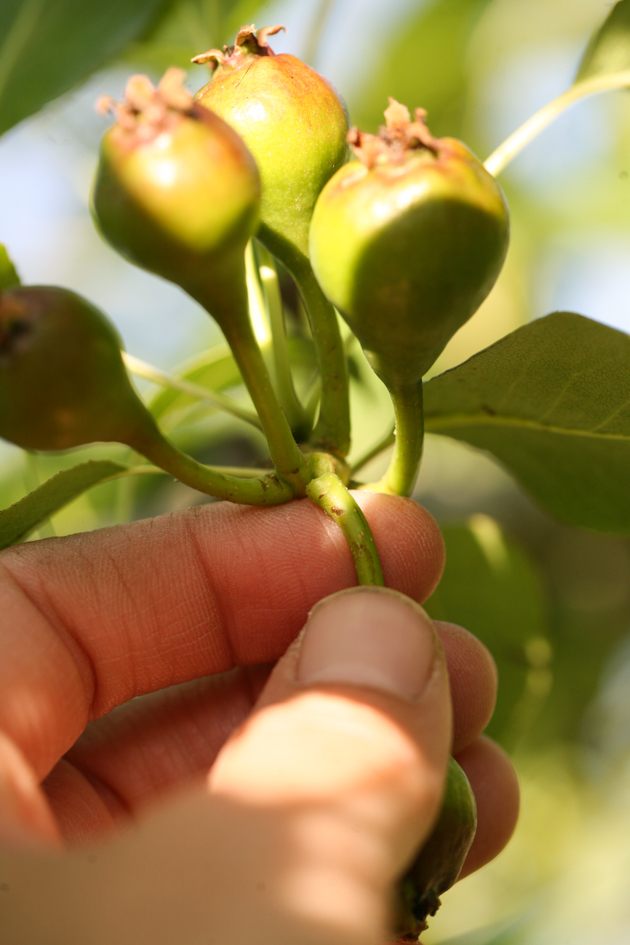 There is no special tool required here, just your hands and maybe a ladder.
Try to thin out damaged fruit or fruit that just looks unhealthy first. Then thin out the smaller fruit…
Until you are left with one or two pears per cluster.
Thinning might be hard on the gardener's heart, but it's not a hard job to complete. You simply break the fruit off with your fingers. In most cases, you will be done with fruit tree thinning by July.
Another important point is to make sure you collect the fruit you thinned and take it away from the tree. Don't leave it on the ground by the tree because it will attract pests and you don't want those guys to find your tree.
I am not sure if you can feed the green, unripe fruit to animals… I want to say that chickens can probably eat everything but am not sure about other animals so if this is your plan do your research first. Just remember that there is a pit in there for most of the fruit you'll thin.
Also, it will take a whole lot of time for the pit to decompose, so even adding the fruit to your compost pile can be problematic. You can still do that or otherwise, you can just throw the fruit in the garbage.
Which Fruit Trees Need Thinning…
Apricots and plums – thin fruit to 3''-6'' apart.
Peaches and nectarines – thin fruit to 5''-6'' apart.
Apples – apple grow in clusters with one main flower in the center and others around it. The large, center flower usually becomes a fruit first. Since it has a head start on all the others, it is usually the largest. So thin all the fruit in the cluster but leave the center one.
Pears – like we did above, leave one or two pears in a cluster. You want your fruit about 4'' apart.
Persimmon – thin to 8''-10'' apart. For young trees, you don't want more than a couple of fruits on each branch.
Which Fruit Trees Do Not Need Thinning…
Citrus trees – they naturally thin themselves.
Fig trees – figs usually grow a good distance apart.
Cherry trees – usually there is no need to thin this tree. However, if your tree is unhealthy, if too much fruit is dropping or if the tree does not bear fruit every year then consider thinning to no more than 10 cherries per cluster.
Pomegranate – this tree bears fruit from spurs near the tip of the branches. If you prune your tree correctly every winter you won't need to thin the fruit. If you do choose to thin, you will have to thin branches instead of the fruit itself.
Mulberries – no need to thin those.
So really, thinning is a rather easy job especially if you prune your tree correctly every winter and make sure to keep its size and height manageable.
If you take just a few minutes per tree at the right time for thinning you will enjoy beautiful and tasty fruit and your tree will produce every year.
It might take a few seasons to learn how much you can expect from each tree. Don't forget that as the tree grows, you will have more fruit to thin but also more fruit to harvest. Don't give up on thinning! If after thinning you see that you are not getting enough fruit for your family, consider planting another tree.