This is a tutorial on how to plant bare root fruit trees. I wish we could grow fruit like we grow vegetables… Plant, grow, harvest, repeat every year and learn from our mistakes as we go. But with fruit trees, since it takes some time until you actually get to harvest and enjoy your fruit and since you can't just pull them up and plant again, it takes some research and knowledge to set up your orchard the right way. In this case, it's better if we try to do this right the first time. So I hope this tutorial will be of help to you.
"Mommy, I'm hungry".
I swear I've heard this sentence more times than I've heard the guineas screeching… And those guys don't shut up EVER so it's saying something.
My kids are hungry every 30 minutes. My four-year-old boy will eat me if I let him!
In the beginning, I was trying to be a good mama. I'd ask, "what would you like me to make for you? Do you want this or that?"
But very quickly I realized that if this continues (and the rumors say it's going to get worse as they grow…) I'll be spending the next 16 years in the kitchen.
Ain't gonna happen. Period.
So now when I get the mommy-I-am-hungry thing I have a very simple answer… Grab an apple!
Or a banana, or a peach, or an orange… Whatever fruit we have, just grab it and go on.
How to Plant Bare Root Fruit Trees…
My kids eat fruit all day every day. I do think it's the best snack, but it's not the cheapest…
So I was thinking that this is a great reason (among other great reasons) to start planting fruit trees. I hope that in a few short years I'll be able to lower the grocery bill by sending them to pick their fruit from our trees instead of grabbing it from the fridge.
Not to mention how amazing it will be to have my own fruit for canning and baking and so on…
I've planted four trees so far this year; two persimmon trees that I got for free, a fig tree that I bought last fall and didn't get to plant in time (I am not even sure it's still alive… We'll see…), and a peach tree.
Still on my list are plum, mulberry, pear, apple, nectarine, cherry, apricot, pomegranate, grapes, berries, and nuts.
I'll just keep going down my list and plant another one and another one as time and money permits. Meanwhile, I grabbed my camera and thought I'd take you with me to plant the new peach tree.
Before we start, I'll take a moment to link to all the great fruit tree information here on the blog. If you are a beginner or if you've grown fruit for a while, you can find great information in these posts.
5 Steps For Choosing the Best Backyard Fruit Trees.
How to Plant Bare Root Fruit Trees (this post!).
How to Prune Fruit Trees to Keep Them Small.
How to Thin Fruit Trees and Why You Should Do It.
4 Techniques For Grafting Fruit Trees.
Grafting Fruit Trees – A Step-by-Ste Picture Tutorial.
Where to Buy Fruit Trees?
There should be a whole separate post on selecting and purchasing fruit trees. I didn't mean to pick this peach tree from the local farm supply store… I went in to get medication for my goat and ended up with a fruit tree…
Kinda like when people end up with baby chickens, you know? For me, it's not animals… It's plants. I just can't help myself.
I did a whole research this winter and decided that I would purchase my trees from groworganic.com. I've heard great things about the way they do business and the quality of their fruit trees.
I have bought a few things from them for my garden before so I already have an account set up… But since then I discovered a very big nursery about 45 miles from my farm and wanted to give it a try before I made an online order.
This and that happened and I still didn't find the time to drive there so when I saw the cluster of fruit trees at the farm supply store I couldn't help myself from getting at least one.
You'll see in a minute that it's a small tree, probably just a year old. The trees that I would have gotten if I ordered online would have probably been much larger with a much larger and more developed root system but the tree that I picked was half the price of those they sell online so I just went for it.
Some people will say that you should pick a bare-root tree (meaning a tree in a bag), and some will say that you should pick a tree in a container… I've heard stories of success and failure with both so I don't think it matters much.
What does matter is that you pay attention to pollination. If you pick just one tree from a local store, make sure it's self-pollinating. If it's not, it means you have to pick at least two if you want fruit.
I've heard of people waiting a few years for their apple tree to start producing only to find out that they had to pick two apple trees for them to pollinate each other.
Again, there should be a whole post about how to select a fruit tree. There are things to consider especially since a tree is not something that can be easily moved, but the most important thing to check is the pollination status.
Where to Plant Fruit Trees?
At full sun (at least 8 hours a day), and depending on the size of your tree, you will have to consider spacing… I think those are the only real requirements.
Of course, you need to consider where YOU want your trees…
Are you going to plant your trees in organized rows? Do you want to be able to mow between them? Do you want to plant them alongside the driveway so you can harvest right into the bed of your pick-up truck?
Do you want them mixed up or do you want an area for apples and an area for peaches and an area for cherries?
Do you want them close to the house or further away? It's all up to you…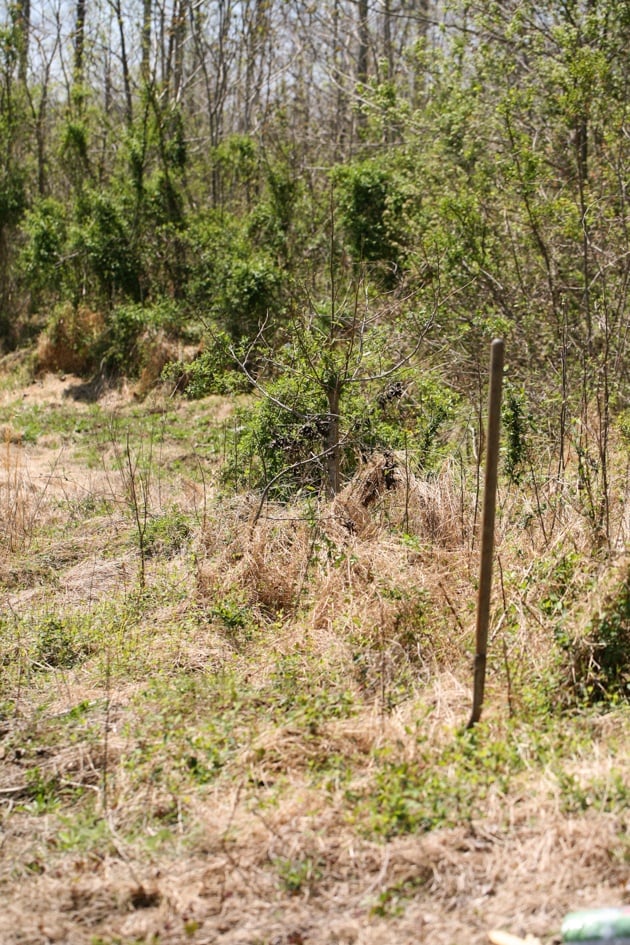 In the beginning, I thought that I would have my trees in nice rows, spaced in a way that I can mow between them.
But I've been learning permaculture lately and not only that I love the idea of letting things grow wild and natural, I also love the idea of reducing the need for maintenance.
I decided that it would make more sense to me to take advantage of areas that I am not able to do much with anyway rather than taking valuable field space where I can graze animals and grow vegetables.
I decided that I wanted my trees to blend in with the wild, untamed land around them but still have easy access to them for picking.
The area in the picture above is alongside where I want to have a driveway in the future. It's flat, it needs a bit of cleaning but there are no large trees there and there is plenty of sunlight.
I ended up planting the fig tree and the peach tree there and I still have room for two more trees.
When to Plant Fruit Trees…
In the spring or in the fall.
You will find bare-root trees in the stores or shipped by online nurseries in the early spring because they are dug out of the field at the end of winter.
You can't hold on to those, you'll have to plant them right away which means you'll probably plant them in spring.
You can probably find container trees in some stores year-round, the trees can simply keep growing in the container, but make sure you plant those in the ground during either spring or fall. Summer will be way too hot for the new tree to handle and winter will simply be too cold unless you live in a very warm climate like Arizona or Texas or Florida.
How to Plant Bare Root Fruit Trees…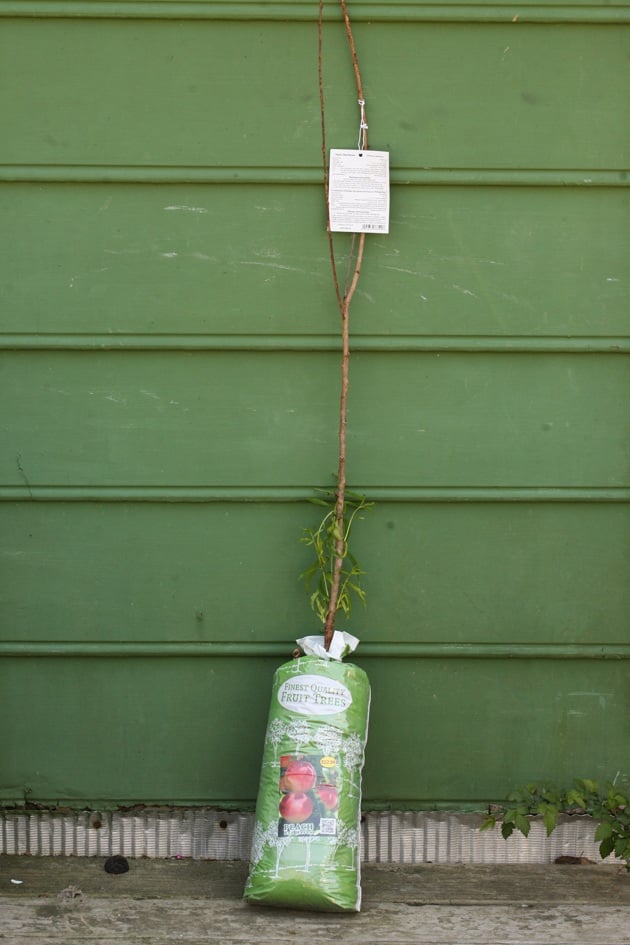 As I said before, my peach tree came in a bag. This is called a bare root tree. The commercial grower grows a whole field of them spaced just a couple of feet away from each other.
Then, after a year or two, there is a cool machine that drives over the trees and digs them out of the soil.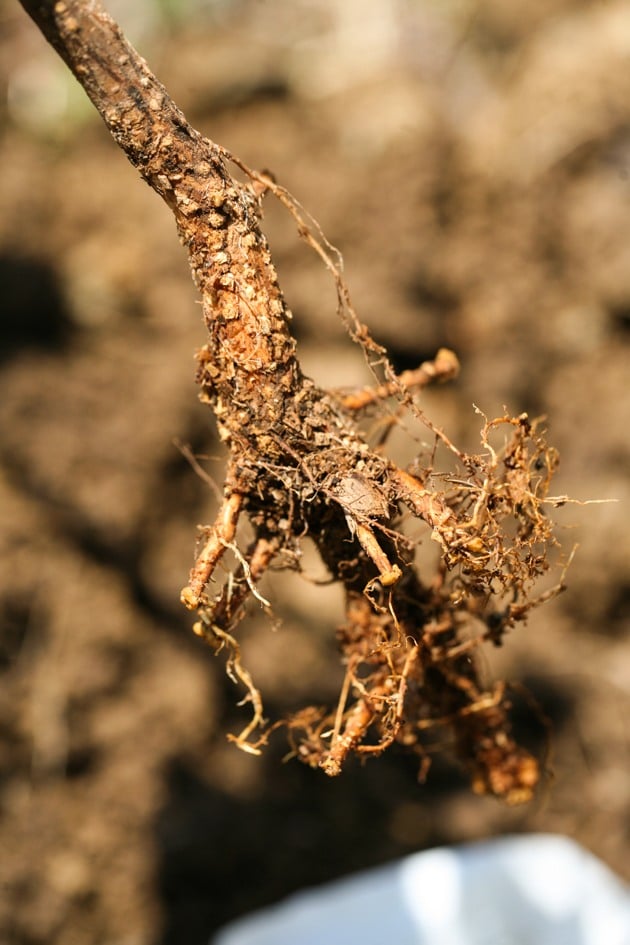 The roots are pruned and then the tree is packaged.
If they plant it in a container, it can keep growing in that container for a while. This is why many of the trees that you'll buy in containers from the big home improvement stores will be root bound. Planting the tree in a container allows the retailers more time to sell them since they can keep growing in the container.
It's not a huge problem. If you do get a container tree, you just have to make sure to cut the roots before planting it.
After you remove the tree from the container, the roots will hold the soil in the shape of the container, take a knife and cut vertically into the soil and roots to break the circle the roots made on the inside of the container. Then plant it as we will plant this peach tree here.
Trees that are bare root are packed in wet sawdust usually. They can't keep growing there so once you get your tree you have to plant it within a couple of weeks.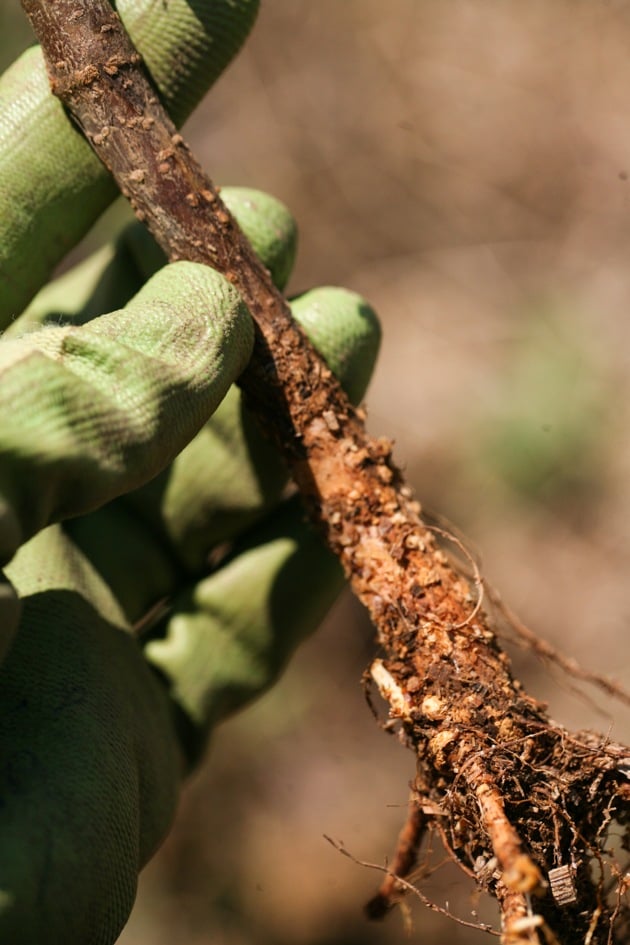 I removed the tree from the bag so I can see how deep I needed to dig my hole.
The depth of planting is very important with fruit trees, if you plant them too deep you can actually drown them. Also, most fruit trees are grafted. This means that the main stem is manually connected to a strong rootstock to ensure that you get the kind of fruit you want while having a strong tree with the best roots available (learn more about grafting here).
On most fruit trees you will see the grafting joint five or seven inches above the roots. It is super important that this joint is above soil level. If you bury it under the soil level, the main stem of the tree can start developing roots and you might end up with a mess.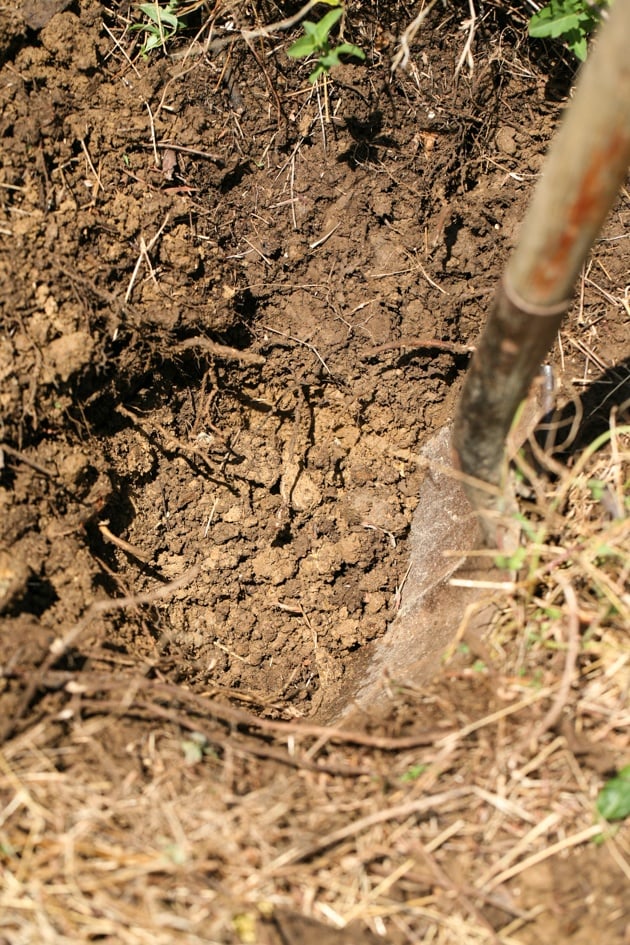 I used a shovel to dig my hole. I dug a little deeper than I needed and then filled the bottom of the hole with some loose soil. This will give the roots an easy start.
Since I only had one tree to plant, I simply placed it aside for a minute. If you have a few trees to plant and you remove them from their bags, make sure to place them in a bucket of water while you dig your holes so they don't dry.
Some people say that it is good to soak the roots in water for at least an hour before planting. It's probably a good idea but I didn't do it. Actually, I didn't even water my tree after I planted it. I try to work with nature to save me some work so I just choose a rainy day. A couple of hours after I planted the rain started pouring and did the watering for me.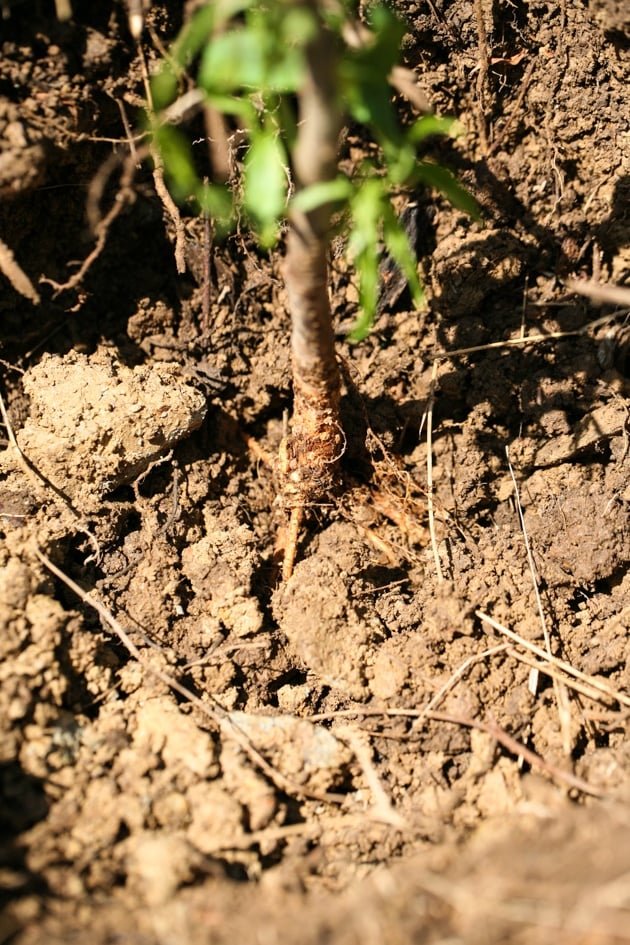 Once the hole was ready, I placed the tree in it and started filling it back with soil.
If your tree has longer roots, make sure they are spread wide before filling the hole with soil.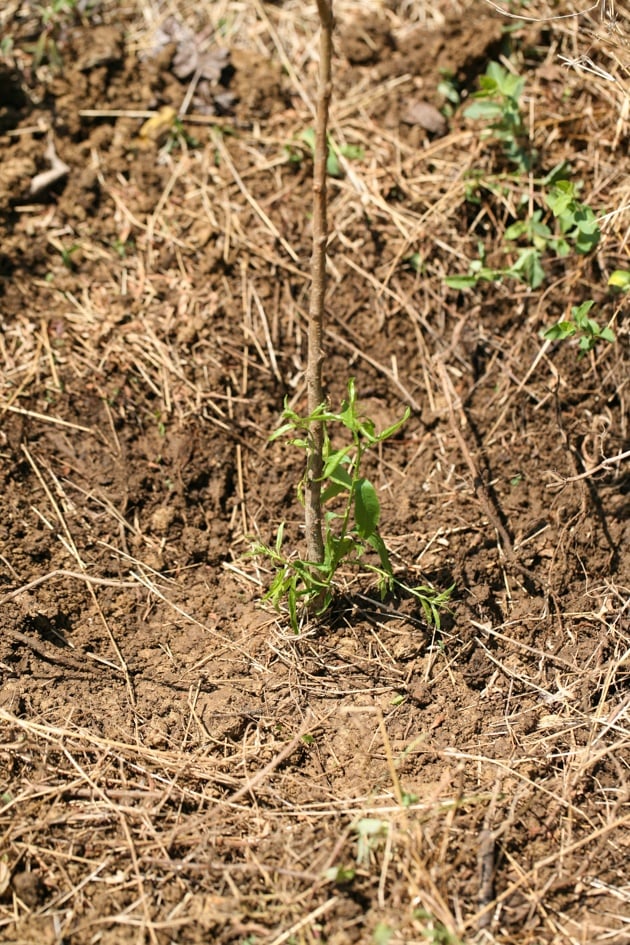 It is a good idea to move the tree up and down a bit to remove air pockets and press the soil around it.
It is a bit hard to see in the picture, but I made sure to plant the tree in a way that it is a bit lower than the soil around it. This helps keep water around the tree so it doesn't run off.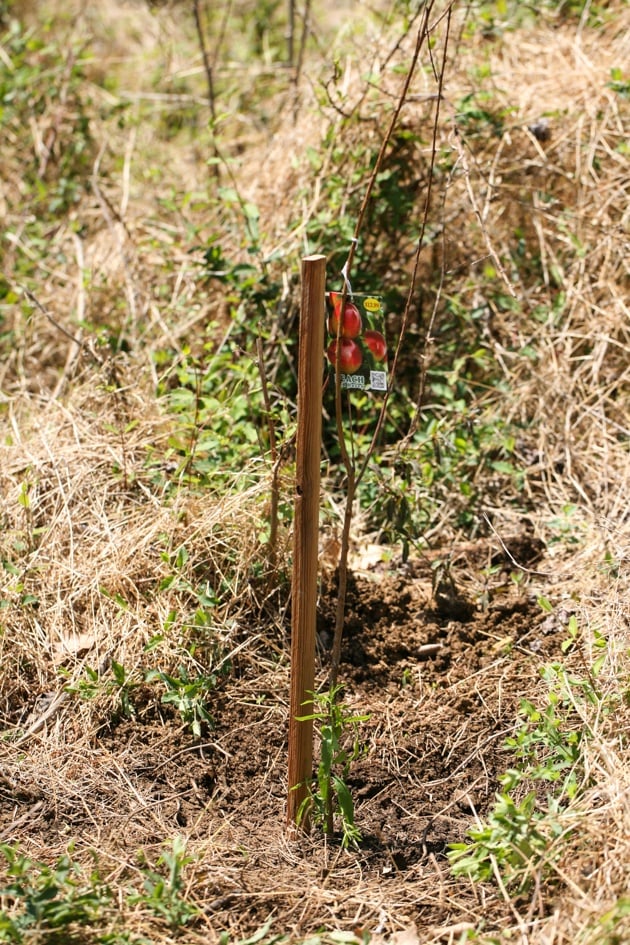 This is a very young tree so I figured it would benefit from a little support especially since we have days of very strong winds here in the spring.
I used one of the stakes I usually use for my pepper plants. I used a mallet to pound it about a foot into the ground right beside the tree.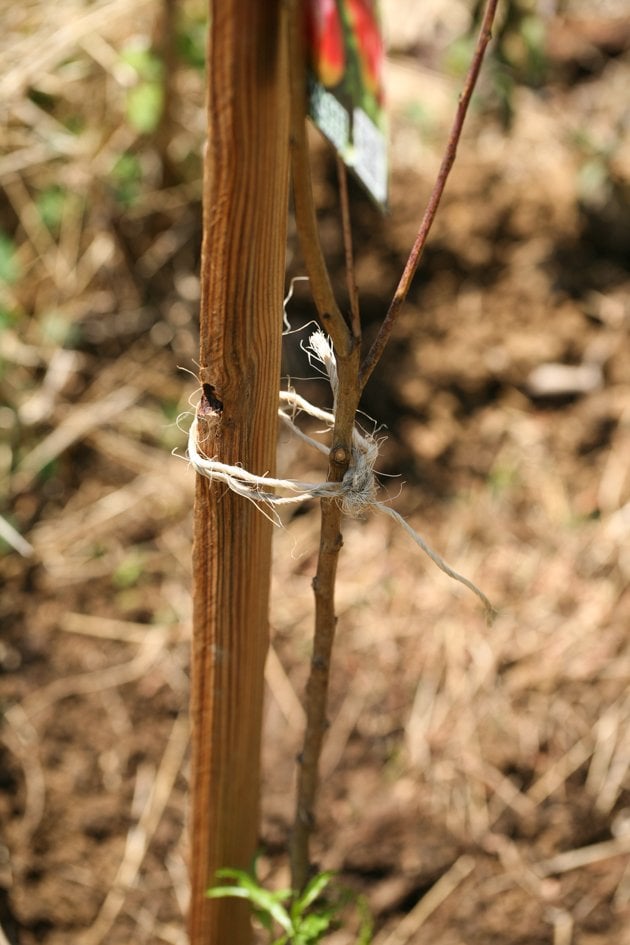 Then I used a twine to loosely tie the two together.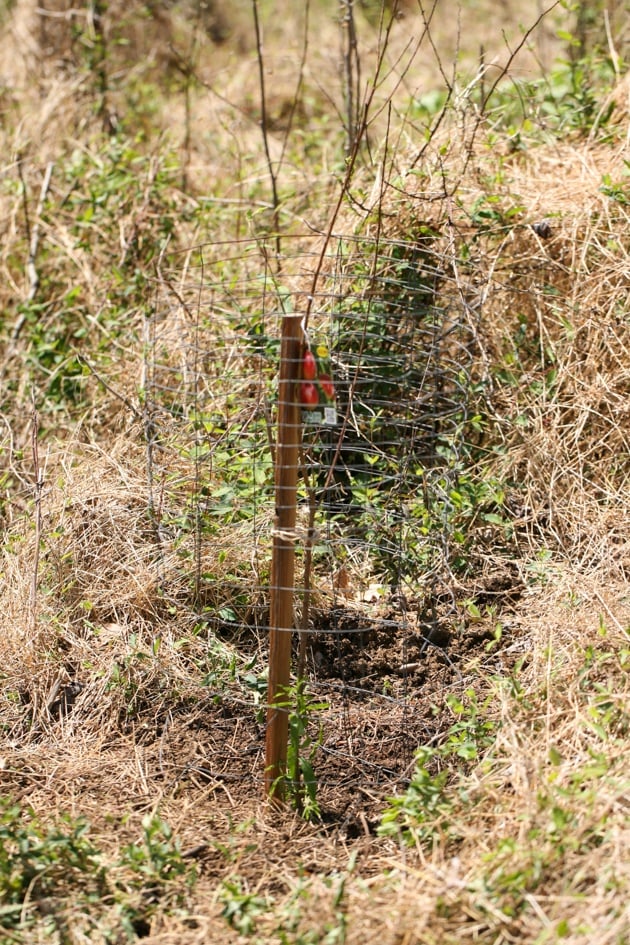 I also decided to place a cage around it. It's not really going to protect the tree from deer or other animals but rather it is going to protect the tree from us.
It's such a small tree and it camouflages with the wild growth around it so I figured the cage will help us see it better so the kids don't run it over or that we don't mow it by mistake with the tractor.
If you cage your trees to protect them from animals or people or for any other reason, I suggest you purchase woven wire instead of welded wire. For any homesteading or gardening project really… As you see in the picture above, the welded wire doesn't hold very well.
I made these cages for my peppers a few years ago and they are still usable but I think they would have been a forever kinda thing if I had used woven wire instead.
I used a few of these ground staples to hold the cages in place.
These are really great to have around. They are very useful. You can hold anything to the ground with them… fabric, plastic mulch, irrigation lines, cages and so on.
**You can see more of my favorite garden products on my Amazon store HERE.
I placed the cage around the tree and used the staples to hold it to the ground.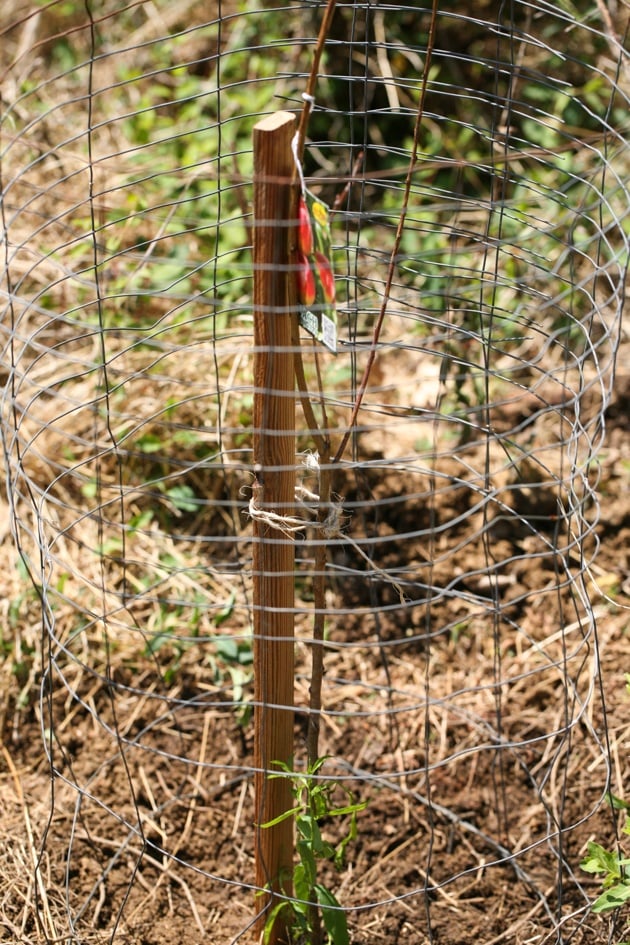 That's it. The next step will be to water your tree well. Again, I just chose a rainy day so a couple of hours after I planted the tree the rain started coming down and watered it for me but I will go back there a couple of times in the next month and water it with some fish emulsion (a gallon of water with fish emulsion mixed in it).
New trees need a lot of water at the beginning. Something like 5 gallons every 3-4 days. If it's not raining enough make sure you keep watering your tree. Also, mulch it well with about 4 inches of straw or dry leaves. This will help to keep the soil moist around it.
I can't wait for my new trees to start producing! At the house (across the street from the farm), we have an old pear tree, plum tree, two pecan trees, and two apple trees. They are old and established but unfortunately were neglected for many years and are sick. We get a little bit of fruit from them.
I am going to try to treat them and see if they can produce better but at the same time, I'll keep planting more new trees at the farm.
The list is long but I think that my next trees will be mulberry and pomegranate… Unless of course, I end up with an unexpected tree from the farm supply store…