In this post, we will learn how to make corn silk tea and why you should drink it. It is super easy to make, it's another way to use corn, and it's very healthy for our body. We'll go over the health benefits and how to dry the silk and how to make corn silk tea.
---
We pretty much live in corn country here in central NC. Local farmers sell 12 ears of corn at the market for $4. It's so affordable it almost doesn't make sense to grow it yourself (the benefit of growing it yourself, of course, is the fun of watching it grow and the fact that you know for sure that it's organic).
We eat so much of it every summer, and every summer I dry the silk and use it for corn silk tea.
It's really cool how useful corn is. We use the husk for art (the kids make dolls and such), the silk for "corn hair tea" (as my kids call it), the corn as food, we give the cob to the chickens as a snack., and I leave the plant in the garden as mulch. We use every bit of it!
How to Make Corn Silk Tea…
What is Corn Silk?
Corn silk is the "hair" that you find under the husk of the corn. The stringy stuff can be used fresh or dried (I'll show you how I dry it in a minute). It will change its color and darken a little bit if you decide to dry it but it will hold for a long long time.
Corn Silk Tea Benefits…
Corn silk is high in potassium, therefore, has a diuretic effect on the urinary system. In other words, it promotes the production of urine which means it makes you pee, a lot.
Corn silk will also help prevent kidney stones and is useful with other urinary problems like nephritis (inflammation of the kidneys), cystitis (urinary tract infection), and prostatitis (swelling and inflammation of the prostate gland).
Corn silk is also known to reduce water retention in the body and may be beneficial in treating high blood pressure and gouty arthritis (uric acid builds up in the blood and causes inflammation in the joints).
HERE is a good research for further learning.
Another research shows that corn silk tea can be used to treat metabolic syndrome and assist is weight loss…
"Metabolic syndrome (MS) is a very common medical problem worldwide. It includes obesity, hypertension, hyperglycemia, and abnormal levels of triglycerides and high-density lipoprotein cholesterol. It is closely associated with insulin resistance and may lead to diabetes mellitus, liver diseases, or cardiovascular diseases. Corn silk (CS), a traditional Chinese medicine, has been reported to have multiple beneficial effects, including hypotensive, anti-diabetic, and hypolipidemic properties. This suggests that corn silk could be used to treat or prevent metabolic syndrome."

You can read the research HERE.
A Simple Corn Silk Tea Recipe…
The first thing to do would be to remove the husk…
Then, I gently remove the silk from the corn.
In the picture of the corn silk tea above, you can see the dry brown part that wasn't covered by the husk, go ahead and cut that off.
Place the silk on a paper towel on the kitchen counter. You want to keep it at room temperature. This amount of silk is from five or six ears of corn.
Within a few days, it will dry. During those days, if you remember, turn it a couple of times.
That's it! It is now ready for tea. Someone asked me why not using it fresh… You probably can but I think that it's nicer to handle it when it's dry. Also, by drying it you preserve it for later too. I place my dry silk in a jar or in a zip-lock bag and it lasts all the way to next summer.
When you are ready to make a cup of tea, grab a little bit of the silk…
Add it to your mug…
Add some honey or sugar…
Then add boiling water and let it sit in the hot water for a few minutes.
If you chose, you can leave the silk in the mug or remove it before you drink your tea. I usually leave it.
So, of course, it tastes like… Corn. It's not bad, the taste is very mild but still… If you find that you don't like it much you can simply add a tea bag like one of those berry tea bags or orange or whatever. I usually add a few mint leaves to my tea.
Five minutes after you drink it you'll be visiting the potty. Then you'll feel like you didn't have a drink in two weeks so you'll run to your kitchen and gulp down a big glass of water. It works fast!
Share your thoughts with me in the comments below! If you've had corn silk tea, did you like it?
For more homemade remedies, check out these posts…
47 Ways to Prevent and Treat Chigger Bites
Licorice Tea, What Is It, How to Make it, and Why Drink It
How to Get Rid of UTI Without Antibiotics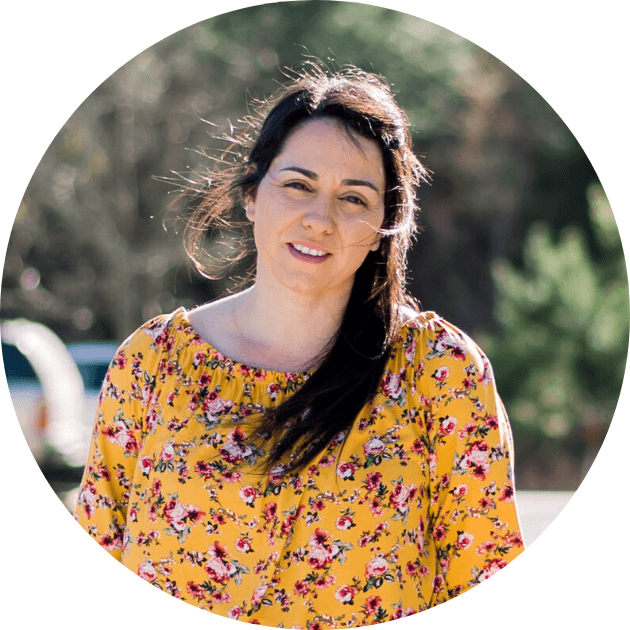 Hi! I'm Lady Lee. I help homesteaders simplify their homesteading journey while still producing a ton of food! I am a single mother of four, I was born in Israel and raised in an agricultural commune called a Kibbutz. Now I homestead in central NC.