This sugar-free strawberry jam is simple, sweetened with a little bit of honey, and doesn't have any store-bought pectin in it. We add some chia seeds for texture, taste, and to help the jam thicken. This is a great healthier substitute to traditional jams. You can use this recipe with other fruit as well.
---
I've been wanting to try a sugar-free jam for a while now and finally got around to make a batch. I'll be honest and say that I kinda have a problem with the idea… When I think about jam I think sweet, sticky goodness and no matter how sweet the fruit is, or how much honey you add, it never as sweet as when you use good ol' sugar.
I never make jam with the traditional ratio of 1:1 between sugar and fruit anyway. If I use 2 lb of fruit, I'll add 1lb of sugar. Most of the time I stick to that ratio like I show in this recipe for my low sugar strawberry jam.
So I was already making jams with less sugar, but I really wanted to try a sugar-free version too.
Sugar-Free Strawberry Jam Recipe…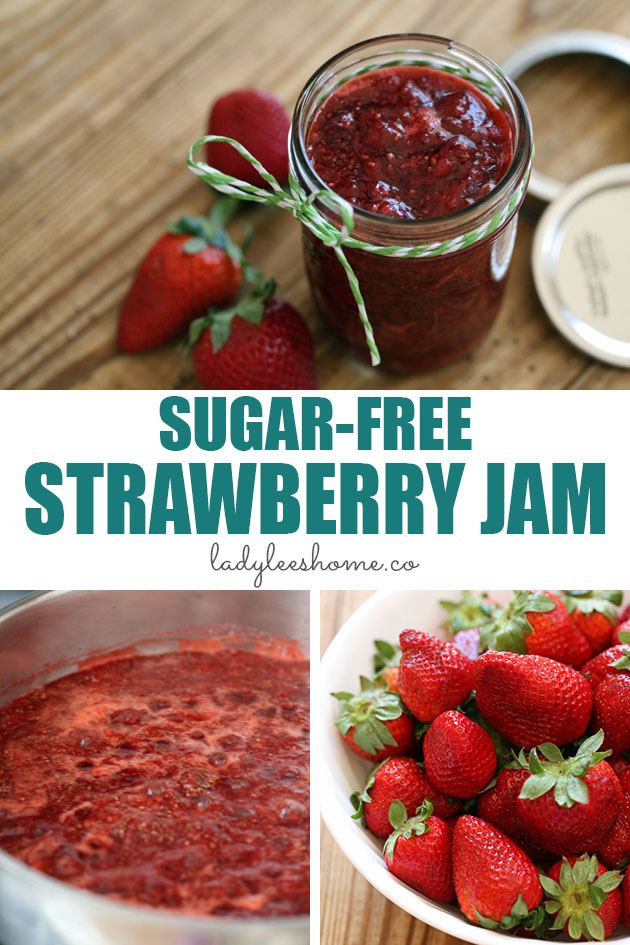 Since I was going to make a healthier jam, I decided to add some chia seeds to the mix as well. They add a crunch and are very healthy for us. They also gel so in this case they do the part of pectin and gel the jam naturally.
A side note here… Instead of buying pectin at the store, I use lemon seeds in my jams (if I don't add chia seeds). Lemon seeds have natural pectin in them. If you'd like to see how I usually make my jams, without pectin and less sugar, check out this Peach Jam Recipe.
Preparing the Strawberries…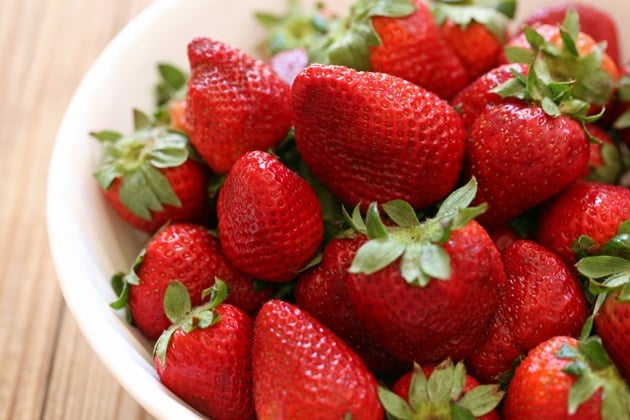 It all started when I noticed these strawberries…
I mean, look at them… How can you leave these in the store on a cold shelf?
I couldn't, so I got 6 lb of them.
2 pounds were gobbled up with no mercy whatsoever on the way home by my three little termites. Another 2 pounds turned into a strawberry shortcake (can't go wrong there), and the last 2 pounds participated in the sugar-free jam experiment.
Another side note… I have since then planted a 100ft plus of strawberries with the hopes of making many delicious strawberry desserts every spring. But the termites I was talking about above (now there are four of them!) won't let one, One, ONE strawberry in the house!
So I still get most of my strawberries for jams and desserts at the grocery store or from a local farm. I have to go shopping without the kids, smuggle the strawberries into the house in the dark and hide them in the fridge behind a pile of other things until I can get to them.
It's quite the operation, I tell you. But it's worth it.
Ok, back to the jam now…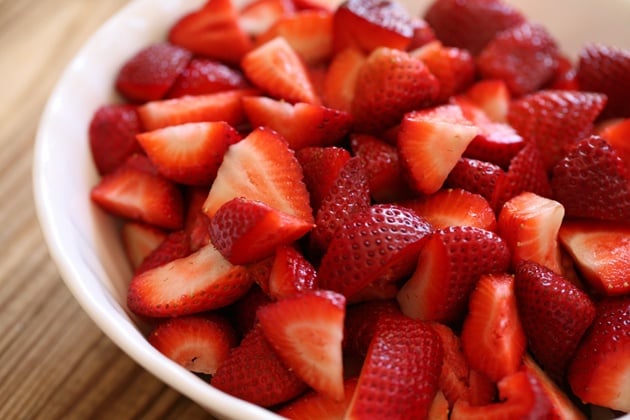 After I removed the tops and cut them into pieces, I was left with 1lb 10oz of fruit.
In a shallow pot the strawberries went…
Making Sugar Free Strawberry Jam…
And to the party joined half a cup of honey. I turned the heat to medium-high…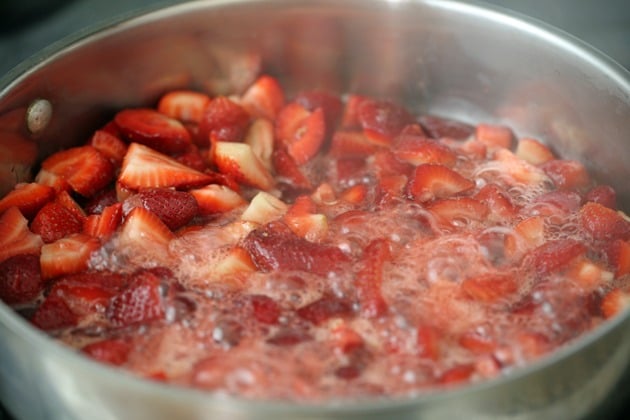 And let the berries cook for a few minutes. The heat will make them lose some juice and soften. I let it come to a boil and left it at this stage for a couple of minutes before lowering the heat to between medium and low. I kept cooking the strawberries for about 20 minutes or so at this temperature stirring frequently.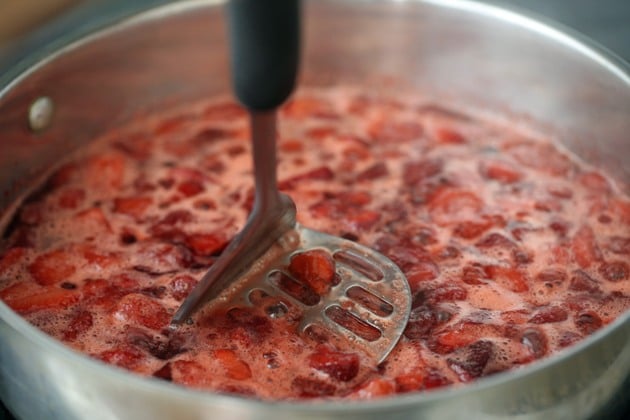 At this point the strawberries were completely soft. I used a potato masher to mash the strawberries and then let them gently cook for another 10 minutes.
During those 10 minutes, I fished out some of the foam from the sides of the pot and stirred every couple of minutes. The foam doesn't bother me too much so I don't go crazy trying to get it all, just the majority of it.
I also added about 1 teaspoon of fresh lemon juice to the jam.
The jam is almost ready so it's time to prepare the jars. I prepare my jars in the oven instead of in a water bath… Much easier in my opinion.
Canning Low Sugar Strawberry Jam…
Here is how you do this: heat the oven to 320F, place your jars without the lids on a baking sheet and stick them in the oven for 10 minutes. At the same time fill a small pot with water, place your new lids and rings (rings don't have to be new) in there and let the pot boil gently for a few minutes.
Do this about ten minutes before your jam is ready, so your jars and jam are ready approximately at the same time and you can transfer the hot jam into the hot jars (keeping similar temperatures will prevent cracks in the jars).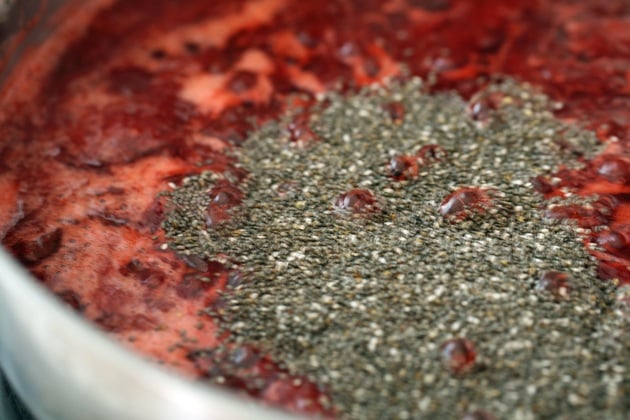 OK, so after 30 minutes or so, the jam was starting to thicken but not quite there yet. At this point, I added 3 tablespoons of chia seeds and mixed them in…
If you like chia seeds in your jam, also check out my chia blueberry jam recipe.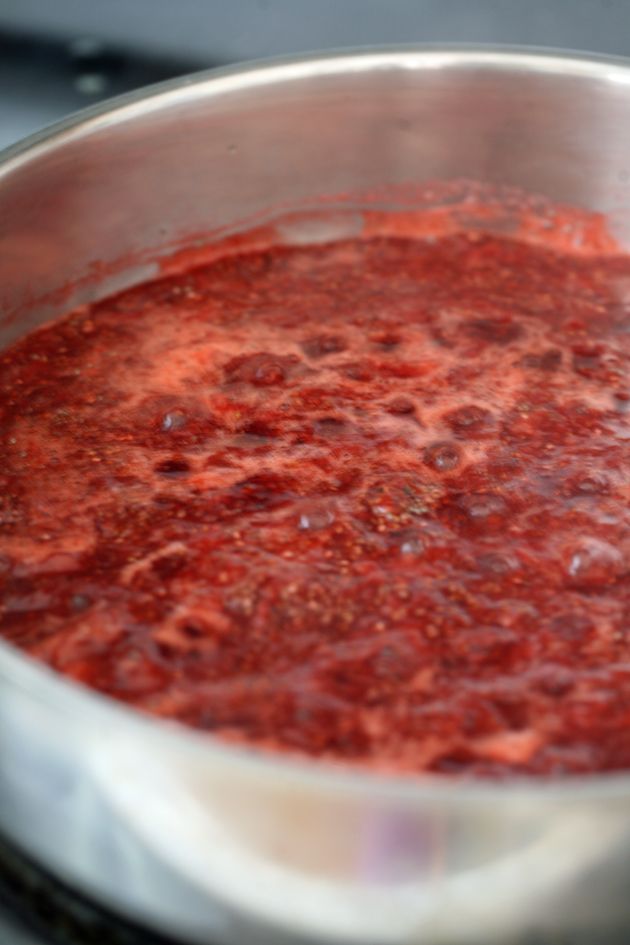 A couple of minutes later the jam was thick enough. It takes some practice to learn when a jam is ready, but after making jams a couple of times you'll know to recognize this stage. When you move the jam around in the pot with a spatula, you can feel it's thick and there is not too much liquid flowing around.
At this time my jars were ready so I filled them with the jam (make sure to leave about 1/2 inch headspace). This is a small batch. It made 2 half-pint jars.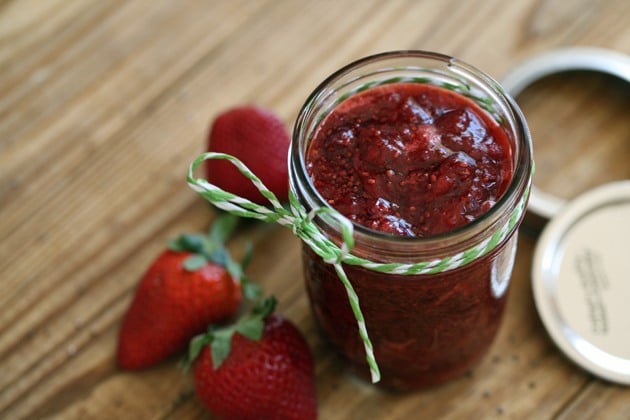 I covered them with the clean lids and bands (not too tight), then placed them upside down on a kitchen towel on the counter. They both sealed within a couple of hours. I let them completely cool overnight and then removed the ring and placed them in the pantry.
We had a little bit of leftover in the pot that I used to make cookies with, it was a great cookie filling (read: Thumbprint Cookies Recipe).
Obviously, this jam is not as sweet as a jam that has a load of sugar in it but it tastes great in my opinion, even the kids had no problem with the lack of sugar.
Other Recipes You Might Like…
Aside from my chia seed blueberry jam and my peach jam recipe that I linked to above, here are a couple of other recipes that you might like…
How to Make Candied Oranges and Can Them – recipe with half the amount of sugar usually used to preserve oranges.
How to Make Mulberry Jam – special, fresh, hand picked (in Israel!) Pakistani Mulberries turn into a delicious jam with less sugar.
Canning Peaches Step-by-Step – if you like to learn another way of canning fruit, check out this post about canning peaches.
Low Sugar Fig Jam – hands down, my favorite jam of all my favorite jams! I absolutely love fig jam. Check out this simple recipe.
Plum and Apple Jam – a relatively quick and very easy to make jam. I use plums from my tree. It's a great way to preserve them!
Low Sugar Mixed Berry Jam – one of our favorites! Throw in any berries you'd like and make this quick delicious jam.
Notes About This Sugar Free Strawberry Jam…
Can I use other fruit? I think you can definitely use other berries. I've never tried it with other kinds of fruit but I am sure that the same recipe will work with other berries.
Someone was asking if they can use frozen berries. I think it's possible, the only thing that I notice about frozen fruit is that when you cook them they seem to have more liquid than fresh fruit so you might need to cook it a bit longer to get rid of the excess liquid.
Can I double or triple the recipe? You sure can!
Preserving this sugar-free strawberry jam… You probably notice that I didn't process the jars in a water bath… Turning the jars upside down is an old method of sealing jars and I find it to work wonderfully, however "trusted sources" that are not grandma say it's not a safe way to preserve food. It's up to you to decide which way to go but just know that you can process the jars in a water bath as well.
If you prefer, you can also freeze this jam. It should last a long time in the freezer!
How long will the jam last at room temperature? Since there is no sugar in this jam I don't think it will last as long as regular jam. After my jars sealed I placed them in the pantry and tried to keep them so I can see how long the jam last. After four months we couldn't wait any longer and opened and ate the last jar. It was still great.
Make sure you remove the rings before you store your jars and once in a while check that nothing funky is happening in the jar. Like I said above, I believe it will last longer in the freezer so you can go this route if you want to keep it for a long time but four months were good enough for me.
---
Please leave a comment below and let me know what you think about sugar-free jams. Would love to hear about your experience!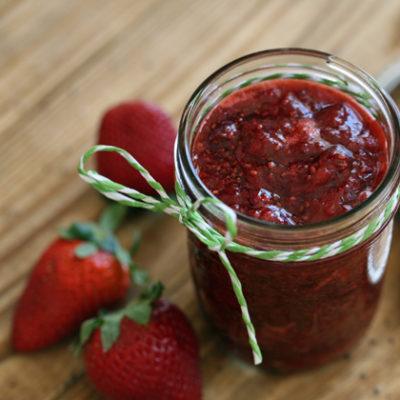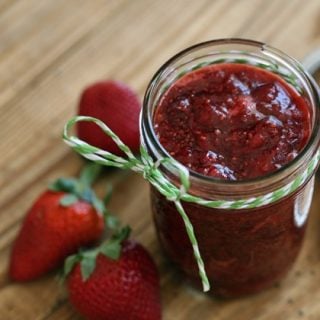 Sugar-Free Strawberry Jam
Yield:
Two half pint jars.
Simple sugar-free strawberry jam made with honey and chia seeds.
Ingredients
2 lb ripe strawberries, washed, cleaned of tops, and cut to pieces.
1/2 cup honey.
1 teaspoon fresh lemon juice.
3 tablespoons chia seeds (optional).
Instructions
Add your strawberries into a shallow, wide pot.
Add 1/2 cup honey.
Turn heat to medium high and bring to boil, let boil for two minutes while stirring frequently.
Lower the heat to medium-low to keep a gentle boil for 20 minutes until the fruit is soft. Stir frequently and fish out some of the foam while the fruit is cooking.
Use a potato masher to mash the fruit.
Add lemon juice and stir. Let jam gently boil for another 10 minutes.
Meanwhile prepare your jars in the oven or in a water bath.
Add chia seeds to the jam and stir.
Jam should be ready a couple of minutes after you added the chia seeds. You'll notice it gels and thickens.
Fill your hot jars with the hot jam making sure to leave 1/2 inch headspace. Cover the jars with the lid and screw the rings on finger tight. Set upside down on a towel on the counter or process in a water bath.
Once jars sealed and cooled completely, remove the rings and store jars in the pantry.
Nutrition Information:
Yield:

2
Serving Size:

One half pint jar
Amount Per Serving:
Calories:

491
Total Fat:

7g
Saturated Fat:

1g
Trans Fat:

0g
Unsaturated Fat:

6g
Cholesterol:

0mg
Sodium:

11mg
Carbohydrates:

112g
Fiber:

15g
Sugar:

92g
Protein:

6g
View the Web Story for this post.